NanoJapan isn't just about sending U.S. students to Japan. From February 20 - 26, 2014, Rice University hosted 14 Japanese college students as part of their two week tour of U.S. universities and colleges. These students all participate in Keiko Packard's KIPP program in Tokyo; an English-language discussion group for Japanese college students interested in internationalization and globalization. Packard-sensei serves as the NanoJapan Program Representative in Japan and, since 2008, all NanoJapan students have had the opportunity to join this discussion group during their three-week orientation in Tokyo.In addition to joining three sessions of the KIPP evening discussion, KIPP students also invite NanoJapan students out for dinner and sight-seeing in Tokyo and many KIPP and NanoJapan students have formed long-lasting friendships out of this unique opportunity for inter-cultural exchange and networking.
NanoJapan 2013 alums Dante Zakhidov and JJ Allred returned the favor when they served as organizers and hosts during the KIPP program's visit to Rice. Over the course of their one-week stay, KIPP students had the opportunity to sit-in on Rice classes and seminars, participate in a discussion group on globalization with Rice students, have lunch with the Office of the President, visit JAXA and Space Center Houston, and were hosted for a party by the Japan-America Society of Houston. KIPP students also had lots of time for social interaction and informal networking with Rice students as they lived in the Rice residential colleges during their stay, ate meals in the student cafeteria, and attended a Rice University baseball game. JJ and Dante also made sure they got to enjoy some Texas BBQ during their stay.
The NanoJapan program would like to thank Dante and JJ for their organization and hosting of this visit and we look forward to welcoming future groups of KIPP students to Rice in coming years.


The experiences of three Rice University students who participated in the 2013 NanoJapan: International Research Experience for Undergraduates Program were highlighted in a Rice News article. Raymundo Moya '17, conducted research with Prof. Riichiro Saito at Tohoku University and NanoJapan was his first trip outside of Texas. "It was a big jump," he said. But Moya had two NanoJapan companions at Tohoku University, where he studied the physics behind phonon heat transfer in carbon nanotubes.". Traveling to Japan was a homecoming of sorts for Dante Zakhidov '15. Zakhidov's scientist father had spent time working and living in Japan with his young family. "My dad did some of his pioneering research in Japan," said Zakihidov, who was there for a year as an infant. "He worked on using C60 (buckyballs) as a dopant for conducting polymers. I have no memory of living there, but it was great to go back." Zakihidov studied new techniques to activate graphite for lithium ion batteries during his three-week stint at Shinshu University. And he thoroughly enjoyed his time with the rest of the NanoJapan team. "There were so many activities that pushed the 12 of us together," he said. "We fully developed and bonded. That's what's powerful about the program: You have a network to fall back on." J.J. Allred '16 is looking forward to a two-week break before classes, but given the choice, "I'd rather be in Japan," he said. The rising sophomore studied the reaction of graphene to terahertz radiation during his time at Osaka University. "When the program ended, I had discovered something that blossomed into four or five other things to look into," he said. "Hopefully, this fall I'll be able continue working on it with Dr. Kono."

>> Read the full Rice News Article "NanoJapan: A Big Experience"
Physicist Neal Lane, a former Presidential Science Adviser and former National Science Foundation (NSF) director, is the 2013 recipient of its Vannevar Bush Award. Lane is the Malcolm Gillis University Professor at Rice University and holds appointments as Senior Fellow of the James A. Baker III Institute for Public Policy and in the university's department of physics and astronomy. He served as assistant to President Clinton for Science and Technology and director of the White House Office of Science and Technology Policy from August 1998 to January 2001. He was the NSF director from October 1993 to August 1998. Since 2011, he has served as one of six External Advisory Board Members for the TeraNano PIRE Center. Each year, the National Science Board presents the Vannevar Bush Award to exceptional, lifelong leaders in science and technology who have made substantial contributions to the welfare of the nation through public service activities in science, technology and public policy.

>> Lean More About Neal Lane's 2013 Vannevar Bush Award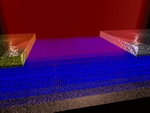 Researchers at Rice University and Sandia National Laboratories have made a nanotube-based photodetector that gathers light in and beyond visible wavelengths. It promises to make possible a unique set of optoelectronic devices, solar cells and perhaps even specialized cameras. The Rice detector, the focus of a paper that appeared today in the online Nature journal Scientific Reports, is based on extra-long carbon nanotubes. At 300 micrometers, the nanotubes are still only about 100th of an inch long, but each tube is thousands of times longer than it is wide.
This illustration shows an array of parallel carbon nanotubes 300 micrometers long that are attached to electrodes and display unique qualities as a photodetector, according to researchers at Rice University and Sandia National Laboratories. (Credit: Sandia National Laboratories)

>> Read "Broadband, Polarization-Sensitive Photodetector Based on Optically-Thick Films of Macroscopically Long, Dense, and Aligned Carbon Nanotubes" in Scientific Reports


Prof. Junichiro Kono to Give Talk at the University of Tokyo on the Transition from Graduate Student to Faculty Researcher in the U.S. on February 28, 2013
Prof. Junichiro Kono will be giving a talk, in Japanese, at the University of Tokyo that adresses the topic of the transition from a graduate student to a faculty researchers in the U.S. This talk is hosted by the Global Center for Innovation in Engineering Education and will be held on February 28 from 14:00 - 16:00. For more details see the flier below.

>> Flier PDF: "Transition from Graduate Student to Faculty Researcher in the U.S.", Prof. Junichiro Kono
>> Learn More About the Global Center for Innovation in Engineering Education  

NanoJapan 2012 Alumnus Alec Nicol Names Second Author on a Nanoscale Research Letters Publication
Alec Nicol (NJ 2012) was named second author on a manuscript that includes portions of the researchshe did at Chiba Uniersity's Ochiai-Aoki Lab as a participant in the NanoJapan Program.


Citation: Mahjoub, A.M., Nicol, A., Abe, T., Ouchi, T., Iso, Y., Kida, M., Aoki, N., Miyamoto, K., Omatsu, T., Bird, J.P., Ferry, D.K., Ishibashi, K. and Ochiai, Y. "GR-FET Application for High-frequency Detection Device", Nanoscale Research Letters, 8:22 (2013) DOI: 10.1186/1556-276X-8-22.
>> Publication Abstract
>> Learn More About Alec's NanoJapan Experience