News
2011 Reverse NanoJapan and 2013 NanoJapan Alumn Named First and Second Authors in Journal of Nanomaterials Article
2011 Reverse NanoJapan participant Shota Ushiba and Jordan Hoyt (NJ 2013) were named first and second authors respectively on an article recently published in the Journal of Nanomaterials that includes research conducted in the LaSIE Lab at Osaka University through the NanoJapan: IREU Program.. The article highlights research that studies the alignment of single-wall carbon nanotubes (SWCNTs) in bubble imprints through polarized Raman microscopy.
Ushiba, S., Hoyt, J., Masui, K., Kono, J., Kawata, S. and Shoji, S. "Macroscopic Ensembles of Aligned Carbon Nanotubes in Bubble Imprints Studied by Polarized Raman Microscopy", Journal of Nanomaterials, (2014).  doi:10.1155/2014/632501
Four NanoJapan 2014 students were selected as recipients of poster prizes at the 28th Annual Rice Quantum Institute Summer Research Colloquium. These students were recognized for their presentation skills, knowledge of their research project, and understanding of the future impact/next steps of their research. >> Read More
NanoJapan 2012 Alumnus Mika Tabata named Third Author in Scientific Reports Article
MIka Tabata (NJ 2012) was named third author on a manuscript that includes research she did in the Tonouchi Lab at Osaka Universityas a participant in the NanoJapan Program focusing on graphene. Graphene may be tough, but those who handle it had better be tender. The environment surrounding the atom-thick carbon material can influence its electronic performance, according to researchers at Rice and Osaka universities who have come up with a simple way to spot contaminants. Because it's so easy to accidently introduce impurities into graphene, labs led by physicists Junichiro Kono of Rice and Masayoshi Tonouchi of Osaka's Institute of Laser Engineering discovered a way to detect and identify out-of-place molecules on its surface through terahertz spectroscopy. They expect the finding to be important to manufacturers considering the use of graphene in electronic devices. The research was published this week by Nature's open-access online journal Scientific Reports. It was made possible by the Rice-based NanoJapan program, through which American undergraduates conduct summer research internships in Japanese labs. >> Read more
Y. Sano, I. Kawayama, M. Tabata, K. A. Salek, H. Murakami, M. Wang, R. Vajtai, P. M. Ajayan, J. Kono & M. Tonouchi, "Imaging molecular adsorption and desorption dynamics on graphene using terahertz emission spectroscopy", Scientific Reports, 4, 6056 (2014).  doi:10.1038/srep06046
NanoJapan 2013 Alumnus J. Meagan Lloyd named Third Author in NanoLetters Article
Meagan Lloyd (NJ 2013) was named third author on a manuscript that includes research she did in the Kawano Lab at Tokyo Institute of Technology as a participant in the NanoJapan Program. Researchers at Rice University, Sandia National Laboratories and the Tokyo Institute of Technology have developed novel terahertz detectors based on carbon nanotubes that could improve medical imaging, airport passenger screening, food inspection and other applications. Unlike current terahertz detectors, the devices are flexible, sensitive to polarization and broad bandwidth and feature large detection areas. They operate at room temperature without requiring any power. The project led by Rice physicist Junichiro Kono and Sandia scientist François Léonard takes advantage of the terahertz range of the electromagnetic spectrum. The project's contributors included researchers taking part in NanoJapan, a 12-week summer program that enables freshman and sophomore physics and engineering students from U.S. universities to complete nanoscience research internships in Japan. NanoJapan is funded by the National Science Foundation through the TeraNano collaboration based at Rice and Tokyo Tech. Such research collaborations and international outreach are among Rice's Priorities for the New Century. "A hallmark of this international research collaboration is the emphasis it places on training the next generation of terahertz nanoscience researchers," Kono said. "NanoJapan tightly integrates the international experience with students' academic programs by providing hands-on opportunities to acquire technical skills and knowledge associated with cutting-edge nanoscience and optics research projects." >> Read More
X. He, N. Fujimura, J.M. Lloyd, K.J. Erickson, A.A. Talin, Q. Zhang, W. Gao, Q. Jiang, Y. Kawano, R.H. Hauge, F. Léonard and J. Kono. "Carbon Nanotube Terahertz Detector", Nano Letters, (2014) DOI: 10.1021/nl5012678.
Rice University and the University of Tokyo, a TeraNano PIRE research collaborating institution and host institution for the NanoJapan: IREU Program, plan to collaborate on research initiatives and exchange students with an agreement signed on April 1 at Rice. Rice President David Leebron and Tokyo Executive Vice President Yoichiro Matsumoto finalized the agreement April 1 at Rice. The universities plan to exchange undergraduate and graduate students, as well as research initiatives, for at least the next five years. "We're very pleased to have an opportunity to build a deep and wide collaboration with one of the premier universities in the world, the University of Tokyo," Leebron said. "We have a long relationship with the university, and I'm very happy to see Rice take another step in deepening this relationship. Expanding Rice's international outreach remains an ongoing priority for our university." "For many years we have been hoping for an MOU with Rice University," Matsumoto said, noting connections that include carbon nanotube research by Professor Shigeo Maruyama of Tokyo's Department of Mechanical Engineering with Rice Nobel Laureate Richard Smalley since the early 1990s.
At the ceremony were: standing, from left, Sonny Lim, Rice special assistant for International Collaborations; Junichiro Kono, a Rice professor of electrical and computer engineering and of physics and astronomyand PI of the TeraNano PIRE/NanoJapan Program,; Consul-General of Japan Nozomu Takaoka; Tayfun Tezduyar, Rice's James F. Barbour Professor of Mechanical Engineering, and Shigeo Maruyama, a professor in the Department of Mechanical Engineering at the University of Tokyo and TeraNano PIRE Japanese research collaborator and host professor for the NanoJapan: IREU Program; and seated, Rice President David Leebron and University of Tokyo Executive Vice President Yoichiro Matsumoto. Photo by Jeff Fitlow

>> Read the full Rice News Story

Twelve students representing nine universities and colleges nationwide have been selected as participants in the 2014 NanoJapan: International Research Experience for Undergraduates Program. This year proved to be the most competitive yet for the NanoJapan Program, with 149 applications received for the 12 participant slots avaialble; a selection rate of just 8%. These twelve students will travel to Japan in mid-May for a twelve-week summer program that includes a three-week language and culture orientation in Tokyo followed by an eight-week research internship at a leading nanoscale science research laboratory in Japan.
Congratulations to Lisa Chiba (Rice), Skylar Deckhoff-Jones (Tulane), Ben Foust (Rice), Ramya Gurunathan (Penn State), Vernon Londagin (U of Tulsa), Lauren McCarthy (U of FL), Christopher Miller (UNC, Chapel Hill), Nicole Moody(Rice), Julianna Richie (Southern IL Univ., Carbondale), Chris Salinas (Northwest Vista Community College), Benjamin Wang (Rice), and Jade Warren (Harvard). We look forward to working with you this summer!

>> Read the 2014 NanoJapan Student Profiles

NanoJapan isn't just about sending U.S. students to Japan. From February 20 - 26, 2014, Rice University hosted 14 Japanese college students as part of their two week tour of U.S. universities and colleges.These students all participate in Keiko Packard's KIP program in Tokyo; a discussion group for Japanese college students interested in internationalization and globalization. Packard-sensei serves as the NanoJapan Program Representative in Japan and, since 2008, all NanoJapan students have had the opportunity to join this discussion group during their three-week orientation in Tokyo. The U.S. NanoJapan students attend three evening discussion sessions with the KIP Japanese students and, in addition to the formal programming, the Japanese students often invite NanoJapan students out for dinner and sight-seeing in Tokyo. Many KIP and NanoJapan students have formed long-lasting friendships out of this unique opportunity for inter-cultural exchange and networking.
NanoJapan 2013 alums Dante Zakhidov and JJ Allred returned the favor when they served as organizers and hosts during the KIP program's visit to Rice. Over the course of their one-week stay, KIP students had the opportunity to sit-in on Rice classes and seminars, participate in a discussion group on Glocalization with Rice students, have lunch with the Office of the President, visit JAXA and Space Center Houston, and were hosted for a party by the Japan-America Society of Houston. KIP students also had lots of time for social interaction and informal networking with Rice students as they lived in the Rice residential colleges during their stay, ate meals in the student cafeteria, and attended a Rice University baseball game.
The NanoJapan program would like to thank Dante and JJ for their organization and hosting of this visit and we look forward to welcoming future groups of KIP students to Rice in coming years. 


The experiences of three Rice University students who participated in the 2013 NanoJapan: International Research Experience for Undergraduates Program were highlighted in a Rice News article. Raymundo Moya '17, conducted research with Prof. Riichiro Saito at Tohoku University and NanoJapan was his first trip outside of Texas. "It was a big jump," he said. But Moya had two NanoJapan companions at Tohoku University, where he studied the physics behind phonon heat transfer in carbon nanotubes.". Traveling to Japan was a homecoming of sorts for Dante Zakhidov '15. Zakhidov's scientist father had spent time working and living in Japan with his young family. "My dad did some of his pioneering research in Japan," said Zakihidov, who was there for a year as an infant. "He worked on using C60 (buckyballs) as a dopant for conducting polymers. I have no memory of living there, but it was great to go back." Zakihidov studied new techniques to activate graphite for lithium ion batteries during his three-week stint at Shinshu University. And he thoroughly enjoyed his time with the rest of the NanoJapan team. "There were so many activities that pushed the 12 of us together," he said. "We fully developed and bonded. That's what's powerful about the program: You have a network to fall back on." J.J. Allred '16 is looking forward to a two-week break before classes, but given the choice, "I'd rather be in Japan," he said. The rising sophomore studied the reaction of graphene to terahertz radiation during his time at Osaka University. "When the program ended, I had discovered something that blossomed into four or five other things to look into," he said. "Hopefully, this fall I'll be able continue working on it with Dr. Kono."

>> Read the full Rice News Article "NanoJapan: A Big Experience"
Physicist Neal Lane, a former Presidential Science Adviser and former National Science Foundation (NSF) director, is the 2013 recipient of its Vannevar Bush Award. Lane is the Malcolm Gillis University Professor at Rice University and holds appointments as Senior Fellow of the James A. Baker III Institute for Public Policy and in the university's department of physics and astronomy. He served as assistant to President Clinton for Science and Technology and director of the White House Office of Science and Technology Policy from August 1998 to January 2001. He was the NSF director from October 1993 to August 1998. Since 2011, he has served as one of six External Advisory Board Members for the TeraNano PIRE Center. Each year, the National Science Board presents the Vannevar Bush Award to exceptional, lifelong leaders in science and technology who have made substantial contributions to the welfare of the nation through public service activities in science, technology and public policy.

>> Lean More About Neal Lane's 2013 Vannevar Bush Award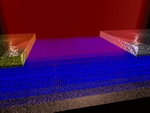 Researchers at Rice University and Sandia National Laboratories have made a nanotube-based photodetector that gathers light in and beyond visible wavelengths. It promises to make possible a unique set of optoelectronic devices, solar cells and perhaps even specialized cameras. The Rice detector, the focus of a paper that appeared today in the online Nature journal Scientific Reports, is based on extra-long carbon nanotubes. At 300 micrometers, the nanotubes are still only about 100th of an inch long, but each tube is thousands of times longer than it is wide.
This illustration shows an array of parallel carbon nanotubes 300 micrometers long that are attached to electrodes and display unique qualities as a photodetector, according to researchers at Rice University and Sandia National Laboratories. (Credit: Sandia National Laboratories)

>> Read "Broadband, Polarization-Sensitive Photodetector Based on Optically-Thick Films of Macroscopically Long, Dense, and Aligned Carbon Nanotubes" in Scientific Reports


Prof. Junichiro Kono to Give Talk at the University of Tokyo on the Transition from Graduate Student to Faculty Researcher in the U.S. on February 28, 2013
Prof. Junichiro Kono will be giving a talk, in Japanese, at the University of Tokyo that adresses the topic of the transition from a graduate student to a faculty researchers in the U.S. This talk is hosted by the Global Center for Innovation in Engineering Education and will be held on February 28 from 14:00 - 16:00. For more details see the flier below.

>> Flier PDF: "Transition from Graduate Student to Faculty Researcher in the U.S.", Prof. Junichiro Kono
>> Learn More About the Global Center for Innovation in Engineering Education  

NanoJapan 2012 Alumnus Alec Nicol Names Second Author on a Nanoscale Research Letters Publication
Alec Nicol (NJ 2012) was named second author on a manuscript that includes portions of the researchshe did at Chiba Uniersity's Ochiai-Aoki Lab as a participant in the NanoJapan Program.


Citation: Mahjoub, A.M., Nicol, A., Abe, T., Ouchi, T., Iso, Y., Kida, M., Aoki, N., Miyamoto, K., Omatsu, T., Bird, J.P., Ferry, D.K., Ishibashi, K. and Ochiai, Y. "GR-FET Application for High-frequency Detection Device", Nanoscale Research Letters, 8:22 (2013) DOI: 10.1186/1556-276X-8-22.
>> Publication Abstract
>> Learn More About Alec's NanoJapan Experience