Grace Meikle - NanoJapan 2012
University of Notre Dame
Major/s: Physics and Chinese
Anticipated Graduation: May 2014
NJ Research Lab: Prof. Shigeo Maruyama, University of Tokyo
NJ Research Project: Growth of Dense, Highly Aligned Single-Walled Carbon Nanotubes for THz Spectroscopy

**Winner of a $250 Texas Instruments Prize for Best Poster Presentation at the 26th Annual RQI Summer Research Colloquium**


"The NanoJapan Program was the best summer of my life so far. I am so grateful that I did the program and I hope to continue to apply what I've learned in every way that I can!" ~ Grace Meikle, University of Notre Dame
Why NanoJapan?
I found the experience of being a full-time research student to be very different from researching part-time at my home university. During the school year it is difficult to balance research with classes and I tend to put much more pressure on myself to get results. With the NanoJapan program, especially being an undergraduate student working in a foreign lab, I decided to approach the project a bit differently. I made it the goal of my summer simply to learn as much as possible, and otherwise to let the chips fall where they may. I was fortunate enough to have an interesting topic with an amazingly helpful and involved group of advisors. I asked them as many questions as I could think of, and I did as many experiments as time would allow. Even when the experiments were not going well, I found there was so much to learn just by having casual conversations with my labmates. This is one of the greatest advantages of working in an international lab setting—there is a whole new dimension of wisdom to be gained that has nothing to do with the experiment itself.
am emerging from this summer with a heap of new knowledge and newfound sense of confidence. This project gave me very good perspective on the future of semiconductor technology. I am hoping to take some of the things I learned this summer and combine it with my previous research to plan a new project with quantum dot solar cells adsorbed to SWNTs. Ultimately, though, my biggest takeaway from this summer is more generalized. I feel really motivated and excited tackle the academic and career-related challenges that lay ahead of me.
My goals for this summer were to:
Make a connection between the research project I conduct in Dr. Maruyama's lab and my work here at Notre Dame with quantum dot solar cells
Improve my Japanese and learn about Japanese culture through the perspective of a high-tech research lab
Contribute to Dr. Maruyama's lab, apply my skills in a mutually beneficial way with concrete results
Use this as an opportunity to improve my confidence and competence in approaching technically complex problems
NanoJapan Alumni Follow-on Project
My NanoJapan experience in the summer of 2012 consisted of a 3-week orientation in Tokyo followed by a 2-month research internship at Tokyo University under the direction of Professor Shigeo Maruyama. In addition to intensive Japanese language studies, the emphasis of the orientation program was primarily the 3/11 earthquake-tsunami-nuclear disaster in the Tohoku region of Northeast Japan, culminating in a trip to a fishing village to a town in Miyage prefecture called Minami-Sanriku which had been particularly hard hit by the tsunami. My research project was to grow horizontal arrays of highly-aligned carbon nanotubes with lengths in the terahertz wavelength range, culminating in a poster presentation at the Rice Quantum Institute Summer Colloquium of 2012. Since these two components of my NanoJapan experience were so different, I conducted my follow-on project in two different parts, one focusing on what I learned about the Tohoku 3/11 disaster during orientation, and the other focusing on what I gained from my research experience.

I was deeply moved by the seminars given during the orientation program about the 3/11 disaster and our visit to Minami Sanriku and used them to shape my application to the Fulbright Scholarship in the fall of 2013 to conduct nuclear engineering experiments in Harbin, China. My main interest has always been energy, and observing all of the confusion and misperception towards nuclear power that followed the Fukushima nuclear accident inspired me to use my Fulbright application to learn more about how nuclear safety could be improved. I wrote a Statement of Grant Purpose to research the thermal hydraulics of passive nuclear safety at Harbin University under Professor Gao Puzhen from September 2014 – March 2015. Passive nuclear safety has the potential to provide a much safer way to operate nuclear reactors along a fault line, which could benefit the energy future of Japan. Professor Gao researches in the thermal hydraulics group in the Department of Nuclear Engineering. I connected with her through the National Science Foundation that advised me during an REU in China I participated after NanoJapan, discussed in further detail below. I used specific examples from my NanoJapan experience to write my essay and also requested Dr. Cheryl Matherly to write one of my recommendations. She also was extremely helpful in advising me through the Fulbright process. I have yet to hear back about whether my application has made it to the final round. Nonetheless, participating in the process has already brought me new international and scientific connections. Professor Gao introduced me to a PhD student, Zhou Bao, from Harbin University who is a visiting scientist at Notre Dame this year, and I have met with him several times to practice my Chinese and learn more about what my Fulbright experience could be like.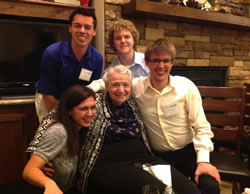 Also, largely due to my decision to apply for Fulbright, Dr. Matherly and Dr. Kono invited me to participate in the 2013 NanoJapan Advisory Board meeting, where I met the distinguished members of the Advisory Board, including Dr. Millie Dresselhaus, and also other NanoJapan alumni. Regardless of the outcome of my Fulbright application, I continue to be interested in international nuclear safety issues, and have taken multiple courses related to this subject, including a course about the chemistry of uranium and another called the Business of Energy.

NanoJapan Alumni with Prof. Millie Dresselhaus during the 2013 TeraNano PIRE Advisory Board Meeting at Rice University. (Left to Right: Grace Meikle (NJ 2012), Jordan Hoyt (NJ 2013), JJ Allred (NJ 2013), and Cody Sewell (NJ 2010)

For the second component of my follow-on project, the experience of research at Maruyama Labs significantly improved my confidence as an undergraduate researcher. My experience in an international research setting inspired me to apply to the Clarkson University IRES REU in China during the summer of 2013, during which I completed a project to synthesize nanostructure thermoelectric materials. I worked with Dr. Hayley Shen of Clarkson, Corning Inc., the National Science Foundation and the US Embassy, the Department of Materials Science at Tsinghua University, and five other American students from schools across the US. The nature of the project and the people were very different but many of the skills I gained from NanoJapan carried over. In particular, I found the weekly blogs that we wrote for NanoJapan extremely helpful in capturing my experience. For the China REU we were required to create a website about our experience, and I suggested that everyone write blogs to get a more candid, real-time account of their experiences.
I have also presented my NanoJapan research on multiple occasions since the RQI Summer Colloquium in 2012. I gave an oral presentation to my Notre Dame lab, directed by Professor Prashant Kamat. I found during my NanoJapan experience that Dr. Kamat and Dr. Maruyama were acquainted with one another personally and with each other's work, and that the students in their lab were mutually interested in learning about what I had done in the other professor's lab. At Tokyo University I shared papers and asked questions on behalf of a couple of the graduate students who worked with solar cells, acting as a sort of ambassador to Professor Kamat. At Notre Dame, Professor Kamat's graduate students were also interested to learn more about how the materials they were using could be applied to other types of electronics, such as the terahertz applications associated with my project, or transistors that many of Professor Maruyama's students also study.


Additionally, in the fall of 2012, I decided to apply for a travel grant to present at the National Conference for Undergraduate Research at the University of Wisconsin, La-Crosse in the Spring of 2013. I received a $400 travel grant from the Notre Dame Center for Undergraduate Scholarly Engagement and also convinced two other physics students to attend the conference and present their research with me. NCUR was an interesting conference in that it was multidisciplinary with over 2000 presentations across many different departments. I was able to attend presentations on topics as diverse as how foreign words are incorporated into everyday Chinese language to the economics of a new direct flight between New York and Tokyo. For my own presentation, since my project was placed in the engineering category, the conference gave me the opportunity to hear engineering research and meet engineering students, whereas in the past I have engaged mostly with physics or hard science students about my research. I was surprised to find that I fit in much better with the engineers from a research standpoint and I was grateful that the NanoJapan program gave me the opportunity to conduct research outside of my major. This was also the first time I felt truly proud of a presentation that I have given and felt that I succeeded in exciting my audience of about 20 engineering students. I received many questions following my presentation.
Also after my presentation, a civil engineering student from University of Utah asked me out for coffee so we could talk more about the project and about our mutual interests in energy. It turns out that we have a mutual friend from my elementary school days. This student turned out to be a valuable friend and connection. We still keep in touch and mutually seek advice from each other regarding our post-graduation plans. She told me about an engineering and policy PhD program at Carnegie Mellon, which I hope to apply for in a few years when I go back to school for graduate studies.
Future Plans
Currently, I am preparing for graduation. I am waiting to hear back from Fulbright but have also accepted a job to work in oil services for the next 2-4 years to continue learning about the energy industry before ultimately going back to school. This semester I will also write a senior Honors Thesis. I plan to incorporate my NanoJapan project into my thesis, in which I plan to compare technology transfer of information technology and energy technology through case studies of projects I have done. The case studies will come from the various projects I have worked on in Kamat Lab, at a start-up solar installation company in India after my freshman year, and from my NanoJapan and China REU projects. NanoJapan provided a very valuable inspiration and source of data for this senior thesis project. I have already given one initial thesis presentation to a class of approximately 50 Honors Students. I am hoping to be selected for the honor of giving my final thesis presentation at the Spring 2014 Honors Colloquium to Honors Program students and faculty.

Research Lab Overview
My lab group was large (30+ people) and mostly Japanese. Most people arrived to lab around 11 AM and left late, anywhere from 8 PM to the last train (midnight), and some would even occasionally spend the night. The lab was mostly Japanese with a few foreign PhDs, some of whom were fluent in Japanese. More Japanese was spoken amongst lab members than I expected given that we were in Tokyo.
I actually had three mentors. Two of them were Japanese and one was Indian. They all were extremely helpful, knowledgeable, and encouraging. I was grateful to have all three of them because when one was busy or traveling there was still always someone there to help me. I would defer to them for advice and instructions but my relationships with them were pretty casual. The Japanese ones usually spoke to me in Japanese, English, or a mix of the two and I would respond mostly in English.
I spent most of my time in lab with my mentors but on the off day when there was less to do I tried to ask other lab members about their experiments, especially because some of them dealt with solar cells. I also tried to socialize a bit outside the lab with the B4 (undergraduate) students closer to my age—we went bowling once and we played futsal. Many of them were less confident in their English so I found a little Japanese went a long way.

This is what the Maruyama Lab does to you when you lose at bowling.

3 hours, 45 minutes into our 4.5 hour lab meeting.

The "Horizontally-Aligned Carbon Nanotube" Group
Daily LIfe in Tokyo
I went into lab pretty early, around 7:30 or 8:00 AM. My commute to and from lab was about 25 minutes including walking and train. I usually ate breakfast on the go, and took a packed lunch I had cooked the night before. I tried to exercise during the day since there was a shower in the building where I worked. There are plenty of parks scattered around Tokyo good for running. I left lab earlier than most people, usually by 7:00, and went out to eat with friends. I would come back to my apartment by about 9 PM, do my grocery shopping and cooking, watch some TV with my housemates, talk on the phone with family and friends, then go to sleep.
I always took the weekends off to explore. I found a church in the area where I made a few international friends, I toured the Tokyo area with other NanoJapan students, and I bought a 2-week railway pass, which I used to travel down to the Kansai area and to Hiroshima.

My (tiny) room in Tokyo.

Okonomiyaki party with my housemates.

Tabehodai (all-you-can-eat) ice cream in Hiroshima

Traditional Japanese sweets in Kobe
Photos and Excerpts from Weekly Reports
Week One - Arrival in Japan: My initial reaction to Tokyo is that I feel very comfortable and at home here. There are many things in common with the place I used to live, Kobe. I feel I am able to grasp cultural context and people's mannerisms pretty well. One thing that I didn't expect is that I am already using a lot of Japanese language, and how far my limited Japanese could get me. Already just from knowing how to ask for directions I think I've learned my way around Tokyo subway system pretty well. It's incredibly user-friendly. Also, this time around, I am finding the kanji much less intimidating, which I think is because I have been studying Chinese.
Week Two - Riding the Subway: On public transportation, Japanese people are usually sitting or standing quietly reading or on their cellphones, playing games or texting. They don't usually look up and tend to avoid making eye contact. People don't eat or drink or have loud group conversations. As you would expect, if possible they usually leave a seat of buffer between themselves and a stranger. The basic difference as the time of day changes, however, is that, especially during rush hour, the size of each person's personal bubble seems to shrink and at the most crowded times, people are fine being pressed up against one another, although they continue to behave almost as if they were all alone. The great thing about Japan is that even in these ridiculously close quarters, people don't steal. The trains are also extremely timely and if you get lost, just tell the staff by the ticket gate the name of the train station you're going as politely as you can and they will tell you which lines to take and where to change trains without skipping a beat.
Week 3 - Trip to Minami-Sanriku: The best part of this experience for me was the dinner we had with older residents of a temporary housing unit. Up until this point in the trip I was feeling a little at a loss. I had learned a lot by experiencing the scene of the disaster firsthand, but I was having trouble understanding how this experience pertained to me personally. Ever since living in Kobe during high school I have felt a deep emotional connection to Japan, and I especially felt this way after the earthquake last year. More objectively speaking, I was also grateful for the opportunity to become more educated about this event by visiting "ground zero". All of this is good and well but still I feel that my sympathy and knowledge is not so meaningful unless it can be converted into productive action. In other words I wanted to know, "what am I supposed to do with all this experience? What is the role that I can play?" I felt that I personally had not made any impact so far. The dinner we had took place with six board members of the temporary housing complex. I sat next to one of them and across from another. I feel very fortunate because with my background I knew just enough Japanese to follow what they were saying and have an actual conversation with them. One of the KIP members was there also helped translate some things, but I was happy because the conversation was able to flow naturally without much translation. Basically all I did was just act really cute and cheerful and ask them lots of questions. The man next to me was eager to try out his English and called me "Amazing Grace" and Eric Rosenthal "Eric Clapton", and was quite proud of himself. I asked him what his job was and he said he painted the names on ships. He also said he had never been out of Japan but if he could visit another country he would visit America. The other man across the table from us was initially pretty quiet. He drank a ton of sake and smoked constantly. He told the KIP student that he drinks like this every night because he lost his wife in the tsunami and it helps him to forget. The two men said they often like to drink together, but it is difficult because they live in the temporary housing complex in very close quarters with their neighbors and so they cannot really be too loud. Anyway I started tried to strike up conversation with the old man across the table, and once he got to talking, he just didn't stop. Eventually I moved across the table to sit next to him. He kept on telling me (with the help of the KIP student) that I was really pretty and that out of all the people he had met with, he hadn't had this much fun since before the disaster. He repeatedly thanked us and said that we had truly lifted his spirits and given him hope for the future. At the end he stood up and made a speech, saying that he enjoyed the company of the Americans more than anyone else. I was so happy afterwards because I feel like I really made a difference for him. So, it's strange to say, but perhaps my "role" in light of this disaster is just smiling and laughing with old men.
The next morning I woke up early and was sitting outside by the baseball field writing in my notebook. The temporary housing complex was nearby and there were a lot of elderly people out for a morning walk around the track. I exchanged good mornings with them as they walked by. The morning was pretty chilly and I was wearing just a light jacket. One man I said good morning to walked over and asked if I was cold. Then we started talking (he did most of the talking, I mostly just agreed or disagreed). He quickly started talking about the tsunami, and how nowadays it was hard to find work and get money, and how lots of people had visited over the past year. He said a bunch of other stuff too which I didn't quite understand, but at the end he just said something along the lines of, "You probably have no clue what I'm saying but I don't speak any English so oh well!" Then he said he was heading home but he lent me his jacket, pointed to his house and told me to drop it off when I was done. He was very sweet. I sat outside a little while longer and then I decided to go return it to him. When I went I ran into this woman and asked her to help me find his house. We ended up taking a walk around the track together, and she started telling me about how she had lost family members during the tsunami and how she used to cry every single day but lately she was getting better, and since lots of people had suffered, there was a karaoke place nearby and sometimes they would just go to relax and have fun. She asked me if I was American, and if I was Christian, and something about Christian groups visiting the area, and how America is so big and the people are so kind and they don't have to worry about tsunamis. Eventually we found the old man who had lent me his jacket, and I told him we were leaving that morning and he said please come back again, goodbye!
After all this there were a few things that struck me. First, I was surprised how much everyone wanted to talk about their experience. I always thought that you'd want to try and forget about it, and let time pass so you can put the emotions away. But after visiting Minami Sanriku I realize that doesn't make sense at all. Every aspect of these people's lives is now consumed by that single event — from where they live, to their social circle, to their job. Talking about it to someone like me is a fresh outlet for them and I think helps to relieve a lot of stress. Second, I realized how much these people idealize America. When that lady was talking about all of the wonders of America, I wanted to defend Japan, but I couldn't speak well enough! I guess the idea that some perfect country exists across the ocean gives them hope. Anyway, the take away point from all of this is that I'm fortunate enough to not have suffered this kind of disaster in my life, but that's not something I should feel guilty or uncomfortable about. I can use my energy and optimism to inspire and take a load of people who have suffered, just simply by smiling, laughing, and lending an ear to listen. So, overall, it was a really wonderful experience and I was sad to leave. Hopefully I get the chance to apply myself in a similar way in the future—whether I return to Minami Sanriku or am faced with another similar situation. So, thank you very much NanoJapan Program for this once in a lifetime opportunity!
Week 4 - First Week in Research Lab: On my first day I met with my professor, Maruyama Sensei, and discussed the basic history of carbon nanotubes. He outlined my project for me: I will be growing horizontally aligned carbon nanotubes on a quartz substrate with the goal of maximizing length, ultimately for use in THz applications. He also printed out a sheet of paper with everyone in the lab's name, picture, and position on it and circled the people who had the same or a similar research focus as me that I could go to for help. After that he took some lab members and me out to lunch, we took care of some administrative business, and I was pretty much on my own. So I looked at which people Sensei had circled on the sheet and I went to them and asked them to email me some research papers on my topic, and also when they'd be doing their next experiment. The rest of the week I spent following them around learning the procedure and reading papers in the down time. By the end of the week, I had gone through the entire procedure once and was able to look at some carbon nanotubes I had grown under SEM. When he saw them, one of my mentors said, sounding pleased, "ma-ma desu!"
Week 5 - Critical Incident Analysis: Last week my mom sent me a package, which arrived while I was at Todai so the postal service left a notice in my mailbox. I thought I'd just ask people at lab or at the police station what the paper said and how to get to the post office to pick up my package. I got some confusing answers before I eventually figured out where I need to go. When I showed the person at the post office my slip of paper, even though he seemed to know about the package and was trying to be helpful, he started putting me through this rather complicated procedure. First he handed me a form and asked me to fill out all the information about my previous address in Japan. I said I did not have one as I had only just arrived here. Then he asked me to write down the names of the other people living with me. I told him I lived alone. Then after all that, he said they would deliver the package again tomorrow. I told him I probably wouldn't be home as I would be at work, and could I please pick up the package now, if it was here? He seemed quite taken aback by this request but said he would go to the back and ask if that was OK. He left and finally returned some minutes later with the package and hand, gave it to me, and that was that. Overall, it struck me as strange that what I expected to be a very simple transaction seemed to totally throw him for a loop. I think this results from the Japanese tendency to adhere very closely to whatever method of business has been previously laid down—which I unintentionally disrupted.
Week 6 - Research in Japan vs. the U.S.: It is interesting to see which stereotypes turned out to be true and which did not. My lab is much less hierarchical than I expected—there is, of course, a clear hierarchy, but relationships between people of various ranks are pretty casual. The hierarchy comes through in the order of presentations in group meetings (youngest to oldest) and who calls who by which title (kun vs. san) but otherwise there don't seem to be any special rules. When people disagree, they tend to use the words "really?" and "maybe" a lot, and they definitely prefer to reach consensus before choosing a course of action. I noticed that even if my advisors disagree with me I can still get my way simply by failing to fully agree with them (I did this a couple of times on accident). People are very tidy and meticulous in the lab but less strict about details than I expected. They're quite punctual for one-on-one meetings but group meetings tend to start a few minutes late—pretty much the same as in the US. Also here people are much more willing to improvise than what I have experienced of Japanese people in the past. I think this comes from the international research environment, where spontaneity and creativity are important when experiments do not go according to plan.
Week 7 - Preparing for the Mid-Program Meeting: Rather than some special eureka moment, I feel that my biggest personal accomplishment on this trip is more subtle. I am really proud of myself for remembering the Japanese I learned when I was here before and being able to apply it. When I lived in Japan before I rarely spoke Japanese, but I heard it all the time. I never realized how much I actually learned just from listening until I started this program and found myself in an environment I was encouraged or in some cases required to speak. I am really happy that this program exposed me to such diverse environments so I could test the range of my skills. Another thing I am proud of is that I don't think I could have handled the research aspect of the program a year ago (so kudos to all of the freshmen). When I started my internship last summer and when I entered my lab at Notre Dame earlier this year I was terrified of messing up and my confidence was low. But this time around before starting work in the Maruyama lab I felt much calmer and more capable. I still make plenty of stupid mistakes but I think I can now take a much more productive attitude, and I have the confidence to take initiative and come up with ideas on my own.
Week 8 - Reflections on Japanese Language & Culture: My most linguistically challenging experience on this trip took place when Alec and I were in Tomiura (a beach in Chiba). We were on our way back from the beach when we passed by three elderly men. Since foreigners were rare in the area, when they saw us the men reacted and asked where we were from. I usually enjoy interacting with locals under these types of circumstances so I welcomed what I presumed was an invitation. Immediately after answering their question, however, I completely lost track of the conversation. Usually, even if I can't understand everything, I can pick up bits and pieces to understand the topic under discussion so at the very least I can agree or disagree with whatever the speaker is saying but these men were speaking a mile a minute and must have had some sort of accent because they sounded like they had cotton balls in their mouths. I just smiled and nodded and kept on trying to interject and say we had to go, but they would not stop talking! I think they were more talking about us than to us, and the way they were gesturing as they referred to us when they spoke was as if they were commenting on some especially noteworthy fish they had caught. It was not a particularly enjoyable "conversation". Anyway, we eventually managed to escape none the worse for wear but it made me realize that communication in a foreign language is always a two-sided deal. I was amazed by how lost I suddenly felt when the other party stopped trying to be understood.
Week 9 - Critical Incident Analysis in the Lab: One thing that has really helped me so far in this research internship is learning to do CVD and SEM by myself so I can work on my own time. But last week I was at the point where I needed to do some analysis using AFM and Raman, both of which I had never done before. My goal was to learn how to do both in time for Kono Sensei's visit at the end of the week so after my presentation I could discuss with him and know how to best use my last two weeks of research. The PhD student I work with (Inoue) really likes AFM so I had no trouble getting his help. But I really wanted to do Raman, since this can give specific data on the chirality of nanotubes in a given sample that AFM cannot. Both Inoue and the masters student (Hasegawa) that I normally work with discouraged me from trying Raman, saying instead I should just use Badar's (the Raman expert's) data. But I was feeling quite stubborn. So, last week, I went into lab every morning and spent 3 or 4 hours trying to do Raman by myself, with very little progress. I would get stuck at different stages of the procedure, like calibration, of course because I had no clue what I was doing. One day I actually was able to see a G-band but I got confused and wasn't able to subtract the background from my graph. Lots of stupid things like that kept getting in my way. I finally realized I could not teach myself. On Thursday (day 4), Inoue, my PhD student, agreed to come in and help me but I didn't tell him how early I planned on coming (7 o'clock) because he lives an hour and a half and being the overly kind and masochistic soul that he is, he would probably come at that early time if I asked, despite having stayed at the lab until 11 PM the previous night. So, not wanting to overwork him, I told him to come "in the morning" which I figured meant around 8:30 or 9 latest which would give me an hour or two to mess around with the machine before he arrived. As usual, I arrived at lab bright and early, but the laser alignment that day was particularly bad and I got stuck at the calibration phase again. I spent an hour trying and failing to get it focused properly. I decided to give up and wait for Inoue. But he wasn't showing up, and my reserved Raman time was running out, so I thought to myself, "No! Don't give up, you've spent all week trying to figure this out, surely if you try hard enough, you can do this…how hard can it be?". So I set to work again, which turned out to be a poor decision. I was running out of ways to mess with laser alignment so I made the mistake of adjusting one of the mirrors. I know that you are not supposed to touch the mirrors but I did it anyway, for some reason thinking that if I could just move it a little bit this way I could get the alignment right. Nope! Of course, this just made the alignment worse, and now instead of the previous user's fault, it became my fault that the laser was not aligned, and moreover, I had also now disturbed the very delicate no-touch-laser-mirror-alignment setup. Realizing where this was headed, I gave up and went upstairs before I was tempted to start touching other mirrors. By then Inoue had arrived, so I told him what I had done (the response was a big teeth-suck and "Ooooh…", which confirmed my ominous feelings). He came down to the lab and, seeing how bad the alignment had become, started adjusting other mirrors, which made the alignment even worse. After some time, he kind of looked at the ground, gave a big sigh, and said, "This is too difficult for me. We have to call Chiashi-sensei." (Apparently Chiashi-sensei, who is lab member # 2 or 3 in the hierarchy, is the laser alignment expert). We called him down and Inoue told me to go upstairs so I went, feeling guilty but not wanting to get in the way. I hoped Chiashi would be able to fix it quickly so I could put my Raman shame behind me. Upstairs I was telling Hasegawa about what had happened and he told me if I had just adjusted one mirror it was no big deal. Although when I said Inoue had tried to fix it, too, his eyes got a bit wide and he said "Abunai!" and walked away, leaving me in mental pain for twenty minutes or so. But in the end Chiashi got it fixed and I convinced Inoue (who, feeling that the guilt lay on him, was still trying to fix it even more) to come back upstairs. Unfortunately for Inoue, I had booked Raman again for later in the day (having perceived that I would not get it working in the morning). But when we started anew the alignment was good, and this time, with his help, I finally started getting some somewhat promising results. I was seeing a very strong G-band. After an hour or two, I saw a small peak which I was pretty confident was an RBM. Both Inoue and Hasegawa, having succumbed to my stubbornness, were sitting nearby only half-paying attention and smiling placidly as if entertaining a little kid. I got excited and said, "I think I found an RBM!" Hasegawa looked at the graph and said, "No, it's just a quartz peak." For a moment I felt dejected and was about to accept his answer, having already suffered enough Raman shame for one day, but instead I said, "Isn't that one of the RBM that Badar reported yesterday for his cobalt sample?". Hasegawa agreed to check…and, sure enough, I was right! I had found results that agreed with the Raman expert's. I was quite pleased with myself. Hasegawa and Inoue were not exactly jumping up and down but they told me I had gotten very good results.
Week 10 - Career Interview: The post-doc/assistant professor in my lab is an American. His name is Erik Einarssen, originally from Montana. He got his PhD from Todai and now helps Maruyama Sensei teach his class and edit and write papers. Erik started out as an undergraduate physics major, but alternated between that and mechanical engineering. He ended up pursuing mechanical engineering in the end because he felt it was more general. For his PhD, he really wanted to go abroad, so he applied and went to University of Tokyo, where he has been living for the past eight years. He studied little to no Japanese before coming but now he is completely fluent. Erik said that when he first arrived at Todai, there were far fewer international students and he felt obliged to speak Japanese, although now it has become more of an option. Right now, he is looking to go back to the US. I haven't asked him for advice but I have noticed that he is really supportive of foreigners experiencing the Japanese research environment. Not only is it something he chose for himself, but he also was extremely helpful to me in the beginning with getting my housing set up and so forth, and I know he has been assisting NanoJapan students since the program began. In another example, this week, he is leading the 2012 GMSI Summer Camp for American graduate students, who come here for a week to travel and tour different labs.
Week 11 - Final Week in Japan: My perception of Japan hasn't exactly changed, but I do feel more attached to it. I also feel as if I can see the good and bad of Japan more clearly. For instance, I have developed a lot of respect for Japanese researchers given how hard they work and how little they expect out of it. In the US I feel as if we are raised with the mentality that we always deserve something more, but the Japanese do not feel the need to be individually rewarded for what they do. On the other hand, I think it is good for them to be exposed to a person like me who may not necessarily object to the system but at least questions it and forces them to think about it in a way that they haven't before.I will really miss the freedom I felt this summer in terms of my time. At school I am often stressed and just trying to check things off my list. But this summer I tried to have the attitude that I needed to relax, have fun, and learn something. I worked at my own pace and I followed my intuition, and ended up having a more rewarding experience than I could have possibly imagined. I hope that in spite of all the every day pressures I can continue this attitude when I go back to school next year. I spent most of my last week making and editing my poster, which took longer than I expected. I made sure to get everything done by Friday so I could have plenty of time to say goodbye. The going away party was on Monday and mixed in with the welcome party for visiting students and my professor was gone all day Friday so the last day was really just for tying up loose ends. But I made some tiramisu to bring to my lab (it's the only dessert I know how to make that doesn't require an oven) which went over very well and I wrote thank-you notes to all of my graduate student advisors. We took some photos and they made me a kind of good-bye poster, which they signed (even Raman guy). The B4 students saluted me at the elevator and my advisors walked me all the way to the building entrance. It was really sad to say goodbye but I felt like I did a good job of it. I believe goodbyes are really important.
© 2011 TeraNano. All rights reserved. Website designed by
www.wastedpaper.com
.