James (JJ) Allred - NanoJapan 2013
Rice University
Major/s: Electrical and Computer Engineering
Anticipated Graduation:May 2016
NanoJapan Research Lab: Tonouchi Lab, Osaka University
NanoJapan Research Project: TERAHERTZ SPECTROSCOPY OF LARGE-SCALE GRAPHENE ON VARIOUS SUBSTRATES
Excerpts from NanoJapan Weekly Reports
Meaning of NanoJapan - Post-Program
Before embarking on this journey, I was excited to broaden my cultural understanding, but I had no idea just how varied my sources of learning would be.  I was able to ask questions and make friends with Japanese people of all sorts of backgrounds:  those who have been to the US, those who have studied abroad elsewhere, workers, newspaper editors, professors, students, and even some kind old gentlemen from the neighborhood around my dorm and in Minami-Sanriku.
I would like to add that I no longer think the program is best for only engineering and physics students, as I've been more exposed to the field of nanotechnology and am now aware of the many interdisciplinary opportunities available.  Really, the program is for anyone who is interested in nanotechnology as a future career path, but they must also be equally interested in Japan's culture.  I feel that curiosity of Japanese culture is almost more important than interest in nanotechnology because NanoJapan participants are subjected to the culture every minute in Japan.  It would be a waste for someone to not utilize this opportunity to learn and participate in as much of the culture as possible.
Why NanoJapan?
I chose to apply not only because I'm interested in nanotechnology and Japan but because I believe the experience will broaden my cultural horizons while simultaneously catapulting me towards my goal of working in academia. It's also an amazing opportunity to study abroad, something that's difficult to accommodate for students in my major. I'm most looking forward to learning more about Japanese culture, making new friends and connections, exploring the city, and working in my future lab.
NanoJapan offers an incredible international research experience for engineering and physics students. This program allows students with little to no research experience to travel abroad and conduct cutting-edge research in a blossoming field early in their academic career. They are able to see first-hand what it means to be a researcher while at the same time broadening their cultural background and knowledge. It's an unforgettable introduction to the world of nanotechnology.
My goals for this summer are to:
Learn as much about my research topic as possible
Extend my knowledge of the Japanese language by developing my casual speaking abilities and learning technical Japanese
Try out as many different types of food as I can
Make the most of the trip by exploring the city
Make new friends!
Research Project Overview
My research topic was to characterize graphene's properties on various substrates, namely indium phosphide, indium arsenide, gallium arsenide, black polypropylene sheets, and magnesium oxide.  Characterization was done using both standard time-domain terahertz spectroscopy (THz-TDS) and THz-TDS when the sample is under illumination by a 365 nm cw laser at various powers.  Transmittance of graphene was measured in both experiments.  The standard THz-TDS showed a dependence of graphene transmittance on the substrate used, as well as a small frequency dependence.  The THz-TDS with laser illumination showed an increase in transmittance with increasing laser power that was independent of substrate.

My research experience was fantastic.  All of the people in the Tonouchi lab are really nice people that are willing to help with whatever needs helping.  They were gracious enough to help realign the THz-TDS setup when I inevitably tapped the table, destroying the alignment; they helped me run the analysis program until I could effectively use it myself; and they were all interesting people with interesting backgrounds and were really fun to talk with.  My mentor, Serita-san, was a huge help throughout the summer, both in the lab and outside the lab with traveling and taste-testing advice.  I also received plenty of help from Ohshiro-san, Sano-san, Salek-san, Kinjo-san, and Takayama-san when learning to use a new system.  I went out with the lab to lunch and dinner several times.  I also went in small groups with other NanoJapan students, the Tonouchi-lab secretaries Iwami-san and Deguchi-san, their kids, and Maekawa-san and Sano-san to various places around Osaka a few weekends.  The lab had a nice balance between autonomy of the students and the traditional strict Japanese hierarchy that allowed for me to experience the Japanese lab culture while still being able to talk about it casually with the other students and not feel too embarrassed by my mistakes.  There were also other international students from places like Bangladesh and Madagascar as well as visiting professors from India and China.  Working in such an international setting made for interesting conversations and relationship building that is essential for success in international research.

There is so much that I will take away from this experience that it's impossible for me to list or even be aware of all of them.  The biggest thing is that I know for a fact that this is what I want to do; I had a blast doing research.  Even during the downs, I still loved it.  I truly think that this is the right career path for myself.  The other take aways from this program are all cultural.  I'm still discovering things about myself, Japanese and American culture that I had never noticed before.  I'm also taking away a newfound interest in language.  I plan on continuing my language studies in Japanese and possibly in other languages as I move into the future.
Daily Life in Japan
My daily life in Japan was never set in stone.  The relative freedom of the Tonouchi lab allowed me to choose my hours, so I usually arrived between 9 and 10 o'clock in the morning and left around six in the afternoon for the first two weeks.  After the first two weeks, I would still arrive at the same time, but I usually would stay very late, usually until midnight, give or take two hours.  I would skip breakfast to save money and because I'm not a morning person, eat a light lunch and then really dig in for dinner because dinner in Osaka is second to none.  Okonomiyaki, yakisoba, takoyaki, and yakitori are the most delicious foods ever invented.  I would use the futon in the lab on occasion to catch a light nap later in the day or to rest until the morning.  I biked 30 minutes each way between the campus and dorm every day, as well as through the surrounding streets at night with Jordan.

I also had the opportunity to visit a lot of places thanks to Osaka's prime position in Japan.  I went to places like Koya-san, Nara, Hiroshima, and Tokyo every weekend.  One of the most rewarding things about my trip was my ability to see and meet people from areas all over Japan that, despite their close proximity by American standards, have entirely unique histories, cuisine, and cultural quirks.
Favorite Experiences and Tips
My favorite experience in Japan was…definitely traveling with friends each weekend to experience a new locale.
Before I left for Japan I wish I had…practiced more Japanese so that I could communicate more effectively.
While I was in Japan I wish I had…been able to do more research and do more things with everyone!  Twelve weeks is nowhere near enough time to satisfactorily finish a research project and see all the great things Japan has to offer.
Pre Departure Tips: I cannot stress the importance of increasing knowledge of the language, culture, and current events before departing to Japan.  It's impressive to Japanese people when they see a foreigner who shows an active and genuine interest in not only their culture and language but also their current events and trends.
Orientation Program Tips:  GO FULL SWING!  This is the fastest three weeks I've ever experienced, and if you stop to take a rest the days just go by faster.  The Sanuki Club is in such a great location in Tokyo that there's no reason for you to not utilize it to its fullest.  Invest your very little free time into practicing the language by using it on the streets, in restaurants, and while shopping!
Mid-Program Meeting Tips: Our meeting was held in Okinawa – the only travel tip I have is that Kansai Airport is really far away Suita, Osaka.  Take an early train so you don't miss your flight.  In Okinawa, everything was planned out for us, but we spent our free time at night playing soccer and tennis or going to karaoke.  Some of my best memories are from this time!
Working With your Research Lab Tips: Be proactive in your interactions with lab members!  They are eager to get to know you, but it's good for you to initialize conversation.  I wish I had been more proactive in my interactions.  Sano-san and Maekawa-san are both super nice and are eager to talk about anything from English to American culture to music and video games.
Living in your Research Host City: Utilize Osaka's location to travel to popular tourist locations, including those typically popular for Japanese tourists.  There are all sorts of things to find in Osaka.  If you have a bike, use it to explore the city at night!  Our dorm was in a quieter part of Suita, so we were able to see the less busy side of the city that most foreigners never see.  The train system can be a little intimidating at first, but don't let it discourage you!  It's easy to have the system known like the back of your hand in just a couple weeks.
Language Study Tips: Take this seriously!  Fluency in Japanese can only be achieved through lots and lots of practice.  Learn the hiragana and katakana as early as possible, and even start learning some basic kanji.  Study as much basic grammar as you can.  It not only lightens the load that you'll receive in language classes, but it will also help tremendously if you ever get lost or are confused about something in a store.
What Gifts to Bring: Bring non-perishable food items that are iconic to your hometown or university area as gifts for your lab!  In Japanese culture this is known as omiyage, and it is a strict requirement that all lab members bring some to their lab should they venture from Osaka.
What to Eat: Okonomiyaki, yakitori, ramen, gyuudon, oyakodon, yakisoba, soba, katsudon (all of the types!), and all the strange sounding drinks you can find.  Explore!
What to Buy in Japan: Presents for the folks and friends back home of course!  Also, stationery is Japan is amazing.
What to Do in Japan: Travel and talk with people as much as possible.  The more you immerse yourself in the Japanese culture, the more rewarding your experience will be.
Places to Visit in Japan: In Tokyo, visit Roppongi, Asakusa, Shinjuku, Harajuku, and Akihabara.  In Osaka, check out Umeda, Namba, Shinsekai, and Nipponbashi.  In the Kansai area try Nara, Hiroshima, and Koya-san.
WEEK ONE: ARRIVAL IN JAPAN
It didn't really hit me that I was in Japan until I saw the skyscrapers side-by-side, covered with colored ads. It was a little intimidating not being able to read 90% of what was written on street signs or menus, but creative hand gestures go a long way. I was expecting to not be able to really communicate anything with what little Japanese I knew, but I was surprised when I was able to more or less ask for directions and actually understand some of them. I've yet to get lost, even on that seemingly tangled mass of a railway system. I had expected the toilets to be strange though, and I have to say I was right in that regard. The TOTO toilets are a "revolutionary new step in toilet technology," complete with a built-in seat warmer and bidet. Neither were what I would exactly call appealing. Maybe I'll get used to it.
On another note, the language classes are going smoothly. I'm the only one in the intermediate level, which means I get to have a one-on-one three and a half hour intensive language study with Shimojo-sensei. It's a very unique experience. It's the first class I've had where I'm the only student, and I really enjoy the ability to move at a comfortable pace and being able to have regular conversations with Shimojo-sensei. That's not to say the class is easy, though. I've had to learn quite a few kanji in just this past week. They're all pretty useful though. For instance, I was able to read some of the directions in the coin-operated laundry machines. The different phrases and verb forms I've learned have been extremely helpful in asking how to do certain things, like how to order, cook, and then eat okonomiyaki or yakisoba.

In a similar vein, the KIP Discussion Forum was a lot of fun. It was nice to be able to speak English and meet other Japanese students from various universities. They all had interesting stories and were fun to get to know. Inoue-sensei was entertaining, and his toastmaster setting allowed for quick-fire debates and storytelling. Everyone was able to share their views on various topics such as whether or not silence is golden, differences in American and Japanese communication styles, or just share their trip to Japan or views of the KIP program. After the discussion we went to eat dinner with some of the students. Two of the students, Mami-san and Teppei-san, also took us to Kamakura that Saturday. Apparently we were very fortunate this year to not have it rain during the trip. We visited various shrines and temples and then went through the surrounding areas and stopped by the beach.

Jordan, Dante, and Mitch showing enthusiasm about some Dragonball soda our group found near Kamakura.  Surprisingly tasty, too.
The next day Mami-san joined some of us on a trip to the Sanja Matsuri in Asakusa. Words can't describe the sheer amount of food, people and rhythm that was there.



Even little kids joined in the fun at the Sanja Matsuri with miniature drums and shrines to carry around while chanting various rhythms.
After the matsuri, we headed over to Harajuku to check out Takeshita Street.  Takeshita Street definitely lived up to its name as the center of the most extreme teenage fashions, as I don't think I saw a single person in what most people would call "normal" clothes.  It was a mass of colorful attire and crazy hair.  Hundreds of people were packed onto the narrow street looking at all sorts of clothing items.  It provided some of the more interesting visuals of the week, though I couldn't get many good pictures besides this picture of an entrance to a huge department store.

The entrance to a gigantic 12 story department store just off of Takeshita Street in Harajuku.  Nearly everything you see here is a reflection, save for the people on the escalator and the opening in the bottom right corner.
And with that, the first week ended, filled with lots of learning, walking, exploring, and just general fun.  I'm looking forward to what the coming weeks hold.
WEEK TWO: NOTICING SIMILARITIES, NOTICING DIFFERENCES
This week has been a great opportunity to really expose myself to the less apparent aspects of Japanese culture.  For instance, behavior on the subway line is interesting.  Earlier in the morning, the trains are more packed.  Everyone stands and sits perfectly upright.  If you can balance yourself without a handle, you do so and let the more unstable people (like myself) use them.  Backpacks are worn in front and bags and briefcases are held by your side for maximum cramming and minimal hassle.  If you have a bag and are sitting, you keep the bag on your lap.  When using escalators, you stand still on the left side and use the right side for passing.  The same applies to stairs.  If everyone is walking up the escalator, you should too.  The most important thing is to not eat, even though there are vending machines selling ice cream on every platform or the occasional delicious donut shop.  Later at night, when the suit density is at its lowest, the rules become more relaxed.  People talk on the subways and you'll spot the occasional person eating ice cream.  For entertainment you can read, play on your phone, listen to music, sleep, or do some combination of those.

Our company visit to STS-Elionix an Electron-beam Lithography Company

I've only taken public transportation in the United States once or twice so I can't fairly compare the two systems, but I can say for a fact that Japan's system is clean.  The people are polite and are never openly angry if you are in the way, which I'm sure I usually am.  They'll always accommodate you, even if the train car seems too full.  Everything about the subway system seems to focus on harmony and success of the group, even with some sacrifice of comfort for extended periods of time.  Everyone needs to get to work or do their schedule for the day, and they understand, and don't mind not having the elbow room.  I find it quite nice that they are willing to do all of this for each other.  The best part is that not only is this practical and produces the best results, but seems to have grown directly out of their central cultural values of harmony and form.

A picture during the lineup of the top sumo wrestlers in the Grand Sumo Tournament this weekend.
The KIP Discussion with Japanese Students this week covered the rise of technology and its implications on the workforce.  It was a good exercise in communication, and it was interesting to see the KIP students' debate style.  They were much more reserved and cautious when stating their viewpoints or ideas, and often presented them as light suggestions or fleeting thoughts rather than a firmly held belief.  They also tended to attach several conditions to their idea.  It reminded me again of the Japanese desire to maintain harmony in the group because of their desire to not upset people in the discussion by being too straightforward in their speech.  It did maintain harmony, but I couldn't help but feel that I and the other American students tended to trample on their ideas with our own even though we were aware of this cultural difference.

A picture of the Hotaru Festival near Asakusa.
I'm still excited to go to my internship because even though there is a distance between the professor and the students, that distance shrinks dramatically when the lab goes out to eat lunch or dinner together.  It's really one of the best ways to get to know others in your lab, and I love talking to people over good food, so I'm excited.  I'm also excited to go because of the research aspect, though it makes me a bit nervous as well.  I'm not entirely confident in my ability to 100% understand everything in my project, but I feel that I'll be able to build enough support with my lab mates that things will turn out all right.
WEEK THREE: FINAL WEEK OF ORIENTATION AND MINAMI-SANRIKU TRIP
This week we went to Minami-Sanriku (南三陸町), a small town on the eastern coast of Japan roughly two hours by bus from Sendai.  We'd been told several times by Packard-sensei and other people we've met that this town is almost unchanged from when the tsunami hit on March 11 two years ago.  Even then, nothing could really prepare us for the devastating state the town was in.  The height of the tsunami is still apparent by snapped trees on the hillsides surrounding the town.  The few old buildings that remain are left standing on their main structures with walls blown out.  Several bridges are completely destroyed.  Gravel covers the entire town.  Perhaps the most chilling sight was the area in front of the elementary school.  The elementary school used to overlook a densely packed residential area, but now all of the houses are completely gone and the walking bridge up to the school is completely destroyed.  The surviving residents of the town all ran up to the middle school, which is on the hill behind the elementary school.

A view of Minami-Sanriku from the top of the hill near the middle school.  The tsunami came from the ocean, just off the picture to the left.  It was around 20 meters (65 feet) tall when it reached the town.
The people of the town still mostly live in temporary housing.  We visited one area and volunteered for about one hour clearing the gutters of debris and weeding the gardens and side streets.  What I thought was most troubling is that the volunteers from the town were all older men.  In fact, I don't think I ever saw someone near our age during our time in Minami-Sanriku.  All of the residents were either above 30, under 14, or had young children.  It seemed like nearly everyone that had the ability to leave the town, did.  This, coupled with the slowed relief effort and destruction of railroads connecting the town to Sendai, doesn't bode well for the future of the town.


The Former Minami-Sanriku Disaster Prevention Government Center (旧南三陸町防災対策庁舎).  A famous story in the town took place in this building; a woman on the second floor was on the intercom, warning the town of tsunami.  She stayed there until the tsunami, slightly taller than the building, hit.
Despite all this, the people in the town are all resilient and intent on restoring the town.  Everywhere you can find posters saying "Let's go together to the future as Minami-Sanriku" and a small shopping center with basic necessities has been built.  The fishing industry is slowly rebuilding itself.  We had a dinner from a local restaurant that served extremely fresh fish.  The style is known as sashimi, which is like sushi but the fish is served separate from the rice.  There was a completely intact shrimp, with eyes and all.  I couldn't eat it, but the rest of the meal was delicious.

The most inspiring parts of the trip were the times we played with the children in the town.  None of us could understand anything they said, but combined with the KIP students and inventive hand gestures we were able to do a variety of activities with them.  We had the kindergartners make paper airplanes and then we ran around with them on the playground.  For the middle schoolers we had a bridge-building competition.  Each group had to design a build a bridge using a limited number of chopsticks and only 1 meter of tape.  Everyone who participated in the "Hashibashi" challenge had a lot of fun and it was amazing seeing what the fifth and sixth graders were capable of creating.  We also spent Saturday morning playing with the kids on the playground by the middle school.  It was a lot of fun playing Japanese-style dodgeball, baseball, and basketball with the little bundles of energy.

A traditional Minami-Sanriku Festival.  It's a celebration of the Seven Divine Gods.  There are two snakes to signify the Year of the Snake.  All of the participants are women.

I have to say that what most uplifts my spirits about the town's future is the region's refusal to give up, like I've mentioned earlier.  They stick to their traditions, even when nothing else is really left.  The children also bring hope to me and the town.  The people really show how Japanese society can rise to the occasion even when the odds are overwhelmingly tragic.  The countless stories of heroism or tenacity during the time of the tsunami that we heard during our trip were moving to say the least.  At this point, I would say what the Tohoku region needs most is financial support or selfless volunteers who are willing to work an extended period of time.  Government funds have been dwindling in recent years, and I'm sure some international attention created by charity groups could not harm the recovery effort. 
Reflections on Orientation Program in Tokyo and KIP Program: I always looked forward to the KIP student discussions.  It was always an interesting topic, but what was more interesting was interacting with Japanese students in a debate format and trying to effectively communicate with them.  Afterwards, we would go out as a group and have dinner with the KIP students, exchange contact information, and then meet up with them on weekends or days off.  Some of my best memories in Tokyo were going to Kamakura, Roppongi, or Asakusa with the KIP students and seeing the major festivals or shrines in the area.  They always knew great places to eat as well.  It was a blast with them in Minami-Sanriku as well since they could explain the games to us and translate between us and the children.  The last day of orientation together was really sad, and I look forward to hopefully having one last get-together in Tokyo before we fly back to the States.
To future NanoJapan students:  DON'T BE SHY!  The KIP students are some of the coolest people you'll meet in Japan.  Not only can they all speak English really well, they're super fun to talk to!  And they want to hang out with you!  They're like instant friends!  It's great to have the ability to talk with and exchange cultural information with people who live on the other side of the Pacific.  Don't waste it!
As this week comes to a close, I'm beginning to feel more prepared to work in a lab for the next eight or nine weeks.  I think I have enough support from home and the program in order to succeed or even just stay afloat.  I don't have much time left in Japan, so I might as well make most of the time and resources I have available to me rather than worry too much or burden myself with problems that are difficult to take care of alone.
WEEK FOUR: FIRST WEEK AT YOUR RESEARCH LAB

The first day in the lab was nice.  Kazunori-san, a last-year Ph. D. student, took me to Tonouchi's Lab at Osaka University by subway.  When I arrived I met my secretary, Iwami-san, who's really sweet.  She and Kazunori-san took me around the campus for about an hour and helped me fill out a lot of paperwork I needed for insurance, internet, and other stuff.  I met Tonouchi-sensei later that day and went with him and Kawayama-sensei to eat lunch with a visiting professor from India.  I also started my self-study of graphene properties and Terahertz Time-Domain Spectroscopy.  I'm giving a presentation during Week 6 on that and hopefully I'll be able to show some results from experiments on some graphene samples.  I went to the lab twice this week, but since I can't access the building and we ran out of nitrogen purging gas it's been really difficult to get any good data.  Hopefully next week will turn out better on that front.  Oh, and next week I get to help move the lab into a new office!  It's exciting, the new room is supposed to be larger and really clean.

The plaque outside of the lab office.  It's so shiny and reflective I couldn't get a clear picture.
The Japanese students can all speak English at different levels of fluency, but they're willing to talk when I try to talk with them.  I have essentially four mentors; Zhang-san, Kazunori-san, Sano-san, and Ohshiro-san.  Ohshiro-san is an M1 (first-year masters) student and we're pretty much learning side-by-side.  Sano-san is an M2 and gives us advice from time to time.  Kazunori-san is the best English speaking Japanese student in the lab, so he helps me out both in and out of the lab.  Zhang-san is the Terahertz TDS super-expert, and she wrote the paper I'm using to learn about the system.  The other students in the lab also help out from time to time if Kawayama-sensei or Tonouchi-sensei asks them too.  Everyone's really nice and I think we're getting along great.
I will be researching the reaction of graphene to terahertz radiation using Terahertz Time-Domain Spectroscopy.  Kawayama-sensei and Tonouchi-sensei are interested in graphene's interaction with terahertz radiation on InP.  Sano-san, another student in the lab, is researching the substrate's reaction to terahertz radiation.  Our combined data will hopefully create a clearer picture on the what's going on in the graphene-InP interface. Terahertz Time-Domain Spectroscopy (TDS) is a unique spectroscopy method in the sense that it directly records the incident waves electric field rather than its intensity.  This allows us to further analyze a material's key properties by using transmission data involving air, only substrate, and graphene+substrate.  We can use the ratio of the Fourier transforms of this data to determine a material's complex refractive index (containing the refractive index and absorption coefficient) as well as the material's optical conductivity.  All of these values are important when characterizing a material's optical properties.  I'll be using a pre-fabricated TDS system in order to do measurements and will analyze the data using the Origin program that the lab uses.

For the first two and half weeks I am being taught how to use the TDS system and analyze the data properly.  I'm also studying graphene's general properties and terahertz properties in order to give a presentation to Tonouchi-sensei when he returns from a conference in California.  However, the teaching has been put on hold because we need more nitrogen tanks in order to properly use the TDS device.  Nitrogen is needed to fill the TDS device because water vapor in air is extraordinarily good at absorbing terahertz radiation.  Kinjo-san and I had tried to analyze a sample purely so I could learn to operate the TDS device, but the data was so bad we couldn't continue.  Thus I wait.  I'm also researching TDS setups in the instance I might need to create a system myself, though it's unlikely at this point.
The housing Jordan and I have in Osaka was quite different from our expectations.  On the plus side, it's cheap and all the residents are other cool international students, so we've been to talk with a few of them and hear about their time in Japan and interesting places to visit in Osaka.  Although the experience leaves a little to be desired, it's nice to have such cheap housing because now Jordan and I have the finances to really tour Osaka and the rest of the Kansai region.  For instance, we were able to go to Kyoto on Sunday and meet Xavier and tour some temples, mainly Ginkaku-ji (銀閣寺).  The dorm is also located relatively close to the campus by Osaka standards.  It's a 30 minute bike trip one way, so I get to wake up every morning with a great uphill workout.  In the evenings I get to have a nice, cool, downhill bike trip to the dorm.  While the dorm itself is not as nice as the dorm I stay in at Rice, it is really nice to have a reason to go off campus and see the quieter side of Osaka.  I haven't really had an opportunity to tour the city this week due to lab hours and having to run several errands, so I don't have many pictures from Osaka.  However, in the future I think Jordan and I plan to see the city by bike, which should be an amazing experience.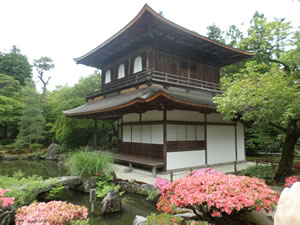 The grounds of Ginkaku-ji (銀閣寺) in Kyoto (京都) are beautiful at this time of year.
WEEK FIVE: CRITICAL INCIDENT ANALYSIS
Now that I've been in Japan for five weeks, I've had plenty of time to be exposed to the culture and common courtesies.  I've been doing my best to acknowledge these differences and be respectful of them by either following them or gawking.  So far, I'd say I've done a pretty good job, as I don't think I've had any terrible misunderstandings with other Japanese students or professors, workers, or citizens.  However, there is one thing that's perplexed me for a while.

As of now, several other NanoJapan students and I have been stopped several times by small groups of middle school students while visiting museums or other tourist-heavy areas.  These children are usually accompanied by an adult, presumably their teacher.  One time we were told that these students were asked by their English teacher to "find foreigners and ask them questions in English."  At first I thought it was kind of cute, as all the children were really excited to talk and take pictures with us.  It wasn't until the third or fourth time it happened that it struck me how strange this was from an American perspective.

This practice that seems so prevalent in Japan would almost certainly stir up controversy in the American media.  I'm confident that there would be a very vocal group of people claiming that this is racial profiling.  While I don't believe there are any negative intentions, it is true that something like this can be easily spun in a negative light out of context by an overeager journalist.  I know that there were no negative intentions on the part of the students or the teacher, but it's a strange feeling to be approached because you're different.  The only sign that we probably spoke English was that we didn't look Japanese.  It's something that I've been noticing more and more recently; people change their behavior around us because we're not Japanese.  They mean well, and their gestures are usually to help us just in case we need it (such as giving us forks and English menus), but it's these small things that create a sense of uneasiness when walking down the street.  It's hard to really feel a sense of belonging at times.  It's a completely alien feeling to me to be actively aware of my identity as a foreigner and be treated differently.  Politely, but differently.

I don't want to sound like this is a huge issue that's seriously affecting my enjoyment here in Japan; it's not.  It's a very minor issue, but extremely prevalent.  I'm having a lot of fun here going to local landmarks and talking with people.  Osaka and Kyoto are amazing places.  Just this last weekend I was invited to visit Nara with Jordan and a couple of his labmates, and I made some great memories there.  But even in Nara, surrounded by deer who really wanted me to feed them, I still had that gaijin feeling following me around.  I'm sure it'll stay a thin shadow at the edge of my mind and not manifest into a serious issue that clouds my entire experience.

Nara: One of two temples surrounding the area with the giant Buddha statue in Nara. At the top are nine rings (kurin – くりん) that stand for nine gods that protect the area. The 鹿 (deer) in Nara (奈良) were so friendly!  First time I've ever pet one, that's for sure.


Nara: A picture of us in front the temple housing the giant Buddha.
Research Update: This week the details of my project have been clarified.  I'll be continuing Mika Tabata's research from 2012, but in an expanded view.  Sano-san, another student in the lab, has identified that Terahertz radiation emitted from graphene-coated InP is actually emitted from the substrate.  He has several samples of graphene on different substrates, like Si and MgO, that I will characterizing the following week.  My goal is measure the simple terahertz transmission of these samples, as a baseline for later work.  After that, we will shine a c.w. laser on the material and then observe the terahertz emission.  In this setup, the emitted terahertz wave attenuates much faster than expected.  There are two theories for this; the first is that the electronic structure of the substrate is altered by induced current from the laser such that emission is attenuated, or that the Fermi level of graphene is slowly changed to as increase the carrier concentration, thereby increasing its terahertz absorption.  By comparing the THz transmission of the material in this state to the transmission without any optical pumping, we can decide which of the two scenarios is dominant.  If I have time afterwards, then I will repeat the experiment at low temperatures and in vacuum for more accurate results.  If things move as planned, hopefully I'll be able to that.
WEEK SIX: RESEARCH IN JAPAN VS. IN THE US
I've been in the laboratory for three weeks at the time of writing this, so that means it's time to share my impressions on the rules of interaction and values of the lab. The "rules" guiding the lab seem to be fairly loose. There is a hierarchy, though it's not extremely apparent except when the ranks are very far apart, like when a masters student is talking to a professor or post-doc. Lower level students use the "-san" honorific for post-docs or research students and "-sensei" for professors. Between each other they use the "-kun" honorific, as it's more colloquial. Higher ranking students also use "-kun" for the students. The secretaries use "-kun" for the students and "-sensei" for the professors. I just use "-san" for the students and "-sensei" for the professors, since I'm the lowest level student in the entire building.

Everyone in the lab follows their own schedule. Most of the people in the room that I work in are first or second year masters students, which means they're taking a lot of classes. They work constantly, juggling schoolwork and research. The senior members of the lab stay very late into the evening while the younger ones tend to leave a few hours earlier (around 7:00). Every Friday there's a meeting where all the students present what they've done that week, as well as their future plans. The meetings are held in English and mainly to exist to debrief Tonouchi-sensei of their work. The meetings are very loosely run, and questions are welcome from anyone, regardless of their rank in the hierarchy. When people notice discrepancies or have objections to methods or data, they very lightly request the data to be shown again and state their concern as politely as possible. Disagreements and corrections between members are handled much in the same way.

One thing that I've noticed is that students rarely approach a professor for feedback or help; they seem to be independent, almost to the point of personal detriment. For instance, I was having problems using a program to run a Fourier transform on some data. There was a strange error that I couldn't figure out, so I asked another student to help. He couldn't figure out the problem either, but we sat working on the issue for almost ten minutes with no progress before I casually suggested asking a professor in the next room over. My suggestion was quickly dismissed, and though the reason wasn't made explicit, I'm sure that it wasn't out of pride on the student's part. He seemed like he genuinely did not want to interrupt a professor with a question. We ended up figuring out the error almost an hour later. The other students are all the same way, preferring to solve problems on their own rather than seek help after some frustration. This aspect has two sides; on the one hand, it's a great to be an independent problem solver, since that's what research is all about – however, struggling on a technical error for over an hour feels like wasted time. It could be an error that someone else in the lab has encountered before, and he we asked, we could've solved the problem within ten minutes, tops.

All of this is similar to what I've been told by Dr. Kono, Dr. Einnarson, and Mika. The biggest difference is how lunch is handled. I was told by Dr. Einnarson that one of the best ways to get to know your lab is to follow them when they go to lunch. This is difficult to do since every lab member follows their own schedule. Usually they've already eaten by the time they return to the lab. I'll go with them when they all happen to go lunch together, but so far this has only occurred a handful of times. I was also surprised that the weekly meetings were held in English. It's obviously difficult for non-English speakers to speak in English (and in detail) about their project. Other than those two things, everything has been as I was told they would be.
It's difficult to compare Japanese labs and American labs, as I've yet to work in lab in the US. However, I have done a mentorship in high school. That was a fundamentally different experience than this, though. At the mentorship I was alone, working on a research project with a theoretical emphasis, rather than experimental. There were no real "rules" seeing as how I was the only one there; I just showed up, worked for a few hours, and then left to go to class or dinner. Here, I work all day on my project and study Japanese while waiting for measurements to be taken. I'm also surrounded by other students, both native and foreign, who busily flit between rooms, printers, and experimental setups in their research. Here there's a much more intricate hierarchy and dynamic between lab members, secretaries, and professors. Honestly, I much rather prefer this environment simply because of the human interaction. It's nice to be able to relax over a meal or late in the afternoon and talk with the secretaries or lab members that aren't busy (even if they are usually busy).
The location is also great. I probably sound like a broken record at this point, but the Kansai region is amazing. This past weekend I went with Jordan and Xavier to Kouya-san (高野山), a tourist area on the top of a nearby mountain. There we stayed in a Buddhist monastery with several monks. We had a great time hiking through the mountain and the Okunoin Cemetery (奥の院).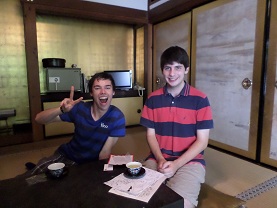 Jordan and Xavier in our room at the monastery.


This pagoda, Konpon Daito, was absolutely gigantic. There are bells on the wires strung from the spire that ring when the wind blows heavily.

The entirety of Okunoin is filled with ancient stone graves similar to this one. All of them were unique in their layouts.
Research Update: Over the past week I haven't been able to do much because the THz-TDS machine I'm using is behaving oddly. Monday and Tuesday (the 25th and 26th) were spent figuring out the source of an error in the calculations I presented the previous Tuesday. While the conduction part is still a mystery, I've found that I had accidentally averaged in a different measurement when calculating the transmittance while also managing to calculate the power transmittance instead of the regular transmittance. This Wednesday the machine is being looked at by a repairman from the company, so hopefully it will be back in working order. Until then, I'm going to do some rough calculations on the data I've gathered because the deviations in the measurements are small related to the transmittance, so they might not affect the calculations too much. After Wednesday, or hopefully that same afternoon, I'll be able to re-measure this sample as well as measure some other samples.
WEEK SEVEN: PREPARATION FOR MID-PROGRAM MEETING WEEK
After almost two months in Japan, I have so many stories I want to share but I don't even know where to start. The best part is that there are still five whole weeks left! Nothing could have truly prepared me for how amazing and deep the experience has been up to this point. Now, with the Okinawa Mid-Program Meeting coming up, I'm looking forward to catching up with the NanoJapan students and swapping stories and frustrations with lab equipment with each other.

There's been a fair share of challenges up to this point, and most of them would be what you expect; the language barrier and cultural differences being the primary instigators. With such monumental foes, it's important to count the small victories so as to not become discouraged. For instance, I would say that one of my proudest moments was simply being able to order something at a restaurant in a complete sentence without requiring an English menu and without the waitress becoming completely confused. Another would be successfully operating unfamiliar machinery whose instructions are only written in Japanese. But my biggest personal challenge – one that I'm very close to achieving - the 500 kanji milestone; to be able to say the English word (and sometimes the Japanese pronunciation) with roughly 500 kanji. This requires quite the time commitment, but since measurements typically consist of pushing a button and then waiting for a little over four minutes, I've had a lot of time on my hands to study. I'm a little over 100 very confusing characters away, so I hope I can succeed before the end of the summer.

There are other non-language-related accomplishments, though most of them are ongoing. For instance, I've finally overcome my fear of unnecessarily large grasshoppers, which Osaka seems to be teeming with. However, it's still a challenge to not be freaked out by giant jumping spiders, which seem to be more numerous than the grasshoppers. I've also challenged myself to improve my fitness during my stay here by not eating too much and riding my bike as much as possible. I've gone from barely remembering how to ride a bike to being able to successfully navigate through a haphazard group of middle school boys, which is much more difficult than it sounds. Jordan and I have also just biked around Suita-shi in afternoons and nights to explore the area and get some exercise. We've found all sorts of stuff that we would have never even known about, primarily market streets and restaurants. There's no better way to enjoy Suita than on a bicycle.

As for research, I'd say one of the bigger accomplishments is successfully placing a sample onto the sample stage for measurement. The samples are incredibly thin (typically much less than a millimeter) and have roughly a half to one square centimeter of surface area. In other words, they're really tiny. I have to use to tweezers to pick them up. It's incredibly difficult. They're so thin it's difficult to get the tweezers under them, and then I have to gingerly squeeze the tweezers so as not to damage the sample or the one-atom-thick layer of graphene. To top it off, I have to do this as fast as possible so as not to waste too much nitrogen gas. This week I was able to do it in less than ten seconds. A small victory, but one I wear with pride.

On the subject of research, the project is progressing smoothly despite some hiccups from the machine I'm using. At some point in the future I may switch devices, but at the moment this machine suffices. I have around three or four more samples to measure, which can optimally be completed in one week. I've completed the rough draft of the abstract for the RQI poster due at the end of July. The outline of my project is becoming less hazy. I'm thankful that right now one of the more worrying issues is how to word the title to my project.

In other news, last weekend Jordan and I visited the Modern Transportation Museum and the Kaiyuukan (海遊館). Both were very interesting. Members from the lab were able to join us for the Transportation Museum. There were full-scale interactive models of trains, planes, and automobiles and transportation technology throughout the building. As engineers we both found the machinery and analog control systems especially interesting, as the exhibits all had the mechanical and electrical systems exposed for viewing. The Kaiyuukan is the Kansai region's most famous aquarium. The building's layout was awesome, as it's basically a stroll through a gigantic partitioned water tank. They had all sorts of aquatic animals, from penguins to lizards to capybaras to whale sharks. Once outside the aquarium we saw a street performer who juggling flaming torches while balancing on a board and some rolling cylinders.


The exterior of the Kaiyuukan (海遊館 ) is a work of art in and of itself.


The tanks in the Kaiyuukan (海遊館) were absolutely stunning. This was taken near the bottom of the tank, which was roughly four stories tall.

A street performer outside the Kaiyuukan (海遊館) flirting with serious injury.
All in all, I'd say the first seven weeks in Japan have been a massive success. I'm looking forward to what coming weekend in Okinawa and the subsequent weeks will hold!

Research Update: I presented some new data I took of graphene-coated black polypropylene sheets (BPPS). The data seems relatively good, with only a few artifacts from the device I used to measure. There has been difficulties with the commercial device in the past, so in the future I will probably use a system developed in the Tonouchi laboratory. I don't know yet if I'll use one already made or create one myself, though the former seems most likely due to time constraints. These issues aside, however, the project seems to be progressing smoothly. Hopefully by the next Wednesday or Thursday I'll have been able to measure all the samples and moved on to the next phase.
WEEK EIGHT: REFLECTIONS ON JAPANESE LANGUAGE & ROLE OF TRADITIONAL CULTURE
This year the Okinawa Institute of Technology (OIST) extended an invitation to the NanoJapan program to host the Mid-Program Meeting. OIST is a brand new graduate university in Okinawa, Japan. We toured several of the cutting edge facilities at OIST. There was so little time and so much to see that we had to divide into separate groups to see what was most interesting to us. I was able to see some fantastic laser facilities, optical fiber fabrication units, cold atom setups, clean rooms, and some absolutely massive microscopes.

The facilities are without a doubt remarkable to say the least, but what's truly amazing about OIST is its differences from the typical Japanese university. The university conducts all of its classes in English and has a focus on globalization with a diverse international student body. There are students and faculty from every continent and over 50% of enrolled students are non-Japanese. We met several of these students and faculty during the various the events the university planned for us. They were great company to have, and extremely interesting to talk to given their diverse backgrounds, expertise, and life stories. The faculty and students seemed to have a very tight relationship with each other that differs from the relationship I've seen at Osaka University. The students at OIST respect their professors, but this respect instead bridges the gap between them rather than creating a gulf. The lack of "departments" in the traditional sense is also a drastic change. The OIST approach removes the artificial boundaries of departments in an effort to stimulate interdisciplinary research and relationships. Even the layout of the OIST campus supports this philosophy. Labs are designed with as few walls as possible and the offices are mixed together, so it's nearly impossible to avoid meeting someone from another field when walking from point to point. In Osaka University, the only people I can really interact with are my lab members. Tonouchi-sensei's lab is in the Graduate Engineering section of campus, so all of the students have a similar background and interests, completely opposite of the situation at OIST. I prefer OIST's layout over Osaka University's specifically because of this. I think it's great to be able to easily mix with students from other backgrounds

It was also great to be able to reunite with the other NanoJapan students. We shared stories with each other about our labs, research projects, and experiences. Everyone had some funny stories to share about their cities and mishaps in the lab and out in the town. We had a lot of fun touring Shuri Castle, visiting Ryukyu-mura and the Churaumi Aquarium, snorkeling in Maeda, playing soccer and going to a 24 hour karaoke club. I firmly support holding the Mid-Program Meeting at OIST in future years. Okinawa was a blast to experience. The facilities at OIST are something that all future NanoJapan students need to see, the views of the ocean are incredible, and snorkeling was an amazing opportunity. We were able to witness world-class facilities, experience the unique island culture, and even have some relaxing vacation-esque moments on the beach. For future years, I would recommend telling students to leave room for more souvenirs than they expect to buy because there's so many unique trinkets in Okinawa it was difficult to choose which ones I could justify leaving behind.


A local dance we saw in Ryukyu-mura. The man in face paint fanned himself and the performers during the show.


This is the throne room in Shuri Castle.

The view from my room at the Seaside House, provided by OIST.
Learning Japanese this summer has been a busy experience. After the initial three week orientation period, I would rate my speaking ability at a fairly low level. I could express desires, order food, and talk about the weather just fine, but more complex thoughts were difficult to communicate. The most important things I've learned from the Japanese lessons were the vocabulary and sentence structures. I've been studying them since then, and I've gotten better at conjugating verbs to fit the more complicated structures. I've been able to clarify a couple misunderstandings at a few restaurants or information desks primarily through language rather than pointing or gesturing. The biggest obstacle was when I visited Kouya-san with Jordan and Xavier – no one at the monastery spoke English and very few people in town could. We had to order our meals, ask for directions, and clarify rules entirely in Japanese. It was quite the test, but between the three of us we were able to survive quite well. The locals all seemed nervous when we first approached, but were relieved when they were able to speak in Japanese with us. I believe they were relieved to not have to speak English with us, and came across as much more friendly because of it.

Like I mentioned earlier, I've been studying Japanese since the end of Orientation, but I've only been able to study independently. The Japanese level that I've tested into at Osaka University has a class, but it's already been meeting for two months so I would be too far behind to catch up. Like I mentioned in my previous report, I've decided to start hiking the kanji mountain. I'm still pushing for the 500 kanji threshold. When Jordan and I have time, he tells me new words he's learned from his lab and I tell him a few of the more common kanji that we come across. This method has been working out nicely, but I'd like a little more structure in what I learn so that I can better compartmentalize the kanji in my head.

I would say that my time in Japan has only further enforced my desire to learn the language. I'm already enrolled in the level 2 Japanese course at my home university of Rice and I've cemented a long-term goal in being able to read Kafka on the Shore and The Tale of Genji in their original Japanese text. I've been told by Packard-sensei that this would be "a little difficult," so I know it's a good goal to have. I'm also planning on joining the Japan American Society when I return to America so that I can participate in their weekly meetings, meet other Japanese students at Rice and continue speaking Japanese as often as I can.

Research Update: Prior to departure for Okinawa, I re-ran the BPPS samples and did a first run of the MgO samples. Since I had to get up at 5 to catch the flight, I couldn't get the data from that time. On Wednesday I'll try to get the data from them and I'll analyzed it.
WEEK NINE: CRITICAL INCIDENT ANALYSIS – RESEARCH LAB
This week, I'll be reflecting on a critical incident that happened in my lab a couple weeks ago. First, a statement of the facts. Our lab has weekly meetings which happen on Thursday or Friday, to fit the schedule of as many people as possible. However, since this was the third weekly meeting I'd be attending, I was uncertain of the usual meeting times. Sometime after dinner on Tuesday night I was told by Kawayama-sensei that there would be a meeting on Thursday morning. I asked if the meeting would be at 9:30, and he corrected me, saying 10. Due to my tone and his tone, I interpreted it as 10:30 rather than 10:00. I then very quickly said "Okay, 10:30" as I was zipping my bag and then left the office. Wednesday night, Kawayama-sensei sent out an email to the lab mailing list – which I am not a part of – saying there would be a meeting at 10:00 rather than 10:30. I showed up at the office at 10:15, very surprised to see that everyone was in the meeting room watching one of the members present their weekly work. Needless to say, it was really embarrassing.

In hindsight, it seems obvious that Kawayama-sensei probably meant 10:00 rather than 10:30. Because I was in a rush to beat the rain, I had a lapse in judgment where I was thinking in American terms. It's difficult to describe the interaction, but the way that we had talked, most people from America – or at least people that I usually interact with – would have come to same conclusion. It's similar to when someone says the time to make sure of the hour; the minutes are spoken, but trailed off. I heard a small sound after the "ten," so I instinctively assumed that he was affirming the minutes and correcting the hour. While Kawayama-sensei's English is good, I should have probably realized that something so subtle probably wouldn't be noticed by someone who learned English as a second language. Since then, I've tried to be clearer on meeting times, both in and out of the lab by enunciating the minute portion clearly. I also asked that I be included in the mailing list. While I haven't been officially added to the list, relevant emails are forwarded to me from someone in the lab. So far, there've been no miscommunications and I've been on time to every weekly meeting, so I would say my changes in behavior have been working well.

In other news, this weekend was a great opportunity to travel since Monday was a holiday and I would be unable to use any equipment in the lab from Saturday to Monday. I visited Kyoto and Hiroshima with Xavier, Jordan, and Lila. Sano-san, a student from Tonouchi-sensei's lab, also joined us four on Monday for a tour through Osaka. In Kyoto we explored some temples and ate at Ninja Kyoto, a restaurant themed like a cavernous underground ninja retreat, complete with waiters that dressed and served food like ninjas. We were even treated to a ninja magic show.

At Hiroshima we visited the Peace Memorial Museum, built in the Peace Memorial Park. The entire area is devoted to remembrance of the drop of the atomic bomb on August 6, 1945. I felt an indescribable mix of emotions while walking through the museum. The first floor was primarily explanations of why it all happened; why the bomb, why Japan, why Hiroshima. There were schematics and explanations everywhere. Roughly 150 years of Hiroshima's history was laid out. What was most interesting was that there were accusatory remarks toward America's use of the atomic bomb. There were, however, over 160 letters of protest to every nuclear test that has been performed since the drop of the bomb. They were difficult to look at, but the most difficult to handle was probably the final area of the museum. For perspective, this last area was an entirely optional route so the faint of heart didn't have to see it. Throughout the section were artifacts that "survived" the bombing, such as clothing or little trinkets, and entire steel structures which are now almost unrecognizable due to the incredible force of the shockwave. Sections of concrete that preserved people's shadows, pictures of the city a mere 20 minutes after the explosion, models of victims, and pictures of people poisoned by the radiation are just a few of the exhibits. Though difficult and disturbing, this museum needs to be seen by everyone; only someone who's seen this museum can even get a glimpse at the tragedy and pain that the survivors of the bombing must have experienced.


From the plaque in front of the 原爆ドーム: The A-bomb dome is the ruins of the former Hiroshima Prefecture Industrial Promotion Hall which was destroyed by the first atomic bomb ever to be used in the history of humankind on August 6, 1945. The atomic bomb was detonated in the air at an altitude of approximately 600 meters almost right over the hall. The explosion by a single bomb claimed the lives of over 200,000 people and the city area of about 2-km radius was turned into ashes. In order to have this tragic fact known to succeeding generations and to make it a lesson to humankind, the reinforcement work of the ruins has been done by the contributions of many people who desire peace within and out of the country. The ruins shall be preserved forever. – August 6, 1967, Hiroshima City

After the museum, we visited the Itsukushima Shrine, home of the famous torii gate that, during high tide, appears to be floating in the ocean. Unfortunately for us, it was low tide so the mud around the gate was visible, but it was still a great experience. People were able to walk up to the gate and actually touch it, though I didn't because it was incredibly muddy. The next day in Osaka we visited several famous areas, such as Dotonbori, Shinsekai, Namba, Nipponbashi, and the Floating Garden at the top of the Umeda Sky Building. Since we're approaching the final weeks of my research project, it looks like I'll have less time to travel, so this weekend was a great final hurrah to visit some truly amazing places in Japan. It's hard to believe there are only two weeks left.



A picture with the Glico Man in Dotonbori!

A view of Osaka from the Floating Garden on top of the Umeda Sky Building.
Research Update: I don't feel like I'm about to go over a waterfall yet, but that roar around the next bend is getting a little ominous. These deadlines are just getting too close for comfort. Despite several small setbacks, I've managed to measure the simple transmission through five substrates. The next phase is to measure the transmission dependence on time when the substrate is optically pumped by a c.w. laser. The system alignment should be done by Wednesday, so hopefully I can get all the data I need then. My plan is to finish gathering all the data by Wednesday, present it Thursday morning at the weekly meeting, work with someone in the lab to draw some conclusions from the data, and then finalize and send in my abstract on Thursday Japan time. I'm starting to think that sleeping is not an option.

WEEK TEN: CAREER INTERVIEW
This week I had the opportunity to interview Salek-san, a third-year doctorate student in the Tonouchi-lab.
Also this weekend I was able to visit Packard-sensei's house in Atami near Tokyo and see the local fireworks show. It was fantastic to be able to see a proper Japanese fireworks show. They last much longer than their American counterparts with arguably more varied types.

This is the last truly free weekend that we have, and I feel that there was no other way I would have liked to spend it. Next week I'll be busy finishing my poster and presentation and then climb Fuji-san that Saturday. I'm looking forward to it.


Near the end of the fireworks show in Atami.

Hanging out in Packard-sensei's house.

The view from Packard-sensei's house. The surrounding area, despite being on a mountain-side, is almost entirely farmland.
Research Update: My project is beginning to wrap up. I have one more round of measurements that I need to do – measuring transmission of graphene when under laser illumination – and that's slated for Monday afternoon. This week I measured and compiled transmission data for graphene on several substrates and worked a little further on my poster. I'm a little more relieved as to the state of things in my project.

WEEK ELEVEN: FINAL WEEK IN JAPAN
As the final week in Japan is drawing to a close, it's time to do a little self-reflecting. When I think about my initial thoughts on Japan – just before the program started – I can't help but shake my head at myself. I had known that Japan had its nuances, but to actually live here for three months has made me realize that the nuances run far deeper than I could have possibly imagined. I remember hearing some things about the language before I went to Japan and how quickly I had written it off as something similar in English, only to use the phrase incorrectly and oftentimes embarrassingly so. The culture in Japan is so deceptively different yet similar to ours that it's left me in a mesmerized state. When I look at Japan, I don't just see the shallow cultural differences lying on the surface; I get a glimpse at a looming iceberg underneath.

This experience has also changed how I feel towards the US. The most obvious difference between the US and Japan is probably how inefficient the US is with space. While I appreciate the room I have in the US, I can't help but feel that it's unnecessary. Some of the cars that people drive in the US have more square feet than my entire dorm room in Japan, and I say that seriously. I can't help but think that paper towels are pointless now. But while I see some negatives, I also see positives. I appreciate the ability to have small talk with random strangers on the street or while waiting in line, I like the larger food portions (particularly with water glasses), and most of all I like the directness. While I appreciate the care taken when communicating in Japan to not be too direct so as to avoid problems, I feel that the American style of communication is more effective when it comes to planning large projects and suggesting future ideas to be explored.

Like most of the other NanoJapan participants, I feel that I've been on a personal journey. I felt that I knew myself before I left for Japan. I was confident in my beliefs, values, and my actions, and while I knew I would be open to change and new ideas, I wasn't so sure that I would swayed during my stay in Japan. In hindsight, I'm glad I was wrong. This program has been an eye-opening journey for everyone on the program. For me, learning Japanese has been an irreplaceable experience that has changed my outlook and perception of how people communicate with each other. Now I'm more careful with my word choices when talking with others and am far more perceptive of my audience. I pay more attention to the details behind the scenes, really try to dig into the motivations, positions, and thoughts of the people that I'm talking with so that I can effectively communicate with anyone, whether they are from entirely different cultures or just grew up five minutes from my house.

But these changes came as a bed of roses. The biggest obstacle in my day-to-day existence in Japan was communication. I was constantly worrying if I had said the right thing; more often than not I was wondering if they could even understand what I was saying. The weakest part of my Japanese was and still is my speaking ability. While I've improved by leaps and bounds, it still is not enough to have a truly natural conversation. I still maintain that the most intimidating thing for anyone to experience is to try to get to know a stranger from a different culture in a language in which he or she is not fluent.

Still, for all the trouble it caused, I miss this communication block. It meant that I was immersed in an alien world where survival was dependent on understanding. I learned more Japanese in those three weeks than I did in an entire year of study because I had to in order to flourish. I miss the food, particularly okonomiyaki and sushi. I miss the bike rides to and from the campus and through the neighborhoods, as well as the deafening yet soothing chorus of the cicadas in the mornings. But most of all, I miss the people; the KIP students we met in Tokyo and the Tonouchi and Kawata lab members that made Jordan and mine's stay in Japan a real treat. This stay in Japan has reinforced my plans for the future tenfold. I found that I really enjoy research even with all the trials and tribulations that come with it and international collaboration. I plan on entering graduate school for a master's and to continue on to a Ph. D.

This final week in the lab is hectic. I'm finishing up the powerpoint and poster as well as preparing to go to the Tenjin Matsuri with some of the lab members. This Saturday is the fabled NanoJapan Fuji-san attempt. My going away party is this Friday, and is doubling as a welcoming party for new lab members and Han-sensei, the new visiting professor. There's so much more I want to do with my research project and my results are begging for more research before any satisfactory conclusions can be made, but there just isn't any time. I'm planning on continuing this research in the fall with Kono-sensei, however. That is, if I survive my climb up Fuji-san.

WEEK TWELVE: RESEARCH PRESENTATIONS AND RE-ENTRY PROGRAM
The day of the symposium was a long but interesting one. It was the first time I had ever presented something solely in front of professionals, and it was nerve-wracking to say the least. Combine that with being the first presenter of the group and having to condense my entire summer to five minutes, and it's easy to see why I was in serious need of a stress ball. I stuttered a few times and rambled off topic slightly, but I felt that I ended strong and so I could walk back to my seat at least a little proud. I think all the other participants felt the same way. In fact, I think some of my biggest takeaways come from the NanoJapan presentations. I've got some experience giving a professional talk under my belt now, and now I know that I need to practice much, much more before my next. I particularly need to focus on coherence and delivery time.

In fact, I think we all needed much more preparation to give this talk. The time constraint was definitely the biggest factor. I think it would be a good idea to have mandatory Skype training sessions in the week leading up to the symposium, with a preliminary session during the Mid-Program Meeting where we present over our abstracts and results up to that point. We could also share our views on the program up to that point. The session should take a little over an hour if we split into two groups, the presenters are cut off at exactly five minutes, and around five minutes are allowed for feedback. I suggest this because I felt the poster practice session was extremely helpful for everyone.

The Re-Entry Program was a rush of emotions, preparation, reflection, and good-byes that just ended too quickly for me to feel like the program had really ended. That isn't to say the program wasn't useful – it was incredibly so. I think just a large part of me had still not fully realized that I wasn't in Japan anymore, so when we gave our final goodbyes, it felt like I was going back to Osaka to continue my project, and I would meet up with everyone again a month later in Okinawa and share our new experiences with each other. The next day, when I woke up and there were no cicadas, was when it really started to sink in.

Now that I'm in the US, I'm a little worried about adjusting completely back to myself. I don't think it's possible. I'm going to have a hard time with the paper waste, faulty sinks, inefficient use of space, and materialistic tendencies. But I think I can get used to small talk and southern hospitality. I'm also really excited to get back into American food. Our first meal was a burger at a local favorite, and it was a pretty brutal experience for all of us, but it was oh so sweet. Pizza without mayonnaise or corn on it and cups of water that you can't finish in a single gulp are appealing. I'm looking forward to sleeping on a bed that I fit in and as well not hitting my head on something every couple minutes. But most of all, I've missed family. I had a surprise visit to my grandparents' house, and all my family was there was welcome home banner waiting for me, decorated with their renditions of Japanese foods and sayings. It was all really touching that they went through all that trouble to welcome me back.

But despite their hospitality, my mind still doesn't really feel like it's in the United States yet. The signs, good and bad, are all around me, but I don't really feel it. I had a similar feeling when I was in Japan. I didn't really feel it until the fourth or fifth week, and even then it was subtle. Right now, everything feels so surreal, like I just woke up from a very vivid dream and can remember every detail like it happened just a few hours ago. The constant influx of Facebook pictures from the other participants and status updates from my Japanese friends makes me feel like I never really left. And in a way, I think that's true.

For my follow-up project, I'm thinking about concentrating efforts at Rice with Dante and Ray to spread awareness of the program and clarify that juniors can apply. I plan on running a booth at a study abroad fair as well as giving presentations at the colleges, similar to what Mika did. On March 5, 2014, I'm planning to give an hour long presentation of the program at my high school. My high school is geared towards math and science students, the type that are typically perfect fits for programs like NanoJapan.

© 2011 TeraNano. All rights reserved. Website designed by
www.wastedpaper.com
.