Chris A. Salinas - NanoJapan 2014
Northwest Vista (Community) College
Major: Physics & Nanotechnology
Class Standing: Sophomore
Anticipated Graduation: May 2016
NanoJapan Research Lab: Aoki/Ochiai Lab, Prof. Noboyuki Aoki & Yuichi Ochiai, Chiba University
NanoJapan Research Project: TBA


Why NanoJapan?
NanoJapan gives students hands on experience in the research field which allows them to better assess in which direction they should go academically. It also allows students to experience this field in a different culture and establish international connections within the global scientific community, expanding their thinking beyond just national markets.  Ever since I heard about NanoJapan I've dreamed about participating in this program. I love science and have a deep admiration for Japan and its culture so what more could I ask for than a program that combines two things I love? Over the past two years I've learned a lot about nanotechnology from processes to instruments used in the lab, NanoJapan will give me an opportunity to apply what I've learned in the classroom in a real world setting. I also plan to do international research outside of the United States, especially in Japan and this will be an amazing stepping stone to achieving that goal or realize if I should redirect my goals before earning my bachelors.
The thing I'm most looking forward to while in Japan is actually getting to live and do research there, I've seen many Japanese films and anime that depict life in Japan but that's only been secondhand experience. Now I'll get to experience Japan firsthand and learn about its culture within the research field and its society, I look forward to working in a Japanese research laboratory and becoming part of a community and not just a tourist. I also plan to visiting many modern and historical locations as well as having actual Japanese's cuisine from local restaurants.
My goals for this summer are to:
Be able to  hold a conversation in Japanese
Have a greater understanding of the research field in Japan
Build lifelong relationships/networks in the global scientific community
Explore rural and urban areas of Japan
Visit/Participate in a dojo
Excerpts from NanoJapan Weekly Reports
Week 6: Research in Japan vs. in the U.S. Week ~ Coming Later This Summer
Week 7: Preparation for Mid-Program Meeting Week ~ Coming Later This Summer
Week 8: Reflections on Japanese Language & Role of Traditional Culture ~ Coming Later This Summer
Week 9: Current Issues in Resaerch ~ Coming Later This Summer
Week 10: Japanese Researchers Report ~ Coming Later This Summer
Week 11: Final Week in Japan ~ Coming Later This Summer
Week 12: Final Report ~ Coming Later This Summer
WEEK ONE: ARRIVAL IN JAPAN
As I expected, even as early from first boarding the airplane to travel to Japan was the use of a language that I didn't understand and being as curious as I am it was hard for me not knowing what was being said over the intercom or by the individuals around me.  Aside from that I didn't expect much of a culture shock if any and I must admit that the first few days didn't really feel like I was in a different country at all, like back home I was walking the busy streets along with everyone else going back and forth living our lives. Having a schedule and others that speak your language around you probably lessens the culture shock then if you were on your own and no schedule to follow to give you that sense of familiarity that following a schedule can give you. Speaking of schedules, I expected it to be pretty busy but my expectations have really been blown out of the water and what little time I do have free when not in class, lectures, trips, studying or exploring has been none existent.

Do as the Locals: After a long day there's nothing like a nap on the subway.
We as a group have gone out to explore the other districts to take in the culture and as I spend more time in these different districts which are the equivalence of states I have started to see a lot more differences, not only between themselves but with the United States as well. One major difference is how clean and respectful the streets are even if it's very difficult to find a trashcan and cars always give pedestrians the right of way and I've only heard two honks this past week even with lots of vehicles commuting in Tokyo. Another difference is how incredibly nice and pleasing service is here, even in the kobinis which is Japan's version of convenient stores and the 7-11s I frequent quite a bit, I get greeted when I enter and get charged for my purchase and when I leave I get a pleasant good bye. The biggest difference that I'm personally starting to get very comfortable with, that very much surprises me is how honest and trusting the Japanese are, when before I expected things to get stolen now I expect things to be returned or paid for without any thoughts of doing otherwise.  

Japan Today: Japan is a mix of old and new with everyone going about their lives.

I started out in one of the advance language classes on the first day but the instructor as well as I realized I was in over my head and suggested I attend one of the basic language classes instead and I must admit it has been a lot better for me on my progression. I'm really enjoying how interactive the language classes are and how they are tailored towards us instead of a normal class setting allowing us to talk about ourselves instead of someone who we have no idea of. One strategy I use that one of the other NanoJapan participants picked up on was my use of my Spanish pronunciation and accent when I talk in Japanese which allows me to sound more fluent than if I talked in an English accent. Another useful strategy is pretending I'm in different situations and thinking of what words to use that would be best in that situation and keep replaying it in my head so when it does happen I'll be prepared to say the correct words or phrase for the situation.  After spending a whole week in Japan I was finally approached by some young Japanese students and I was asked one question in English by each of them and then asked to take a picture with them, this really got me thinking on how Japanese think about the rest of the world and especially about Americans.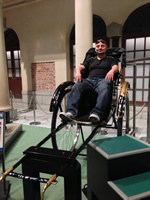 Need A Break: There is so much walking in Tokyo I could use a rickshaw!
Intro to Nanoscience Lectures
Prof. Kono's lecture was very in-depth and intriguing but unfortunately most of it if not all of the material presented was new to me and I did not have the necessary background to follow as well as I wanted to. If I was to ask for additional information it would be for some more basic explanation on the whole lecture or at least the solid state part which deals with Quantum mechanics and is a field I am very interested in. I did enjoy the color change depending on the size of the nanoparticle, something I've worked with and known pertaining to gold nanoparticles but I guess I never really "understood" it just knew what it did till Prof. Kono brought it to my attention with the metallic carbon nanotubes having the opposite color phase change.
The other speakers touched on topics that were relevant to us with this being our first week here in Japan; they shared their experiences when they first moved to Japan and how they adjusted to living here. Dr. Fons presentation especially caught my attention since I would like to pursue a career in Japan after earning my own Ph.D. and his insights have really gave me a lot to contemplate about from now till I have finished my academics. The trip to Elionix was great, I was amazed that a small company could have so much impact on systems and technology and liked their motto and outlook of their company.  I really enjoyed the speaker and his message, his English was impressive and he imparted wisdom that would take us a full lifetime to acquire; as he said "full swing!"
Research Project Overview at the Aoki/Ochiai Lab, Prof. Noboyuki Aoki & Yuichi Ochiai, Chiba University
My project at Chiba University was working with Scanning Gate Microscopy (SGM) to study transport analysis of MoS2 field effect transistor but was just told by Prof. Bird after his lecture that they changed it back to what Kevin; the previous NanoJapan student was working on. I will now be working on Magnetic Force Microscopy of the Magnetic Domains in Co Y-branch Structures; Cobalt will be the material I will be working with and is a conductor.  I believe it to be a 2D system from the over view of last year's poster by Kevin, the special properties of cobalt is that it has a high temperature melting point of 1493 C and is naturally ferromagnetic as well as resistant to demagnetization. The focus of the project is on magnetisms on the Y branch structures; if successful the stability and fast processing time of such a technology would lend its self well to computing.
WEEK TWO: NOTICING SIMILARITIES, NOTICING DIFFERENCES
The public transportation in Tokyo or Japan for that matter is a wonder to behold; it answers for me the question why there aren't that many vehicles here as compared to the United States. The only form of public transportation I've used is the Bus in San Antonio, Texas and have never been on a subway or train before coming to Japan so I have very limited experience when it comes to public transportation to compare with but will do my best to compared what I've experienced to what I am experiencing now here in Tokyo.
Just as there are certain "rules" when walking the streets of Tokyo there are rules as well for when taking public transportation, one of the main ones I noticed first and read across the postings on the side of the subway was the turning off or silencing of cell phones. I found this strange since pretty much the majority of the individuals are using their cell phones but they are either texting, playing a game or listening to music, which is the same in the United States although in the United States people will be talking on the phone as well and when I say talking I mean letting everyone into their conversation and this is where the difference is.  There have been a few instances when I noticed someone talking on the subway but it's very subtle and they cover their mouth and phone as to not disturb other passengers on the subway and as I mentioned earlier this isn't the case in America.

Japanese passengers over all are more polite and courteous as well as considerate of their fellow passengers than in the United States, also personal space is much smaller here than Texas at least as I noticed during busy hours were passengers are squeezed into the subway like sardines and we become a sea of passengers at the mercy of the movement of the subway as the tides are at the mercy of the moon. I feel this represents the harmony Japanese value to keep things going as peaceful as possible with everything on time and schedule in an orderly manner. All these "rules" are cultural but they have become part of the culture cause they are practical as well, so they are both and have really opened my eyes to Japanese's values and how they are interpreted into the everyday traveler's actions.

The Thunderdome (aka Subway Entrance: Anyone can enter but you can only leave if you can afford the trip…..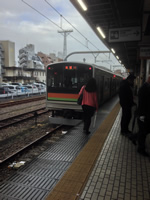 Just Missed It: Get there early or you'll just get there to see your ride home leave without you!

Best Public Transportation: When all else fails, get your fellow NanoJapan mates to carry you around!
Intro to Nanoscience Lectures
I enjoyed Prof. Bird's first lecture greatly, mostly because I have novice level of knowledge of solid state physics and his lecture was basic enough for me to understand what he was speaking about most of the time. It really gave me a good foundation to understanding solid state physics and its potential as a developing technology that has and will continue to improve society's quality of life. Prof. Bird's second lecture was over graphene and its impact on electronics in the past fifty years and today, it was inspiring to think of far we have come along in these fifty years and how much further we could possible go if we fixed some of the problems we have with graphene.
The other lecturers presentations talked about their research that was associated with what Prof. Bird lecture were over but more in depth in terms of their research and intense in knowledge needed to fully grasp the concepts being presented but I was still excited to see them present and the research being done at Tokyo University. I was especially excited to see Prof. Ishizaka since she is a pioneer for women in the department of applied physics at Tokyo University, I regret not asking for her card when she presented so that I might ask her some more questions about her story and Tokyo University. After the tour and seeing lecturers from Tokyo University as well as meeting some KIP students who attend there I'm becoming more and more interested in attending Tokyo University to finish my graduate studies.  
WEEK THREE: FINAL WEEK OF ORIENTATION AND KYUSHU TRIP
Going to Kyushu, specifically Kumamoto was on my list of things to do when I found out I got accepted to NanoJapan, it was because I wanted to see the land were Miyamoto Musashi spent the last few years of his life and where he wrote the book of five rings. Even though this was my initial reason for going and excitement to be getting to spend a weekend in Kumamoto, I have to admit I got more than I bargained for. The landscape was so beautiful much more than what I'm used to in south Texas, Huge mountain ranges covered with trees as far as the eye could see and you couldn't even see what was underneath that blanket of varying green hues. With that said, what I meant when I said I got more than I bargained for is that I also got to meet and spend time with the people of Kumamoto who reminded me more of old traditional Japan than the sights and sounds of Tokyo.

The first day we went to go see a Volcano that started to shoot out poisonous gas when we were there and we had to leave early but it was pretty exciting! Then we got to see Kagura, which is a Shinto theatrical dance that was pretty amazing to experience in person and won't soon forget. We spent the first night at a traditional Japanese's inn and while there I had a lot of questions about things I saw in old Japanese films answered, like why there never was any beds in the rooms and why they were always sitting on mats but now I know the answers to those questions.

The next day we spend the majority of the day with the Gokase students and we did various activities like make sandals from hay and some rope like material, I regret that I was feeling a bit under the weather and was unable to really be myself with the students and show them a good time but I'm grateful to have spent some time with them and given them a more global outlook on life just like the NanoJapan program has done for myself. The highlight of the trip ended up being the homestay, I unfortunately wasn't feeling good still and I got a sore throat but my homestay family drove me to the nearest pharmacy so I could get medication and I found them to be very kind people. Once we got to their house we started getting the fire pit ready and some seats and we ended up having a Bar BQ outside just like back home and it really opened my eyes to how similar my homestay family was to my own and it made my eyes water a bit but I was too happy to let it go farther than that and I didn't want anyone to feel sad that night, including myself. Having the sore throat along with the language barrier made it even harder to converse with them but I was able to answer a few questions in Japanese and they seem appreciative of my effort and I was glad I was able to use what I learned in the two weeks in Japanese language class.

The final day we went to see a temple and learn more about the history of Shinto and the location of where the Kagura story happened. I have to say that Japanese values were more prevalent in this rural area than it was in Tokyo and saw how humble and gracious the people of Gokase were and has really shed a new light on Japan for me, this is something I will take with me for the rest of the summer that I am in Japan and beyond.

Gokase Bound!: This was the beginning of the Kyushu trip after we landed, we all got on a bus and Lisa Kodama a KIP student who graduated from Gokase high school explained to use about Gokase and the Shinto dance Kagura.  We all introduced ourselves in Japanese after the explanation.

Gokase Landscape: This is the view from my home-stay family's house, I've never seen so many trees and mountains/hills…I can see why Miyamoto Musashi spent the last years of his life here now, not only is the landscape beautiful here but the people who live here are as well!

Home-Stay Family kids & KIP students: I told the homestay family about my interest in Samurai and their kids dress up in there Karate & Kendo uniforms and we watched them go through some drills, shortly after we took this picture.
Assessment of Orientation Program and Language Classes
The orientation program in Japan was as intense as I had imagined it would be, with the language classes, science lectures and the exploring of Japan to put into practice the knowledge you just acquired can be quite taxing on you mentally as well as physically. The most helpful part was probably the language classes and how they were done for you specifically, also some of the cultural presentations especially Packard-sensei's lecture and going out into Japan with Packard-sensei to experience some of Japanese culture first hand  really gave me a greater understanding of Japanese and how they think and feel. The least helpful was also one of the Japanese's culture lecture, thought maybe it wasn't the point of the lecture itself but the person presenting it or way it was presented which was about being a journalist or something of that nature, most of the NJ students felt it wasn't relevant at all.
As mentioned before, the language classes being tailored towards you really made them so much more than just being taught in a regular class, It really gave you a sense of learning what you needed to learn to live & work in a Japanese lab. The least helpful for me was to be given Japanese in romaji but that might have just been because I learned hiragana first and was accustomed to reading Hiragana more proficiently than the Romanized version although that's not saying much! I'm not sure if I've developed more strategies than the ones I already mentioned, like using my Spanish accent when speaking Japanese so I sound more like a native speaker. Another strategy I also mentioned was the running of scenarios in my head and thinking of what I should say when those scenarios actually happen, as for a third strategy is imagining the hiragana of words as I pronounce them so I sound them our correctly and not butcher them by just saying what they sound like.
The most important thing that I know now that I couldn't have even imagined coming from the United States is the inner and the outer feelings of Japanese people. I come from an environment where everyone just shows their outer feelings and it's been interesting trying to read between the lines and has put my perception to the test. Knowing this has allowed me to not fall into any pitfalls that I might have otherwise and I am grateful for having been told about this before I did.

Three burning questions, I can't say I've really done much questioning than I have done observing, I just sat here for 30 minutes trying to come up with some burning questions and I guess I've become good friends with the KIP students and have been in constant contact with them and whenever I have a question I just go ahead and ask them and they give me the answer to my question so most questions don't become to burning. Most of my questions have been personal as in how is it growing up and going through High school and then to a university in Japan.  We even discussed about the inner and outer feelings that I find so interesting and In some ways enjoy it and others not so much, If I had one quest that was burning about it would be if this way of feeling would last in such an ever increasing globalizing of the world especially from my interacting with the KIP students I can feel the conflict within them and wondering if I should support and encourage them to be themselves or if I should just be a spectator and let tradition reign.
Research Update
This week unfortunately wasn't to kind to me, since arriving back from Kyushu my condition worsened and I had an uncontrollable cough that I did my best to subdue with the medicine here in Japan and constantly having a cough drops in my mouth and taking a sip of water every minutes or so but I did my best to attend the lectures and absorb as much of the information as possible without being too much of a distraction for everyone else.

I was informed by Prof. Bird of my research project well in advance of leaving the states but while he was here doing his lecture he informed me that it had changed do to time constraints and difficulty of obtaining the material/sample here at Chiba's lab. So my main question would be to have more details on what my research was actually going to be so that I could have some time to look over it but as it seems, time is very limited right now and it would probably not have made much of a difference. I looked over last year's poster by Kevin to get some idea on what I might be working on and what purpose they might have me do but as of now I'm excited to go into the lab blindly and  finding out firsthand what I'll be working on.
WEEK FOUR: FIRST WEEK AT YOUR RESEARCH LAB

Jade and I finally arrived in Chiba, it was a much shorter trip than I had imagined, and we arrived around two in the afternoon. We were greeted at the station exit by three students from Aoki-sensei's lab, Akrom, Takeda who is Jade's mentor and Matsunaga who is my mentor. They showed us to our living quarters where we will be staying for the next two months as well as showed us around the area, like the nearest super markets, department stores, pharmacy and restaurants. We are staying at "Chiba international student housing" and it feels closely like the dorms I stayed at minus the kitchen and living room but it has a small burner and kitchen sink as well as a Japanese bathroom combination that you might expect if you've spent some time in Japan you'll understand, it has AC and free wifi as well so I'm grateful for that.  It takes twenty minutes to get to the lab by train and thirty minutes to get there by foot, depending on my mood I either take the train or walk and so far I've done both equal times.

We were taken to our lab on the first day by Akrom and Matsunaga and introduced to Aoki-sensei and then were shown to our desk that were facing each other in the office area where all the other students had their desk, the lab was very relaxed and easy going making it easy to settle into our new surroundings, we were given a tour of the lab an hour later after we settled in by Aoki-sensei and then by Jade's mentor of the clean room. As I mentioned Matsunaga is my mentor and he seems to be a very calm and down to earth, he speaks little English like most of the lab so it is difficult to have a complete conversation with him, with my own limited Japanese as well as anyone else in the lab for that matter but we cope with interlacing of Japanese and English. I can already feel that my lack of Japanese will be a great disadvantage to me to working effectively, or at least as effective as I'd like to be and has really stirred me up inside to get into a Japanese language courses and put even greater effort into learning Japanese so that I can be more effective in the lab and in the day to day interactions that occur.

We were also informed of our project on the first day as well and my objective was made pretty clear to me and understood what we were after, they started working on creating a sample for me to study and run test on but when the sample was finally fabricated it wasn't made to the specification that were expected and was only able to start working on one of the samples even if it wasn't to specifications. We have been taking AFM images of the sample and recording our results and saving them, I'm not sure if they are fabricating another sample or if we will have to work with these sample for the duration but as of now it seems we are doing what we can with what we have.

Basketball in Japan: The only lab mate that plays sports is Akina, she took me to go play basketball with her Basketball club. I took a picture with the President and Vice President of the club, in Japan they actually play for fun and it's not as competitive as it is in America!

Welcoming Lab Party: The first Friday of the first week here the lab took us to eat Yakiniku, which is Korean Barbecue, here you can see left to right Mine, Akina, Jade in the back ground, Luan and Ryo. I I've made some great friends at the Lab!

Karaoke After Party: After taking us out to eat they took us out to Karaoke, this is my first time doing Karaoke and I actually enjoyed it a lot! Here is Akina singing "let it go" from the Disney movie Frozen. 
Research Project Update
The research project I am working on is a continuation of last year's project that Kevin worked on, the magnetic Y-branch nanojunction: Domain-wall structure and magneto-resistance. This year as for me the purpose of my research is to find the relationship between the AFM & MFM images around the vortex that occurs when applying and removing a magnetic field from the Y-branch structure. I believe Prof. Bird's team has already accomplished finding the relationship or I was told something close to that and now we needed to find it for ourselves or why we were not getting the same results as Prof. Bird's  team.  We will be fabricating a sample to be tested out of Cobalt coated with gold I believe at least it was used in the fabrication process in the vapor disposition machine to a certain extent, when it comes to acquiring data we will be using the AFM & MFM exclusively from what I was able to gather, though the MFM might just be something possible on the AFM itself but produces a different image pertaining to the magnetic field.

I've been taken on a full tour of the clean room where all of our experimenting will be done on the AFM that is located in there, my mentor has given me a quick overview and procedures for the AFM and has been preforming the first rounds on the AFM to give me an idea of how to run it myself when we do our next rounds on the sample. As of now no further training seems to be needed to continue my research as of now but we just started and I'm sure there is more to be expected. I do have a few questions about the research or should I say just some clarifications just in case I've misunderstood or there was something lost in translation from my understanding and will be writing a letter to prof. bird on the matter.
WEEK FIVE: CRITICAL INCIDENT ANALYSIS
I have to say that during the 3 week orientation in Tokyo that I learned a lot about Japanese culture and maybe it was a little too well cause I can't say I've found myself having too many issues when it comes to seeing things in a Japanese perspective. The only moment where I did see something that was differently culturally and actually had some kind of "communication" with another was on the subway. I was sitting down and an older lady stood in front of me and was sleeping while standing there and I gently tapped her and offered her my seat and she refused and gave me a gesture to sit back down. I found her reaction to my kind gesture a bit odd but thought maybe it was one of those situations where you had to ask twice cause they will refuse your first try, so again I did the same and tried offering her my seat and for a second time she refused for a second time and I just sat there thinking to myself why she wouldn't accept my offer and after a few minutes I just got up and walked to the other end of the cab and when I looked back she was sitting in my seat and it really got me questioning what was going on there?
Well I discussed this matter with some of the Japanese friends I had made and they told me that when I offered my seat it was as if I was telling her that I would stand for her and that wasn't acceptable, but when I left my seat willingly it would be me just standing cause I wanted to and not for her which I believe is socially unacceptable. I feel this has to do with lack of empathy I've seen in the Japanese culture which is the total opposite of the American culture where empathy is a huge part of our lives. I used to believe America had too much empathy and now that I get a chance to see a society on the other end of the spectrum it really has me questioning my own beliefs and ideals and has sparked a deep contemplation within myself on which is better, either way having a chance to live and experience this has been a blessing on in its own.

Sweets everywhere! Japan is full of all different kinds of sweets and experiences and I must say both of them are a treat to have every day!
Research Update
The fabrication of our samples was completed late last week but was informed that only one was decent enough to be used for studding.  So this week we started running AFM and MFM scans of that sample regardless if it wasn't to exact specification cause the fabricating machine wasn't working properly and wouldn't be able to attempt another fabrication any time soon and would still be good practice for me to learn more and get some time with the AFM. We were able to get 53 scans of our sample with in the allotted time and it was great being able to get some time in the clean room and learn more about the AFM and see the outcomes of our scans.
During the week Aoki-sensei asked me to make a presentation summary for Friday based off the scanned images we had done that week and from what he told me and the examples I had to look at I believed I understood exactly what they wanted and set forth to complete the task at hand, I finished the presentation and worked a little on what I was going to say for this short presentation the night before. When Friday came I went ahead and showed my graduate student my presentation and much to my dismay I apparently didn't do what was expected and with only a few hours till I had to present I asked to see exactly what they wanted and my graduate student showed me his previous presentation, so I got to work on it right away and was able to finish 2 minutes before it was time to present. Since I hadn't practiced or understood what the presentation was all about, Aoki-sensei was kind enough to point me in the right direction while presenting so I was able to inform the lab on what exactly they wanted me to and I felt it turned out okay under those circumstances. It really shows the kind of difficult situations that can arise when language plays a barrier and I've learned my lesson to ask more questions, see more "examples" if possible as well as have more interacting with my mentor during the process of a project instead of just waiting till the end and find out I did it all wrong after spending so much time on it.
I will be sending the presentation in PPT format,  slides 5,6,8,9 is what they were asking for and the rest after 9 is what I did that wasn't what they wanted, I also realized it was a weekly report on what "our" part of the lab was working on and doing that week and will be doing next week. My graduate student changed the presentation to just 6 or so slides and asked me to send that to Prof. Bird and was under the assumption that he saved this new presentation that he changed onto my flash drive since it was on his laptop but apparently I still have my old save prior to the changes he made. Good thing is I know now exactly what  I'm supposed to do and what the purpose of the presentation is all about so I'll be able to be more efficient with my time and make a better presentation next time.
WEEK SIX: RESEARCH IN JAPAN VS. IN THE US
Coming later this summer!
WEEK SEVEN: PREPARATION FOR MID-PROGRAM MEETING WEEK
Coming later this summer!
WEEK EIGHT: REFLECTIONS ON JAPANESE LANGUAGE & ROLE OF TRADITIONAL CULTURE
Coming later this summer!
WEEK NINE: CURRENT ISSUES IN RESEARCH
Coming later this summer!

WEEK TEN: JAPANESE RESEARCHERS REPORT
Coming later this summer!

WEEK ELEVEN: FINAL WEEK IN JAPAN
Coming later this summer!

WEEK TWELVE: FINAL REPORT
Coming later this summer!


© 2011 TeraNano. All rights reserved. Website designed by
www.wastedpaper.com
.