Jason Giuliani - NanoJapan 2013
Northwest Vista College
Major/s:Nanotechnology and Engineering
Anticipated Graduation: May 2013 (Associates) with Planned Transfer to a 4-year Program
NJ Research Lab: Sueoka Lab, Hokkaido University
NJ Research Project: Low Contact Resistance between Nickel Electrodes and Side Contacted Tri-layer Graphene Devices


"I really feel blessed to have been a part of the program and it has opened a lot of doors for me. I thank you all for the awesome experience and wish you continued success." ~ Jason Giuliani
Excerpts from NanoJapan Weekly Reports
Why NanoJapan?
I have known about the NanoJapan program since my enrollment in the nanotechnology program at Northwest Vista College. A former classmate was selected to be part of the Nanojapan program 2 years ago. He shared the many wonderful things that he learned while in the program and the amount of doors that were opened because of the program was even more impressive. This is one of the main reasons for my application to the program. If my time in the program goes half as well as his did the opportunities will be endless. Also the program offers the chance to build a multicultural, international network. But, for me, experiencing hands on, practical research is the most exciting aspect. Learning the different techniques and uses for terahertz technology is very interesting.
On a personal level I view this as an adventure. Visiting a foreign country and seeing how they approach their daily lives is almost as valuable as the actual research and collaboration for me. I am fascinated with different cultures and some of the Japanese history is amazing. This experience should be as rewarding professionally as it will be personally.
My goals for this summer are to:
I am very anxious to get started working in the lab. I want to learn as much as possible about the many different aspects of working in a research environment as well as the environment in a Japanese lab may differ from the one in the states.
I love photography. I am looking forward to taking as many pictures of Japan as possible. The historical architecture in Japan is amazing and I would definitely enjoy the opportunity to photograph some of them.
Learning to communicate seems to be the biggest hurdle to me. This is a challenge that is a little daunting, but I am really looking forward to learning the language and mannerisms so that in the future my opportunities will not only be limited to the United States.
Research Project Overview
My research was to fabricate a tri-layer graphene device from scratch and determine its electrical properties. My major is physics and nanotechnology. This project confirmed that this is exactly what I want to do and gave me a taste of what graduate school and future research will be like. This program has opened opportunities for me to do my graduate studies nationally or internationally. The international aspect opens one's eyes to the world of research and truly expands a student's horizons. I now possess a greater understanding for research as a whole and a deep appreciation for the Japanese culture.

My host lab was fantastic. Prof. Sueoka and my lab mates made me feel at home. They are a tight knit group that is more like a family and they welcomed me in without hesitation. I was worried going in that the language barrier might make it really awkward, but as it turned out I think it brought us closer. Dr. Agus Sibagyo is a one of a kind individual. He has a vast knowledge, spanning a wide array of research topics and is one of the nicest people I have ever had the privilege to know. All my lab mates were always willing to help and discuss my research or any topic that I brought up. The environment in the lab is one that nurtures learning and experimentation. I would not hesitate to return to do more research their or to collaborate on future research.
Favorite Experiences and Tips for Future Participants

My favorite experience in Japan was fabricating my device and testing it in the lab with Agus-san.
Before I left for Japan I wish I had learned the Katakana.
While I was in Japan I wish I had more chances to travel.
Pre Departure Tips: I wish I would have known how important learning the Katakana was. I learned the Hiragana before I left, but I soon realized that I would have been able to read and understand much more if I had learned the katakana.

Orientation Program Tips: The orientation program is great. You will get to meet Packard-sensei who is one of the best persons on the planet. She will take very good care of you during your first three weeks.  You get to meet and interact with other Japanese students in the KIP program. You will learn basic Japanese. You will get physics lectures from professors that are at the absolute pinnacle of their fields. It is quite an intense period of time, but it is the time where you get to know your NanoJapan group and you host country.

Mid-Program Meeting: This is the time to get back together with your fellow NanoJapan members and discuss how your research is going, what your lab is like in, and what life is like in your host city. It is also a time to relax and take a well-deserved break.

Living in Sapporo: You may not know it yet and you may never have heard of Hokkaido, but if you are selected to go here you will be one of the luckiest of the group. The weather is considerably cooler here, but not cold. They have some sort of summer festival every weekend so there is always something fun to do. Not to mention, that it is absolutely beautiful in Hokkaido. If you like to hike or bike this is the place you want to be.

Language Study Tips: Everyone learns at different rates so it is hard to give any advice here, except learn the KATAKANA first. This will make things much easier even if you don't know anything else when you get there. Obviously, the more you can learn before you get there the better off you'll be.

Other Tips:  If you are in Sapporo, you must go to Otaru and buy a glass pen. It is a little expensive, but they are awesome.
NanoJapan Alumni Follow-on Project
Since the end of the NanoJapan program I have had several opportunities to talk about the program (during the Fall of 2013).  I also have a few upcoming opportunities in Spring 2014, such as; I am supposed to give a presentation about the program to the Physics Club at UTSA this semester. I know that it will be a little late for them to join this year, but hopefully next year you will have a lot of applicants from here.

Firstly, I presented my NanoJapan Research Poster at the yearly University of Texas, San Antonio Research Symposium. This was an outstanding event that without having attended NanoJapan I would not have been able to take part in. This was a great opportunity to see what types of research are going on at UTSA and meet the people that are doing it. Because of this, I met a professor here at UTSA that was interested in my research and have since been offered an opportunity to work in his lab. I will be researching graphene growth techniques which are one of the main interests that I had while in Japan. If that wasn't good enough we are looking to do a collaboration project, with Sueoka-Sensei which is now in the process of getting set up, thanks to Prof. Kono's help.

Secondly, I gave three presentations at the Core4 STEMs Conference hosted by the San Antonio Hispanic Chamber of Commerce for middle school students. This is a conference held for middle school students that are interested in the STEM fields. This presentation was in conjunction with the Nanotechnology club at Northwest Vista College. This was a great opportunity to show the young students the endless possibilities that come from further education in the STEM fields.
Thirdly, I presented the whole experience to the Nanotechnology club at Northwest Vista College. I was able to give them an in depth look, at the experience that is NanoJapan! I am actually hoping that you will have at least one applicant from this group this year. Lastly, I was able to talk to the high school students that the Nanotechnology club has partnered with about the experience and I believe you may have a few future applicants that will come out that as well.



WEEK ONE: ARRIVAL IN JAPAN
Japan in my eyes always represented dedication and respect. Thus far they have lived up to every expectation I previously held. Even down to the McDonalds employees. It seems that they are genuinely happy to be able to work there and it shows in their attitudes and cleanliness of the store. I find it refreshing to be here, immersed in their culture. It is a nice change from my normal daily life in America. The one thing that I was not ready for was the amount of people here that speak English or want to speak English. They seem to have real desire to learn and help and that excites me.

Canal near the Sanuki Club Hotel in Tokyo

Language class has been much more intense than I expected. I wish I would have had more time to study the Japanese language before coming to Japan. It is exceptionally fast paced, but the instructors are excellent and make it as easy as can be expected to learn. I really enjoy the language class to the point where I am trying to locate a language class in Sapporo to continue my language education. Shimojo-sensei's class made me feel farther behind than I thought I already was. His class was very good and I am sure that there is a reason that eludes me as to why the language classes are conducted this way. I have had no prior experience in learning a language and so I have nothing to use as a base for comparison. I try to use what I learn as much as possible, ordering breakfast or getting my key at the hotel, ordering dinner, talking with random people that I meet , etc. It is difficult, but the Japanese people are so willing to help and try to understand it makes it extremely fun.
The evening talks with the KIP students have been one of the highlights to date. They were so nice and it was a great experience being able to talk with them to get a sense of how Japanese life really is. We all had such a good time and we went out for a meal after the discussion time to continue talking on a more casual level. We learned a lot about them in a short time and I am looking forward to meeting them again this Tuesday. Mami-san and Teipei-san met us on Saturday to take us to Kamakura and we all had an outstanding time walking around the temples and shrines there. They took us around some of the more behind the scenes places and I really enjoyed that very much.

Evening discussion with Japanese students from the KIP Program in Tokyo.
WEEK TWO: NOTICING SIMILARITIES, NOTICING DIFFERENCES
Public transportation in Japan is much the same as public transportation in the rest of the world, except for how the people behave while utilizing it. I have noticed that people on the trains and subways here in Japan tend to be very quiet and either read a book or just sit quietly. They are polite and do not have any problem crowding in to make room for people getting on or off the train. It seems to be ingrained in the Japanese people to take into account their fellow passengers; whereas in America people in general seemed to be only interested in what they are doing. In the states people on mass transit usually are on the phone or talking with whomever they may be travelling with and do not have much regard for what is going on around them, whereas the Japanese seem to value the silence as a respectful gesture to those that happen to be riding with them. These differences between the way Japanese and American people view and act on mass transit systems, seems to be more cultural than anything else. There are exceptions to the rules on both sides though.
As I reported last week the language portion is a challenging aspect of this program. I am really enjoying it and I wish that I had more time to just try to communicate in a semi-structured environment. A good example is the lesson that we had on Thursday, where we went and had to try and talk with an instructor at the language school in an informal setting. This was exceptionally challenging for me, but in the end extremely enjoyable. I would like to make a special mention about Ogata-sensei from the language school. I think she is a fantastic teacher and I really appreciate all her work, instructing us on Japanese language. She has also taken time out of her schedule to meet with us on several outings which shows me that she really cares for what she does.
What can I say about Prof. Vladimir Mitin except he has to rank right at the top for me. We had two lectures from him and I wish I could have about 12 more at least. His approach to the topic, his explanations of the information, his speaking style, his ability to discuss other items that were not related to the subject matter and a number of other things really set him apart. His discussion pertained to Resonant-Tunneling Diodes and was extremely informative. I would have loved to have had time to just talk with him about a number of things.
I also want to mention the trip to STS-Elionix. Their presentation of their equipment was very nice. I am very interested in the microscopy field and it was nice to see other types of machines with new and interesting components. I enjoyed the speakers that they had and I was honored that they would be willing to take time out of their obviously busy schedule and allow us to visit their facility.
WEEK THREE: FINAL WEEK OF ORIENTATION AND MINAMI-SANRIKU TRIP

View of Minami-Sanriku: The Town that Disappeared
The visit to the Minami-Sanriku area this week is my most memorable and inspiring time in Japan to date. The total decimation of an entire town and the surrounding areas was almost incomprehensible. When you add on top of that the fact that they cannot rebuild on their home sites, words are unable to describe the feelings that arise. The town that once was, has been reduced to makeshift houses on school soccer pitches. Businesses that had been washed away, now run in temporary buildings that resemble trailers clustered together to form a makeshift shopping area. As bad as all this is, the people are amazing and resilient. Residents and shop owners that have every reason to be grieving and upset caught me off guard with their cheerful greetings and wide smiles. This is a prime the strengths that humans are capable.

NanoJapan 2013 particpiant Mitchell Connolly play with the children of Minami-Sanriku

The children of Minami-Sanriku, outwardly, show virtually no scar of the tsunami that devastated their town. We visited the kindergarten and the elementary school and they all seemed so happy to see us. We first visited the kindergarten school and had a wonderful time making airplanes, putting hand prints on giant papers, and playing chase in the school yard. Next we visited the elementary school and had a contest to build a bridge out of chopsticks and tape. We split the children up into teams and they all did outstandingly. I really enjoyed working with them. Seeing all the children running, playing, and working together shows me that there is more than hope for this town's future.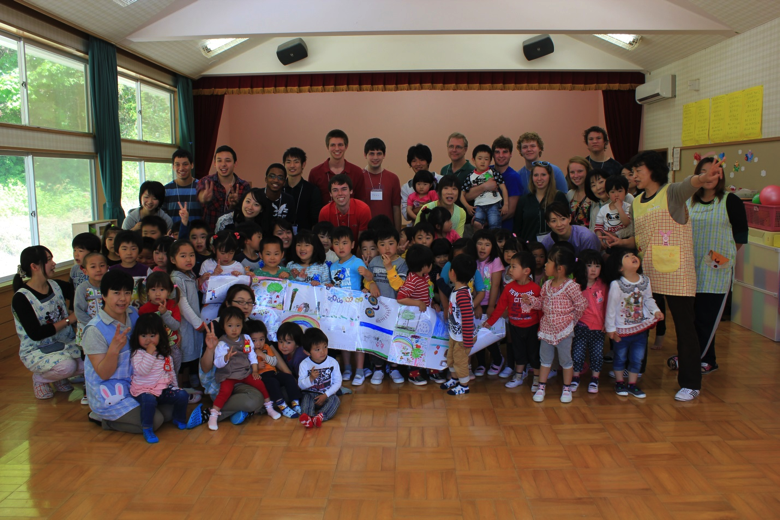 Visiting the Isatome Kindergarten in Minami-Sanriku

The part that touched me the most was the leader of the temporary housing community next to our hotel. We showed up to do our volunteer work and cleaned some weeds and rocks out of a few ditches. This was by no means a monumental feat, but it seemed to be well appreciated. Later that same night we had a dinner with the four leaders. It was borderline a Japanese feast. While we ate the leader stood up and gave a speech about how they were stranded at the hotel for three days after the tsunami. He explained that they only had eaten one rice ball each in that amount of time. He described in detail the worry and despair when a helicopter appeared out of the clouds. He said he couldn't make it out at first and then he realized that they were Americans participating in Operation Tomodachi. He said they looked like angels descending from the sky. He explained further that even though they had a language barrier, they were still able to communicate the basic things. His gratefulness towards us as a country was profound. I don't know why it really touched me so deeply. Maybe, it was because I used to be part of a helicopter crew in the Army, or maybe it's because I realize that at his age he has seen our two countries at go from peace to war and now to a peace that he believes is as strong as deep family bonds. I was able to talk with him for a few minutes away from the crowd, thanks to Shimojo-sensei. Our conversation convinced me that human beings can overcome boundaries with the simplest acts of kindness and concern for each other's wellbeing. If only we could inspire people to do this, I believe the world would be a much nicer place.
WEEK FOUR: FIRST WEEK AT YOUR RESEARCH LAB

My first week has been fine here in Sapporo. Sueoka-Sensei and three of his students picked me up at the airport when I arrived. He drove me to an observation point on the top of a nearby mountain. The view from there was amazing. You could see the whole of Sapporo from there. My room here is as small as the hotel room at the Sanuki club, which is a little disheartening, but it works. I still cannot get used to the shared bathrooms and showers. It has been a long time since I have had to do that. Sapporo is a big city and my lodging is centrally located which is very nice. I bought a bike to get around with and so far that has been a wonderful way to view the city. Unfortunately I have been sick the past few days and I am just starting to feel better so hopefully I will be able to travel a little farther now. The university is about a thirty minute walk from here which half of that is actually on campus. Sapporo is not as diverse and touristy as Tokyo or Sendai is. It is more like a normal working city which is very nice to see how Japan really is, behind the scenes, so to speak. The language barrier is still a struggle, but I am enjoying the challenge to learn the language.

I have a trio of mentors really for the project and one undergraduate student from Iran who is going to help me learn Japanese better. My main mentor is Yuna Sung, and she is actually Korean. My second mentor is Dr. Agus Subagyo, who is a senior research staff of the laboratory. He is Indonesian. My third mentor is Akira Ikeuchi who is now a second year PHD student. These are my main three people when it comes to the research, but so far this first week there hasn't been any work done yet. On Monday morning Sueoka-Sensee showed me around the different labs that he runs. On Tuesday morning Kasai-san, an undergraduate student whom I like very much, showed me around more thoroughly and gave me the basic guidelines. On Thursday we made a schedule for the remaining weeks and we will actually start to do some work on Tuesday of this week coming.

My project is actually going to part of Yuna Sung's project. We decided instead of doing something that has already been done just for the sake of doing a project, I would work with Yuna and help her with part of her project. The project is contact properties on grapheme, end contact vs. side contact, with a few different materials. We will fabricate the device and measure the resistance of the different contact methods. My specific part seems like it will be measuring the resistance at different temperatures to see what novel properties may be available. I will be able to be more specific in next week's report when I know more about the project.

Yosakoi Soran Festival (It's Time to Dance in Sapporo)
Week 5: Critical Incident Analysis
I have not really experienced a cross-cultural communication difficulties of any great magnitude as of yet. There has definitely been a quite a few times where communication has been miss interpreted do to my lack of Japanese language experience and their lack of English understanding. These situations are usually resolved with a few hand and body gestures to get the point across. There has been a few times where I have made mistakes in etiquette. One example is in a department store the other day, I went to try on a shirt and walked onto this little mat with my shoes on and the entire store seemed to let out a giant gasp in unison. I knew that I had done something wrong, but it took me a few seconds to catch on and then I realized and stepped off to another store-wide, giant sigh of relief. Apart from these small types of mistakes, there has been nothing of any great issue in communicating, at least that I know of. That's not to say that tomorrow someone won't ask me why I spoke a certain way or something along those lines.

I really try to pay attention to how people behave and there mannerisms so that I can avoid most mistakes, but the main cross-cultural differences have been in the group mentality of the Japanese vs. the individualism of the United States. One very interesting realization of this principle is when my lab mates invited me to go to Otaru, which is a small town near Sapporo. They were going there to take part in a 10 km race and although my days of running are far behind me they were also going to go to a spa and have lunch at a beer garden which they wanted me to go. The morning went well and they all ran their race while I went sightseeing and shopping. The bath was an interesting experience, but lunch was the most educational exhibition of the group mentality. We arrived at the beer garden and looked over the menu outside while we waited for everyone to arrive. I asked a few of my lab mates what they were going to order and listened while they told me. When everyone arrived, we went inside and all sat together at one long table. There were about 20 of us in all, my lab mates and Sueoka-sensei at one end and another group that was Hokkaido University at the other. For the first 30 minutes or so we had appetizers for the table they drank their beer and introduced themselves. Then my lab mate, who was sitting next to me, had his food arrive. He was finishing his appetizer and another lab mate reached over and took a huge portion of his omelet. I was totally in shock. How could someone just reach over and take his food before he had even had a bite! Then to compound the matter Sueoka-sensei reached over and took some more. This was crazy, a quarter of his food was gone and he hadn't even tasted it. Yet, he didn't even flinch or say anything. More and more food started to arrive and it seemed to become a feeding frenzy with chopsticks flying all around from plate to plate, whether it was theirs or not. My food was the last to arrive and I did not know quite how to react, so I cut a few pieces off and asked if anyone would like some, so that I would not seem out of place. All I could think about though was that if we were in America people might have fork wounds in the back of their hands.

Surprisingly the main interesting cultural item is the amount of foreign people here, on Japanese government scholarships. Since I have arrived in Sapporo, I have met people from almost every country some of which are from countries that I would never have the opportunity to meet in the states. Iran, Pakistan, Jordan, Indonesia, Malaysia, Egypt, Saudi Arabia, UK, France, Germany, Spain, Honduras, Brazil, Ukraine, Korea, China, Mongolia, Burma, India, Australia, Canada, Mexico, Iraq, Mozambique, Tanzania, are just a few of the countries represented. Their scholarship is structured so that they all have to have intensive language classes. If you ask them to describe the classes and how well they are retaining it, they all describe it as "INTENSE" and liken the amount of information they are given, to overstuffing a Hefty bag to the point where it wants to split. This is reminiscent of our short intensive language studies in Tokyo. The most interesting part is the fact that 95% of them speak English fluently and the other 5% speak English better than 90% of the Japanese. My Japanese language tutor is actually from Iran. It's just a crazy realization of language and the barriers that it creates. It is also interesting that the English language seems to be the language of choice to overcome those boundaries.

While riding my bike around aimlessly I found a ski jump erected for the 1972 Olympic Games.

Crazy cultural eating experience.

A whole new meaning to the word Cornbread.

This is the EB lithography machine that I am sure there must be a way to target your sample with the SEM portion, in order to write your cad program without guessing.
Research Update
My project is to measure the differences between end contacted grapheme and side contacted grapheme under different conditions. We started with several pieces of SiO2 wafers and spun-coated them with photo-resist. Then we used lithography to create the structure for the electrodes and markers. After that we deposited Ni and Au and then removed the remaining resist.  We have also mechanically exfoliated the grapheme and using Raman-spectroscopy we verified that we have mono-layered pieces. We have written patterns with Elionix 3700 EB lithography machine to cut the grapheme into usable strips using the dry etching machine, but the dry etching machine has been under repair and should be ready for use soon. Also the patterns that we wrote with the lithography were not quite in the correct place so we have to remove all the resist and try again. In a lab where machines can write lines and patterns at the nano-scale I was amazed at the amount of guess work that was required to write these patterns. Using the markers on the pictures of the grapheme samples you have to write a cad program to remove the unwanted areas based on guess work. Given the small scale of the grapheme, trying to isolate the exact area is difficult. Everything is in Japanese, even the program, so there is no way for me to really look through it to see if there is a better way. I believe, there must be a better way to target the grapheme, to start your pattern and if not that should be one of the items the engineers that created these machines should be working on. This system is very counterproductive in this respect. I have been researching and experimenting better ways to create larger pieces of mono-layered grapheme, on the substrate.
Augus-san, the lead researcher in the lab, is working on different versions of CVD grapheme. His goal is to create efficient solar cells. He has several different ideas that sound very interesting. I have been talking with him and watching him do some of these different ways to grow grapheme, with some of the down time that I have had.

All things being equal, my life's experience has always been in some sort of technical maintenance and engineering type applications. As I examine the different machines and watch what people need to do to operate them I seem to find myself drifting towards answering other questions about the lab setup and user-friendliness. I am sure that I could design a different setup that would increase work flow and ease, at the same time maximizing space, which is precious here. Also, as noted with lack of accuracy of the lithography machine, I am sure that I could revamp some of the other equipment to increase ease and accuracy. The natural grapheme exfoliation process is extremely unpredictable and I find this a very interesting problem that I have been trying to solve, whether it is different methods and tapes to remove it from the source, to different ways to transfer it to the substrate. I am also fascinated with the grain boundaries and how a substrate's grain boundaries affect the CVD growth of grapheme. The inability to create a boundary less sheet of graphene is a very interesting problem that seems like it should have an easy answer to resolve, so I have been reading anything I can get my hands on that is related to graphene growth.
Week 6: Research in Japan vs. in the U.S.
As expected, the hierarchal order that exists in the Japanese society extends to the lab as well. Any person of higher rank, even if they are only a year above, is treated as a superior. When addressed they always have –san added to their names. This type of ranking system does affect how they interact, from the students to the professors. If a lower student is told by a higher one to do something they seem to just do it. I have not witnessed any blatant disagreements, but there are times when you can tell that they are disappointed or maybe disagree with what they were told, but as far as I can tell, like I said, they just do it. One other item that I find interesting about names here in Japan is that the majority call each other by their last names. I cannot recall a time where I have heard someone call someone else by their first name.

To this point, I believe that it seems a little less stringent than what was described at the beginning. I was almost to the point of being nervous to say anything for fear of offending someone in some way. The Japanese people that I have interacted with all realize that I am a foreigner and know that I am not trying to really offend anyone on purpose and usually just politely tell me that that's not the way it's done or something to that effect. I find the Japanese people that I've encountered to be very friendly and are willing to work with us foreigners.
The team environment is definitely high on the list of things valued in the lab. Although, most students have their own projects and generally conduct their own experiments, they are all the time, in multiple weekly meetings, explaining where they are with their project and what they plan to accomplish in a certain amount of time. They are willing to work together to help each other at any time and this is seen quite often in my lab. One slightly strange thing is they seem to not have any real set hours and will just show up at random times throughout the day. Other times they will show up early and just sit in the study room all day and I'm not quite sure if they are working on something or just looking at stuff on the web. Comparatively, the relatively small amount of US lab experience that I actually have it seems to be very similar except a little more independent. I believe a blend of the American system and the Japanese system would be a very happy and productive lab. The work ethics and respect of the Japanese and the individualism and creativity of the American, I believe would produce superior results.

The past week has been slightly nonproductive. The whole week until Thursday, the dry etching machine was down for repairs and then Friday it was booked all day and I was unable to etch my sample. We have some time scheduled for tomorrow so I am interested to see how this turns out. I had some issues with writing a cad program to isolate my graphene sample, but we managed to get past that hurdle. I still believe there must be a more accurate way to accomplish this task and have been looking into it, as well as talking with Prof. Bird's graduate students on how they have handled this issue, which has been a great help. The master's student that is working with me most finished her sample a while back, but was unable to get any readings. So she is looking into what the issue could be, which makes me a little nervous, because I am using the same technique. We shall see.

The difficulties that have been encountered are the same as reported last week. I am trying to figure out a few different ways that some of these processes could be accomplished and will update as information comes about. Ann, of Prof. Bird's lab, has given me some excellent information and I am looking forward to testing them out.

The culprit. There has to be a more efficient way!!!

The other possible culprit!!!
Week 7: Preparation for Mid-Program Meeting
Japan has been a wonderful experience thus far. I always enjoyed traveling, but most of the places there was never quite as large a language barrier as this. Although it is exceptionally challenging, it is also very rewarding when you actually communicate. When I first arrived I felt completely isolated from the Japanese, because I could not speak or understand anything they were saying. The intensive language study at the beginning of the program I had mixed thoughts about. The first week I felt like I was learning. The second week I felt that I was still at the point of the first week and the third week I felt like I had actually regressed. Then we all split up and again I felt behind the language curve, but as the weeks have progressed I started to realize that I could pick out 2 or 3 words in a sentence. This coupled with having to try to speak some Japanese to just get buy, you slowly realize that you are starting to understand more. I am buy know means fluent, in fact I would liken myself to a two year old, but the point is I'm learning. This has been one of the greatest challenges I have overcome since arriving in Japan.

I went on a trip this past weekend to Furano and Wakkanai. Two beautiful places here in Hokkaido. Furano is known for its intense flowers this time of year and wakkanai is the northern most city in Japan. To do this required renting a car, booking rooms, figuring out where was best to go, trying to talk to people and so on. As it turned out, I did better than expected. This is when I realized that given more time I would be able to verbally communicate and thus is the reason that it is the biggest challenge that I have overcome. I must add the constant use of the word maybe makes things a bit hard to comprehend the exact meaning of what they are saying. For example, when I told everyone in the lab that I would be going to Wakkanai for the weekend, I had several responses to this statement that included maybe. Like, maybe it is a long way to travel or maybe you only have the weekend. To me it sounded a lot like they were saying that I shouldn't go. Maybe it is too far. I finally just asked, is it too far or not and will it take more time than I have and the answer was "go and have fun". It is a bit frustrating, because this happens a lot and then I start thinking it might not be such a good idea or I should be doing something else.

Near the town of Wakkanai you can see Rishiri Island.

Living it up in the north!!
Research Update
The research portion is going well. It is a little behind where I thought we would be by now, but it is definitely moving in the right direction and should be completed well within the time frame. I am also still researching different ways to make quality graphene. The CVD machine two different leaks and I have been unable to pursue any of the ideas that I have wanted to try. This is also caused a small delay in the annealing of my device to further the experiment, but this has been corrected now and when I return from Okinawa we should be able to do this right away.

This past week we managed to create 3 devices on a substrate with a double layer graphene ribbon. I was a little disappointed because none of the single layer graphene devices worked. We believe this is due to a poor deposition and poor contact with the graphene. Also, it required an excessive amount of time to develop, because we were at the limits of EB writing accuracy. However, when we anneal the device we are optimistic that it may improve or correct some contact issues. We were able to detect a current through electrodes 3, 4 and 5 on the double layer graphene. Electrodes 2 and 3 showed that the graphene was un-doped and displayed the V characteristics quite well although it was a little ragged. Once again I am optimistic that the annealing process will help with the contact properties. We are also going to use the AFM and SEM to verify our samples surface characteristics.

The problems that I encountered with the EB last week are still frustrating me, but I did find a slightly useful way to obtain the semi-exact position of a graphene sample. Locate your sample with the SEM. Set the x and y axis stage movement keys to the desired one click equals a specific distance in this case 50 nm. Use the keys to move the stage in the x and y direction until a marker is reached and count how many clicks it took to move the markers. This should give a fairly accurate accounting of the exact position if the stage movement motor is fairly precise. Otherwise a newer version of this machine allowing for the integration of both images (SEM and Cad) onto the same screen with a coordinate system should be developed if it has not already been.
Week 8: Reflections on Japanese Language & Role of Traditional Culture

This week has been pretty consistent with the past couple of weeks. There has not been anything out of the unusual or any real communication barriers that needed to be resolved. Although for some reason this past week I seem to be having trouble remembering to take my shoes off when I enter a room. I took a trip down to Hakodate this weekend and it was very enjoyable. It is a nice sea side town with a lot of touristy things to do. About a half an hour away there is a volcano that you can walk up and into which was also very interesting. I did not book my room online for this trip, I just thought I would go and see what was there and then book my room. As it turns out when the Japanese have a holiday weekend they all go for a holiday and consequently most all the rooms were sold out. It was particularly hard to find a room and required every bit of Japanese language skills that I had and ones that I didn't as well. But, in all I managed to get a room for both nights and everything was OK.

When it comes to continuing to learn Japanese, it seems like it would be a shame to stop now. I will probably look into some classes at my university or some sort of self-study type program. Also, I might try to find a Japanese exchange student at my university to keep my speaking skills up. If I was to rate myself on my Japanese, I would have to say I'm at a two year's old level. I can understand more than I can speak.

The Okinawa Institute of Science and Technology was an awesome place to visit. They have created a cross-scientific community that sets itself apart from most other higher educational institutions to the point where I would consider applying to attend there for my upper level studies. The facilities were impressive to say the least. Their budget seems to be unrivaled as well. The low faculty to student ratio (1 prof. to 2-3 students is unheard of) is an excellent format in which to teach and learn. This system differs greatly from what I have encountered so far here in Japan, where most students get into a research group and stay there until they have completed whatever level they wanted to achieve. There is not a lot of interdisciplinary communication that I see in the normal university and beyond that there does not seem to be a lot of interdisciplinary communication either.

I first looked at the Mid-Program Meeting as a bother and just something that I had to do; but it was a nice break and it was a lot of fun to get back together with everyone. It was very nice to hear how everyone's research was going and how their universities were. Hearing what they had to say and putting that together with what I had already observed in my own university, is how you can truly understand what a wonderful place OIST is.  If I suggested one thing for next year's Mid-Program Meeting is that you don't pack the itinerary so full. We had a beach at the bottom of the Sea Side House, and I never saw it in the day time. I would allow for a little more down time. Apart from that, I have to applaud all the people that have made this program what it is and the wonderful experiences that it creates.

A cute Japanese couple posing

Hakodate at Night

Research Update: This past week the research had been going well, until I annealed my device. Preliminary results show it to have died, but we are going to do some re-measurements today to verify. We do have some data from the device, before it was annealed so that if it is indeed not working properly we will be able to use that. Because of this dilemma, I decided to try to create another device and managed to get a few good graphene pieces onto another substrate. I am going to E-beam it today and get it ready for deposition. We are going to use nickel again for the contacts and see if we can get some better results although time is definitely against me.  
Week 9: Critical Incident Analysis – Research Lab
There have been absolutely no cross-cultural communication issues since the last report. We all realize that there is a communication barrier and so we all take our time to make sure that the meaning gets across correctly. So I am at kind of a loss for making a page report out of this topic. On the other hand my lab mates and I get along very well actually. We all took a trip together to a town called Furano to see the lovely flowers in bloom. Sueoka-sensei was among the 10 of us that went and I rode with him the whole day and it was a wonderful day. As a matter of fact things have gone so well during my stay that prof. Sueoka offered me an opportunity to come back and continue my research interests if I want to. He said that he could even pay my airfare and set me up with a place to stay, but he could not offer me a stipend. I have thought about trying to find a way to get a scholarship or something to make this a reality. Either way, like I said before, my stay has gone extremely well except for that it went too fast.

Furano flowers in full bloom!!

The lab gang
Research Update: This past couple of weeks has been really exciting. We managed to create a tri-layer graphene device with extremely low contact resistance. There is the possibility of it becoming a publishable paper! I have altered my presentation to talk about this device solely. I require about another week at least to full categorize it and try to reproduce the results, but unfortunately I don't have the time so Agus-san is going to keep working with it and keep me updated on the progress. My poster draft has most all the information, but we are going to try to make more measurements all the way to Friday when the final poster is due.
Week 10: Career Interview
I chose to interview Dr. Agus Sibagyo for this report. Dr. Agus is the head of Prof. Sueoka's lab and has worked there since he received his doctorate in Physics with an emphasis on Electronics Information Technology and Surface science. He is originally from Indonesia and came to Japan 22 years ago. He has amassed many publications and patents and still conducts and leads many cutting edge research topics in the lab.

What is your degree in and what type of degree is it?
I have a masters in Material Science and a Doctorate in Physics with an emphasis on Electronics Information Technology.

Why did you choose to study in these fields?
I was studying material science and electrical-electronics engineering, but I found that I more interested in what was actually happening and the physics was the way to find out.

What was it like to study in Japan?
Studying in Japan was very different to studying in Indonesia. There was a lot of free time and I enjoyed that. Students in Japan do not really care about what grades they make only that they pass. I studied in Japan for 10 years and found it to be very enjoyable, but I do not agree with the system.

What do you mean the system?
In a lot of cases it is up to the professors to run their classes and grading how they wish. The grades are A, B, C, and fail, but if you fail a lot of professors will let you retake the same test to improve your grade. If you passed the test with a C you do not get the chance to retake the test so if someone failed originally they can come back and take the test and get a B which is higher than the C and that's not fair.

What jobs have you had?
When I finished my degree I began working as a postdoc here in the lab and have been here ever since. It is a nice job and I enjoy being part of all the different research topics.

What do you like about the Japanese culture?
I am very fond of the kindness of the Japanese people. The social aspects that Japan presents are very nice.

Do you plan to keep working in this lab or is there something else that you want to do?
I want to become a professor here. I had the chance once, but the position was only for two years guaranteed and I want to be a permanent professor without any worries.

What do you think of programs like NanoJapan and others that send students to the States?
I believe that this offers an excellent opportunity to the students all though it can be a little difficult for the host labs. I believe that these types of programs are required to build collaborations with others in different countries.

What advice do you have for someone preparing for a career in research?
If want to have a job in research, then you need to take as many opportunities as you can to do research. The more research you do the more opportunities will come. Also do as well as you can in school, these days it is getting more and more important.

After I concluded the interview I realized that the Japanese outlook on school is a bit different to that of the States. The Japanese, not all, but most, only seem to look on it as something that has to be done on the way to getting a job. The few that are really interested in what they are learning however display a natural aptitude and a zeal for what they are learning. I don't know if I would like to attend a Japanese university or not, but one thing is for certain, the environment they create in their groups seems very good.

Sueoka Lab BBQ

Week 11: Final Week in Japan
My perception of Japan has not changed that much. It has been more reinforced than anything and the depth at which they hold their beliefs and culture has proven to be much deeper than originally anticipated. Having spent the summer completely immersed in their culture I have come to find that I really enjoy Japan and the way they do things. I like it so much that I am seriously considering opportunities to work and live with them again.

I love America and would never disown or deny her, but there are definitely some attributes from the Japanese that we could adopt in our country. Americans don't pay quite enough attention to the wonderful privilege that they have being able to live and work here in the US. It has almost reached a, "we expect it" mentality rather than a grateful mentality. If American's would take a step back for a moment and realize how wonderful it is to be American,  realize they are part of larger community than just there immediate reality and take pride in the fact that they have opportunities like no other country can offer, I believe this country would soar to heights that are unimaginable.

The group mentality of the Japanese people at first for me was almost unsettling. There didn't seem to be any real individual identities. As time passed and I began to meet these people on a more personal level I realized they do have individual personalities, but at the same time they give a significant amount of thought to how they affect others. This is the trait that I believe I will miss the most and I find that I want to adopt this trait into my personality as well. I do not believe that I will ever take this trait to the extent that the Japanese people do, but I can definitely apply it to my daily life.
The language barrier was an exceptionally difficult one, but one that I was willing to accept being a visitor to their country. The old proverb comes to mind, "when in Rome." This aspect proved to be the most frustrating for me only because of my inability to pick up the language as quickly as I would have hoped. I plan to keep learning Japanese at a somewhat snail's pace probably, but keep learning none the less. Communication is important and when the ability to communicate even the most basic things has been removed, you learn a lot about yourself and your ability to overcome difficulties, large difficulties at that. I believe that this was an instrumental part of the NanoJapan program and should confirm in whoever is participating, if you put your mind to it you can overcome any obstacle.

Before entering the NanoJapan program, I was fairly confident in my choice of study and where I was headed academically, but now that I have completed the program, I am assured that I am on the right track. My whole life, I have always thoroughly enjoyed puzzles and doing research in the lab is like getting to solve puzzles that can have significant global impacts. The added importance that this type research possesses makes the puzzle that much more interesting. I will definitely continue on the road and I am sure that it is the right road for me.

My research showed some very interesting results and may truly have some future applications. Unfortunately, I was unable to complete the entire experiments on my device that I wanted to achieve. Agus-san will continue the experiments in my place and we have set up a schedule to talk once a week about how it is progressing. I am also trying to get into a lab at UTSA and set up collaboration with the Nano-electronics lab at Hokkaido University to continue the research on both ends. Worst case scenario, my Japanese Prof. invited me to come back and do the research in his lab. So if everything else fails I may return to Hokkaido next winter or summer to pick up the research again.

My last weekend in Japan was very relaxing. I did not climb Mt. Fuji with the rest of the NanoJapan group, but I decided to stay in Sapporo and have a relaxing moment walking around the city, taking pictures. It was a wise choice, from my perspective, as I had a wonderful time.
Research Poster Presentations


Project Title: Low Contact Resistance between Nickel Electrodes and Side Contacted Tri-layer Graphene Devices
Host Lab: Nano-Electronics Lab, Hokkaido University, Sapporo
Host Prof.: Dr. Kazuhisa Sueoka-Sensei
Mentors: Dr. Agus Subagyo, Sung Yuna, Akira Ikeuchi, Dr. Jonathan Bird

Introduction:  High contact resistance is a key problem in graphene-type device performance.  In order to create devices with high performance values such as field effect transistors that operate in the terahertz range, the contact properties of graphene devices requires further research.  Nickel's high work-function and contact properties, in conjunction with multiple layers of graphene, has the potential to lower the contact resistance in field effect transistors. Low contact resistance is difficult to achieve in side-contacted single or multiple-layered graphene devices.  The added layers of graphene may improve the contact properties and promises high performance operation in the Terahertz range. We expect to show that tri-layer graphene, contacted by Nickel electrodes, can significantly reduce contact resistance in FET type devices and still exhibit the electronic properties that make mono-layer graphene so compelling.

Our approach to this question was to create a tri-layer graphene FET with multiple channel lengths and test its electrical properties.

Procedure:
We mechanically exfoliated graphene samples from a graphite source.
Pattern the graphene using electron beam patterning and O2 plasma etching.
Deposit Au covered, Ni electrodes using EB deposition.
Verify that we had three layers of graphene using AFM, Raman, and comparison analysis of publications                             and other graphene samples.
Use the SEM to visually inspect the physical contact properties
Record the contact resistance and field-effect modulation with the semiconductor parameter analyzer.
Record, review, and present findings.
Our findings showed that tri-layer graphene is a viable candidate for this type of device. It displayed good on-off ratios with extremely low contact resistance. However, further research on this device is required and other devices need to be fabricated and tested to ensure result accuracy. The next step for this device is to deposit a top gate and retest its resistance and FET characteristics using the top gated method. Then we plan to etch away the SiO2 substrate, making a suspended graphene channel and retest its resistance and FET characteristics.
The conclusion of this work is to show that FETs able to operate in the terahertz range can be fabricated using tri-layer graphene.
© 2011 TeraNano. All rights reserved. Website designed by
www.wastedpaper.com
.