Jason Giuliani - NanoJapan 2013
Northwest Vista College
Major/s:Nanotechnology / Engineering
Anticipated Graduation: May 2013 (Associates) with Planned Transfer to a 4-year Program
NJ Research Lab: Sueoka Lab, Hokkaido University
NJ Research Project: Low Contact Resistance between Nickel Electrodes and Side Contacted Tri-layer Graphene Devices


"I really feel blessed to have been a part of the program and it has opened a lot of doors for me. I thank you all for the awesome experience and wish you continued success." ~ Jason Giuliani
Why NanoJapan?
I have known about the NanoJapan program since my enrollment in the nanotechnology program at Northwest Vista College. A former classmate was selected to be part of the Nanojapan program 2 years ago. He shared the many wonderful things that he learned while in the program and the amount of doors that were opened because of the program was even more impressive. This is one of the main reasons for my application to the program. If my time in the program goes half as well as his did the opportunities will be endless. Also the program offers the chance to build a multicultural, international network. But, for me, experiencing hands on, practical research is the most exciting aspect. Learning the different techniques and uses for terahertz technology is very interesting.
On a personal level I view this as an adventure. Visiting a foreign country and seeing how they approach their daily lives is almost as valuable as the actual research and collaboration for me. I am fascinated with different cultures and some of the Japanese history is amazing. This experience should be as rewarding professionally as it will be personally.
My goals for this summer are to:
I am very anxious to get started working in the lab. I want to learn as much as possible about the many different aspects of working in a research environment as well as the environment in a Japanese lab may differ from the one in the states.
I love photography. I am looking forward to taking as many pictures of Japan as possible. The historical architecture in Japan is amazing and I would definitely enjoy the opportunity to photograph some of them.
Learning to communicate seems to be the biggest hurdle to me. This is a challenge that is a little daunting, but I am really looking forward to learning the language and mannerisms so that in the future my opportunities will not only be limited to the United States.
NanoJapan Alumni Follow-on Project
Since the end of the NanoJapan program I have had several opportunities to talk about the program (during the Fall of 2013).  I also have a few upcoming opportunities in Spring 2014, such as; I am supposed to give a presentation about the program to the Physics Club at UTSA this semester. I know that it will be a little late for them to join this year, but hopefully next year you will have a lot of applicants from here.

Firstly, I presented my NanoJapan Research Poster at the yearly University of Texas, San Antonio Research Symposium. This was an outstanding event that without having attended NanoJapan I would not have been able to take part in. This was a great opportunity to see what types of research are going on at UTSA and meet the people that are doing it. Because of this, I met a professor here at UTSA that was interested in my research and have since been offered an opportunity to work in his lab. I will be researching graphene growth techniques which are one of the main interests that I had while in Japan. If that wasn't good enough we are looking to do a collaboration project, with Sueoka-Sensei which is now in the process of getting set up, thanks to Prof. Kono's help.

Secondly, I gave three presentations at the Core4 STEMs Conference hosted by the San Antonio Hispanic Chamber of Commerce for middle school students. This is a conference held for middle school students that are interested in the STEM fields. This presentation was in conjunction with the Nanotechnology club at Northwest Vista College. This was a great opportunity to show the young students the endless possibilities that come from further education in the STEM fields.
Thirdly, I presented the whole experience to the Nanotechnology club at Northwest Vista College. I was able to give them an in depth look, at the experience that is NanoJapan! I am actually hoping that you will have at least one applicant from this group this year. Lastly, I was able to talk to the high school students that the Nanotechnology club has partnered with about the experience and I believe you may have a few future applicants that will come out that as well.

Excerpts from NanoJapan Weekly Reports
Week 5: Critical Incident Analysis ~ Coming Later this Summer!
Week 6: Research in Japan vs. in the US Week ~ Coming Later this Summer!
7: Preparation for Mid-Program Meeting Week ~ Coming Later this Summer!
8: Reflections on Japanese Language & Role of Traditional Culture ~ Coming Later this Summer!
Week 9: Critical incident analysis – Research Lab ~ Coming Later this Summer!
Week 10: Career Interview ~ Coming Later this Summer!
Week 11: Final Week in Japan ~ Coming Later this Summer!
Week 12: Research Presentations and Re-Entry Program ~ Coming Later this Summer!


WEEK ONE: ARRIVAL IN JAPAN
Japan in my eyes always represented dedication and respect. Thus far they have lived up to every expectation I previously held. Even down to the McDonalds employees. It seems that they are genuinely happy to be able to work there and it shows in their attitudes and cleanliness of the store. I find it refreshing to be here, immersed in their culture. It is a nice change from my normal daily life in America. The one thing that I was not ready for was the amount of people here that speak English or want to speak English. They seem to have real desire to learn and help and that excites me.

Canal near the Sanuki Club Hotel in Tokyo

Language class has been much more intense than I expected. I wish I would have had more time to study the Japanese language before coming to Japan. It is exceptionally fast paced, but the instructors are excellent and make it as easy as can be expected to learn. I really enjoy the language class to the point where I am trying to locate a language class in Sapporo to continue my language education. Shimojo-sensei's class made me feel farther behind than I thought I already was. His class was very good and I am sure that there is a reason that eludes me as to why the language classes are conducted this way. I have had no prior experience in learning a language and so I have nothing to use as a base for comparison. I try to use what I learn as much as possible, ordering breakfast or getting my key at the hotel, ordering dinner, talking with random people that I meet , etc. It is difficult, but the Japanese people are so willing to help and try to understand it makes it extremely fun.
The evening talks with the KIP students have been one of the highlights to date. They were so nice and it was a great experience being able to talk with them to get a sense of how Japanese life really is. We all had such a good time and we went out for a meal after the discussion time to continue talking on a more casual level. We learned a lot about them in a short time and I am looking forward to meeting them again this Tuesday. Mami-san and Teipei-san met us on Saturday to take us to Kamakura and we all had an outstanding time walking around the temples and shrines there. They took us around some of the more behind the scenes places and I really enjoyed that very much.

Evening discussion with Japanese students from the KIP Program in Tokyo.
WEEK TWO: NOTICING SIMILARITIES, NOTICING DIFFERENCES
Public transportation in Japan is much the same as public transportation in the rest of the world, except for how the people behave while utilizing it. I have noticed that people on the trains and subways here in Japan tend to be very quiet and either read a book or just sit quietly. They are polite and do not have any problem crowding in to make room for people getting on or off the train. It seems to be ingrained in the Japanese people to take into account their fellow passengers; whereas in America people in general seemed to be only interested in what they are doing. In the states people on mass transit usually are on the phone or talking with whomever they may be travelling with and do not have much regard for what is going on around them, whereas the Japanese seem to value the silence as a respectful gesture to those that happen to be riding with them. These differences between the way Japanese and American people view and act on mass transit systems, seems to be more cultural than anything else. There are exceptions to the rules on both sides though.
As I reported last week the language portion is a challenging aspect of this program. I am really enjoying it and I wish that I had more time to just try to communicate in a semi-structured environment. A good example is the lesson that we had on Thursday, where we went and had to try and talk with an instructor at the language school in an informal setting. This was exceptionally challenging for me, but in the end extremely enjoyable. I would like to make a special mention about Ogata-sensei from the language school. I think she is a fantastic teacher and I really appreciate all her work, instructing us on Japanese language. She has also taken time out of her schedule to meet with us on several outings which shows me that she really cares for what she does.
What can I say about Prof. Vladimir Mitin except he has to rank right at the top for me. We had two lectures from him and I wish I could have about 12 more at least. His approach to the topic, his explanations of the information, his speaking style, his ability to discuss other items that were not related to the subject matter and a number of other things really set him apart. His discussion pertained to Resonant-Tunneling Diodes and was extremely informative. I would have loved to have had time to just talk with him about a number of things.
I also want to mention the trip to STS-Elionix. Their presentation of their equipment was very nice. I am very interested in the microscopy field and it was nice to see other types of machines with new and interesting components. I enjoyed the speakers that they had and I was honored that they would be willing to take time out of their obviously busy schedule and allow us to visit their facility.
WEEK THREE: FINAL WEEK OF ORIENTATION AND MINAMI-SANRIKU TRIP

View of Minami-Sanriku: The Town that Disappeared
The visit to the Minami-Sanriku area this week is my most memorable and inspiring time in Japan to date. The total decimation of an entire town and the surrounding areas was almost incomprehensible. When you add on top of that the fact that they cannot rebuild on their home sites, words are unable to describe the feelings that arise. The town that once was, has been reduced to makeshift houses on school soccer pitches. Businesses that had been washed away, now run in temporary buildings that resemble trailers clustered together to form a makeshift shopping area. As bad as all this is, the people are amazing and resilient. Residents and shop owners that have every reason to be grieving and upset caught me off guard with their cheerful greetings and wide smiles. This is a prime the strengths that humans are capable.

NanoJapan 2013 particpiant Mitchell Connolly play with the children of Minami-Sanriku

The children of Minami-Sanriku, outwardly, show virtually no scar of the tsunami that devastated their town. We visited the kindergarten and the elementary school and they all seemed so happy to see us. We first visited the kindergarten school and had a wonderful time making airplanes, putting hand prints on giant papers, and playing chase in the school yard. Next we visited the elementary school and had a contest to build a bridge out of chopsticks and tape. We split the children up into teams and they all did outstandingly. I really enjoyed working with them. Seeing all the children running, playing, and working together shows me that there is more than hope for this town's future.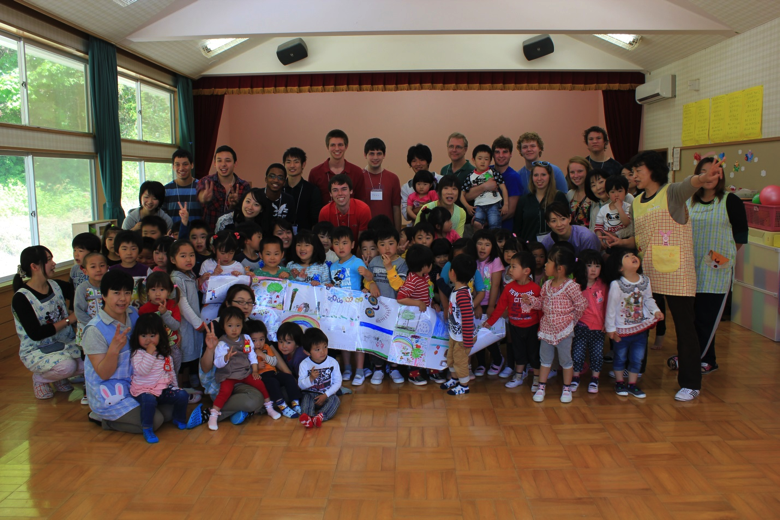 Visiting the Isatome Kindergarten in Minami-Sanriku

The part that touched me the most was the leader of the temporary housing community next to our hotel. We showed up to do our volunteer work and cleaned some weeds and rocks out of a few ditches. This was by no means a monumental feat, but it seemed to be well appreciated. Later that same night we had a dinner with the four leaders. It was borderline a Japanese feast. While we ate the leader stood up and gave a speech about how they were stranded at the hotel for three days after the tsunami. He explained that they only had eaten one rice ball each in that amount of time. He described in detail the worry and despair when a helicopter appeared out of the clouds. He said he couldn't make it out at first and then he realized that they were Americans participating in Operation Tomodachi. He said they looked like angels descending from the sky. He explained further that even though they had a language barrier, they were still able to communicate the basic things. His gratefulness towards us as a country was profound. I don't know why it really touched me so deeply. Maybe, it was because I used to be part of a helicopter crew in the Army, or maybe it's because I realize that at his age he has seen our two countries at go from peace to war and now to a peace that he believes is as strong as deep family bonds. I was able to talk with him for a few minutes away from the crowd, thanks to Shimojo-sensei. Our conversation convinced me that human beings can overcome boundaries with the simplest acts of kindness and concern for each other's wellbeing. If only we could inspire people to do this, I believe the world would be a much nicer place.
WEEK FOUR: FIRST WEEK AT YOUR RESEARCH LAB

My first week has been fine here in Sapporo. Sueoka-Sensei and three of his students picked me up at the airport when I arrived. He drove me to an observation point on the top of a nearby mountain. The view from there was amazing. You could see the whole of Sapporo from there. My room here is as small as the hotel room at the Sanuki club, which is a little disheartening, but it works. I still cannot get used to the shared bathrooms and showers. It has been a long time since I have had to do that. Sapporo is a big city and my lodging is centrally located which is very nice. I bought a bike to get around with and so far that has been a wonderful way to view the city. Unfortunately I have been sick the past few days and I am just starting to feel better so hopefully I will be able to travel a little farther now. The university is about a thirty minute walk from here which half of that is actually on campus. Sapporo is not as diverse and touristy as Tokyo or Sendai is. It is more like a normal working city which is very nice to see how Japan really is, behind the scenes, so to speak. The language barrier is still a struggle, but I am enjoying the challenge to learn the language.

I have a trio of mentors really for the project and one undergraduate student from Iran who is going to help me learn Japanese better. My main mentor is Yuna Sung, and she is actually Korean. My second mentor is Dr. Agus Subagyo, who is a senior research staff of the laboratory. He is Indonesian. My third mentor is Akira Ikeuchi who is now a second year PHD student. These are my main three people when it comes to the research, but so far this first week there hasn't been any work done yet. On Monday morning Sueoka-Sensee showed me around the different labs that he runs. On Tuesday morning Kasai-san, an undergraduate student whom I like very much, showed me around more thoroughly and gave me the basic guidelines. On Thursday we made a schedule for the remaining weeks and we will actually start to do some work on Tuesday of this week coming.

My project is actually going to part of Yuna Sung's project. We decided instead of doing something that has already been done just for the sake of doing a project, I would work with Yuna and help her with part of her project. The project is contact properties on grapheme, end contact vs. side contact, with a few different materials. We will fabricate the device and measure the resistance of the different contact methods. My specific part seems like it will be measuring the resistance at different temperatures to see what novel properties may be available. I will be able to be more specific in next week's report when I know more about the project.

Yosakoi Soran Festival (It's Time to Dance in Sapporo)
© 2011 TeraNano. All rights reserved. Website designed by
www.wastedpaper.com
.