Shomesh Chaudhuri - NanoJapan 2009
Harvard University
Osaka University
Advisor: Satoshi Kawata, Website
Research Project:
Two-Photon Laser Fabrication of Micro/Nano 3D Structures
Research Abstract & Poster:
Major/s:
Biomedical Engineering
Anticipated Graduation:
May 2011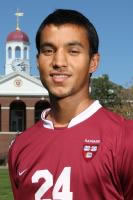 Why NanoJapan?
As an avid soccer fan and player, the first time that I was formally introduced to Japan was during the 2002 FIFA World Cup. As I grew older, I noticed that Japanese culture shared my passion for science and technology as well. The NanoJapan program is giving me the once in a lifetime opportunity to learn and work on cutting-edge science in one of the world's greatest technological countries. However, what appeals to me most about the NanoJapan program is the chance to experience a culture and language completely different than what I am used to. I feel that immersing myself in such a historically rich and fascinating culture will be one of the single most important experiences that I will ever have. To learn what similarities and differences I share with a Japanese student, to learn what values are most important in Japanese culture, and to compare their daily life with mine will allow me to see the world from more than the North American perspective that I have grown up with. The NanoJapan program will help me develop into a better person and improve myself as a global citizen.

Shomesh Chaudhuri Presents at 2009 RQI Summer Research Colloquium
Shomesh Chaudhuri gave a poster presentation on Two-Photon Laser Fabrication of Micro/Nano 3-D Structures at the 2009 RQI Summer Research Colloquium. To view his abstract and poster click here.
© 2011 TeraNano. All rights reserved. Website designed by
www.wastedpaper.com
.