Aaron Long - NanoJapan 2015
Yale University
Major: Biomedical Engineering
Class Standing: Sophomore
Anticipated Graduation: May 2018
NanoJapan Research Lab: Prof. Satoshi Kawata, LaSIE, Osaka University
NanoJapan Research Project: Electroporation-introduced Gold Nanoparticles for Surface Enhanced Raman Spectroscopy of Biomolecules in Cells


Why NanoJapan?
NanoJapan combines my two greatest interests that I have pursued since coming to college: engineering and Japanese. I have been very fortunate to have had the opportunity to study abroad in Japan already last summer following my freshman year when I attended the Hokkaido International Foundation language program in Hakodate after receiving a Light Fellowship from Yale. I have been lucky enough to receive the Light Fellowship again, this time for a full academic year, and following the NanoJapan program, I will return to Japan for intensive language study for two semesters. I found my time in Japan enriching in numerous ways in terms of both academic and personal growth, and I have thus been eager to seek out opportunities for further experiences there. NanoJapan offers a chance for me to combine my interest in Japanese language and culture with my primary academic interest in engineering. The program will allow me to experience a Japanese lab and workplace, and because I am interested in potentially living and working in Japan in the future, this will help to inform that decision.

While my major is in Biomedical Engineering, I have always enjoyed physics and am very excited for a chance to learn about a cutting-edge field of research in physics and engineering. I hope that applying my current Japanese language skills in more of a real-world situation will allow me to reach a new level of comfort with the language which I have been striving towards this past year. The chance to research in a foreign country as an undergraduate is rare, and I believe it will provide me with perspectives which will be valuable in any future research and more generally throughout my life. I am looking forward to meeting interesting people, exploring new aspects of Japan, and growing academically and personally. I am very thankful to all those involved with the NanoJapan program for this opportunity.
My goals for this summer are to:
By the end of the summer, to be able to communicate about my project with my research mentors in Japanese fluidly and without the use of a dictionary.
To become proficient with the workplace Japanese and customs necessary to work in a lab in Japan.
To establish a base in technical Japanese which I can expand on during my year abroad in Japan.
To make tangible progress in my research project which I can be proud to present at the end of the program.
To make lasting connections with others involved in the program, both American and Japanese students and researchers.
Impact of NanoJapan
When applying to and preparing for NanoJapan, I think I was very focused on the fact that the program was held in Japan. Because I am interested in possibly living and working in Japan, I thought the program would be an excellent way to explore this possibility while putting my Japanese language skills to a practical use. While this was certainly a valuable aspect of the program, the opportunity to simply work in a lab for two months and really focus on a project turned out to be the most valuable experience. I was able to explore to what extent I am interested in research in the future, what it is like to work long hours, and how to balance living and working in a new city.    
Research Internship Overview
Electroporation-introduced Gold Nanoparticles for Surface Enhanced Raman Spectroscopy of Biomolecules in Cells

My project focused on the introduction of gold nanoparticles into cells for SERS detection of biomolecules. The usual method of particle introduction, passive uptake through endocytosis, is slow and limits SERS information as particles are encapsulated within lipid vesicles and are not exposed to the rest of the cell. We tested a new method of particle introduction which was introduced by a group in 2009 – electroporation. This technique, usually used to introduced DNA or RNA into cells, involves the creation of transient pores on the cell membrane by placing cells in an electric field. These pores allow particles to move directly into cells. Our goals were to find good electroporation parameters for HeLa cells and 50 nm AuNPs and to then see if SERS information after electroporation was different from that after endocytosis.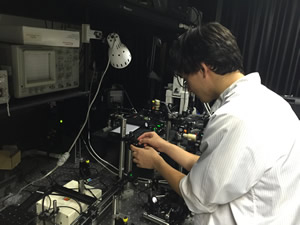 My experience with NanoJapan allowed me to explore whether I might be interested in pursuing graduate school in engineering in the future. After two months I think I started to get an idea of what really being focused on a single research topic is like, and from observing graduate students in the lab I learned about the lifestyle of researchers in Japan. My most likely career path is to attend medical school and practice medicine, and while I have learned this summer that I do enjoy research, the experience further confirmed that I will probably not pursue a Ph.D., at least solely. The main reason for this is that the specificity of research projects does not really appeal to me as much as I had thought it might.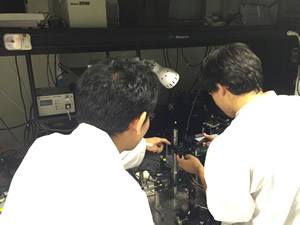 I actually think that the research environment in Japan was very similar to that in the US. While Japanese labs are probably more structured in terms of frequent meetings and general hierarchy, they are otherwise largely the same. LaSIE was very well organized, with frequent large and small group meetings. The language of the lab being English did cause some meetings to slow down at times, but overall I think this aspect prepares members of LaSIE very well for an international research environment. The lab was very structured, but there was not a sense of oppressive hierarchy, and the overall environment was very friendly, especially toward me. My mentors were immensely helpful throughout my project. While things were slow to start while waiting for cells to grow, my mentors were willing to devote a lot of time to helping me get my measurements done in the last few weeks, and I am very grateful. I also really enjoyed chances to socialize with my labmates outside of the lab. My labmates took me to Kyoto for a day and to various restaurants and izakaya.
Daily Life in Japan
On a typical day I would spend most of my time in lab. I had about a 30 minute commute, and I would usually get meals at a Konbini or the cafeteria. I would often get lunch with labmates and they sometimes would hit around a volleyball to take a break from working. I did not travel very much this summer because I will be back in Japan so soon. I did take trips to Himeji and Kyoto with NanoJapan students which was very fun and a good chance to explore the Kansai area. Because I also spent last summer in Japan, I did not feel a pressing need to go sightseeing every weekend, and I think this allowed me to use my free time to relax and to focus better in lab. I enjoyed the independent feeling of living alone and working, and I think this experience might be my most valuable takeaway from the program.
My favorite experience in Japan was... visiting Kyoto with other NJ students
Before I left for Japan I wish I had ... read more papers about my topic
While I was in Japan I wish I had ... eaten more of the food in Osaka
Excerpts from NanoJapan Weekly Reports
WEEK ONE: ARRIVAL IN JAPAN
Having been to Japan before on several occasions, I feel as though I am perhaps coming from a different perspective in observing Japanese culture than the other participants in the program in so far as am not feeling culture shock. I certainly think that there is still room for this, especially as I prepare to enter the lab environment in Japan which is something completely different than my past experiences, but for now, my experience in Tokyo has felt different from last year only in terms of company and attending Japanese classes and the nanoscience lectures. On that note, I am really enjoying getting to know the other program participants and the Japanese college students in the KIP organization who joined us for discussions about Japan and on our trip to Nagano this last weekend. It has been especially interesting for me to talk to the other NanoJapan students about their interest in studying science and their various career plans. As we have heard about physics-focused topics in the nanoscience lectures which I am less familiar with as a biomedical engineering major, I have been very impressed with their passion for the material, and I find myself wanting to study the topics we are discussing even though they do not specifically relate to my research this summer or my major.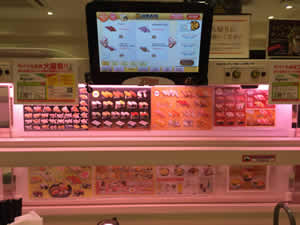 I was introduced to Genki Sushi in Shibuya last year by a friend. As with most kaiten sushi, it was not the best quality, but the price can't be beaten. Small carts on tracks deliver the sushi you order directly to you instead of the normal conveyor belt.

One thing that has been on my mind a lot this last week is what will follow the NanoJapan program. After returning home for three weeks in August, I will return to Osaka for two semesters to study Japanese language with the Light Fellowship. I am extremely thankful to have the opportunity to spend a full year in Japan thanks to NanoJapan and the Light Fellowship, but I would be lying if I said I were not apprehensive about being in Japan for such a long time, albeit with three weeks at home. I hope that the gains I will make in Japanese language and personal growth I will experience this year will be worth the loss of continuity in academics and friendships I will experience upon my return to school.

Language Classes
I am one of two students in Shimojo-sensei's technical Japanese class. We move at a very comfortable pace, and the thing I have enjoyed the most is talking to Shimojo-sensei during the breaks about various facets of Japanese, as well as where to find good food in Tokyo. He has provided invaluable information on this front, including a recommendation for the website tabelog.com which I think will serve me well in the future. I asked him to tell me a little bit about Japanese humor, especially in Osaka, because I have been told that my usual sarcasm will not be understood the same way as in English. We talked about a type of joke called dajare ("bad pun" according to my dictionary), and he said that people in Osaka tend to banter and lightly insult each other to be friendly. It sounds like a type of humor I will enjoy, and I am looking forward to Osaka more and more. We have so far focused on learning the Japanese necessary to give an academic presentation which involves data and statistics, and I hope in the next two weeks that we will cover more vocabulary related to lab work itself. So far, the class has been relaxed and a great way to get back into the swing of Japanese after a semester without taking a class.

Shimojo-sensei's Japanese class (Rebecca and I) visited the Edo-Tokyo museum on a class fieldtrip. This model shows Edo castle before the main structure was destroyed by a fire.

Cultural excursions
The cultural excursions so far have been extremely interesting and fun. I am surprised how much has been packed into the first week of the program, and I have had several new experiences which I have really enjoyed. Last Wednesday, we went to see Sumo wrestling which was very enjoyable. I have only seen Sumo in videos before, and I felt that the ceremony surrounding the fight received as much applause and interest from the audience as the fight itself.  The thing that I have enjoyed most about the program so far was our trip last weekend to Nagano prefecture. We spent Friday evening and Saturday in Aoki-mura staying in a ryokan (traditional Japanese-style inn) and and then part of Sunday in Ueda-shi. We tried rice planting, taiko drumming, participated in a debate with KIP students at Shinshu University, and visited a high school. I found a talk with local farmers about revitalizing Aoki-mura especially interesting. I have been told before that rural areas in Japan are suffering the brunt of the nation's population decline as young people move to metropolitan areas upon graduating high school, but talking to people whose home and livelihood is threatened by these problems put them in a more personal light.

Although the image is grainy because it was taken from far away on an IPhone, sumo wrestlers engage in ceremony to prepare for their matches about to begin.

Intro to Nanoscience Seminar
The intro to nanoscience lectures were absolutely packed with information. While I was expecting to lack some physics knowledge as a biomedical engineering major, I was surprised to get lost just a few slides into Professor Stanton's first lecture when he started talking about band gaps in semiconductors. While I have not been able to follow everything so far, by and large I think I have understood the bulk of the material. A lot of what we have talked about will not relate specifically to my project, but it has still been very interesting. I really appreciate that all of the professors we have heard from make a great effort to provide a larger picture of why this research matters in the real world and what a career in science is like. For example, Ishioka-sensei from the Japanese National Institute for Material Science spoke at great length about what it is like to be a woman in science in Japan, Saito-sensei from Tohoku University, who presented with a considerable sense of humor, talked about how scientific discoveries come as a result of both knowledge and a willingness to try new things, and Professor Stanton went through great lengths to illustrate the scale of femtosecond spectroscopy in comprehendible terms so that we could see why it was important compared to other methods. I think the initial lecture assumed more knowledge than I personally have about electronics and semiconductor physics, but I also realize that it is difficult to cater to students of different backgrounds. I definitely plan on doing some reading on my own to fill in gaps in my knowledge.

Initial Research Project Overview
As for the project I will work on in Kawata-sensei's lab, I will be working with gold and/or silver nanoparticles which have been shown to allow for a technique called surface enhanced Raman spectroscopy (SERS) which allows for identification of different molecules within cells, which coupled with particle tracking techniques can provide information about where those molecules are located. This will be a 3D system, and because the particles will be metal, a lot of the material discussed in the lectures so far concerning semiconductors will not really apply to me. Based on the papers I was sent to read so far, it seems that we will introduce these particles into cells using electroporation. I am not sure what part of the system I will work on yet or what properties I will be studying. This technique has applications such as cell biology research and fast diagnosis of diseases such as cancer based on the presence of certain molecules.
WEEK TWO: TRIP TO NAGANO
As I mentioned in my previous report, we escaped the urban sprawl of Tokyo last weekend to the beautiful mountains, forests, and farms of Nagano prefecture. I mentioned our discussion with local farmers before, and I want to go into more detail about that here. While population decline is now discussed nationally as one of the major problems facing Japan in the twenty-first century, it is especially relevant to those living in small villages such as Aoki-mura in Nagano-ken as youth move to large cities to find work and excitement after graduating from high school instead of carrying on agricultural businesses. According to the farmers we heard from during the trip, this results in inadequate numbers of farm workers, general decline in the status of villages, and threatens farming traditions in Japan.

Members of the Ueda High School English club gave us a great tour of the city, including the local castle.

Many KIP students travelled to colleges across the United States last spring to discuss the issue of immigration in Japan with American students. They visited my university, although I only met some of the students in passing because a friend of mine was hosting them. According to Packard-sensei, although all of the students felt before they began researching for the trip that immigration to Japan should be expanded, apparently most came to at least question that viewpoint by the end. While I have previously thought that Japan's strict regulations on immigration are ill-conceived in the face of a declining population, I think I am beginning to understand why some Japanese people oppose allowing more non-Japanese to attain full citizenship. Whether or not it is a good thing, Japan is a country where race determines one's identity as "Japanese" more than citizenship, and Japanese people seem to have more shared experiences and cultural identity Americans by-and-large. Therefore, while letting in immigrants could have many of the positive effects Americans are said to have experienced with regards to economic and social growth and diversification, the conception of what it means to be Japanese might suffer. While my initial gut reaction as an American might be to think that barriers to new cultures and ideas are categorically wrong, I also do not feel a strong cultural or social identity as an American which makes it hard for me to see the issue from a Japanese perspective.

We were treated to barbeque on our last night in Nagano-ken, complete with a huge bonfire as seen here. Sadly, it was too hot to roast marshmallows on even as it died down.

Returning to the Nagano trip, I really enjoyed our cultural outings such as planting rice and observing a local youth Taiko drum group. Japanese people always seem eager to share their culture, and I thought the people we met were particularly welcoming to our group, perhaps because large groups of foreigners in rural areas are rare. One thing that did stick with me was the high level of formality practiced at almost every event we attended. A local government official had helped arranged our trip, and each time we began an activity he offered a rather lengthy and very formal speech about the group, with self-introductions for everyone present. While I think most of us found this tedious, especially after three days, perhaps it showed that our hosts felt our visit was important as a chance to showcase the village to outsiders as part of their regional revitalization efforts in addition to being standard hosting practice in Japan.

A soba shop owner in Nagano-ken teaches us the art of soba making. Our noodles ended up being oddly sized, but luckily we also got to eat some that he made which were much better.

The trip overall was similar to what I had expected. Some of my Japanese relatives live in more rural areas of Japan in Miyagi-ken, so I have had the experience before of staying in a small village/town, although never any experience with agriculture except spending some time in my cousin's large vegetable garden. I have always loved staying in ryokan, or traditional Japanese inns, and we were treated to a fantastic Japanese style meal. It was a wonderful three days, and I am very thankful to everyone involved in planning it, especially the local government and community of Aoki-mura, the Ueda city high school we visited, and Packard-sensei and the KIP students who accompanied us. The trip offered valuable cultural insights as well as a close-up look of some issues in Japan which perhaps do not always see the spotlight due to their location in rural areas. I will certainly continue to think about them during my remaining time in the NanoJapan program and my next year in Japan.
Intro to Nanoscience Lectures
We heard from three different lecturers last week. Tonouchi-sensei from Osaka University introduced us to terahertz time-domain spectroscopy. While I have to admit that much of what he said was a bit over my head and that I could not completely understand the lecture because I was sitting in the back of the room, it was a good overview of the importance of exploring the THz range to connect the other previously well-characterized regions of the EM spectrum. He presented a very useful diagram explaining how THz waves are generated and detected, although I really only understood the layout of the apparatus and not the actual mechanisms of the electron physics involved. The other guest lecturer, Ishizaka-sensei from Tokyo University presented on a technique for imaging electrons, although I had a lot of trouble understanding her and based on the slides I was looking at the material was a bit dense for an introduction to the topic.

Professor Kono's lectures were immensely helpful in understanding all of the material discussed so far. I definitely felt that I was starting to understand the solid state physics behind semiconductors for the first time, and he did an excellent job of breaking away from his presentation to answer questions and keeping the broad picture in mind. He spent a lot of time talking about the unique properties of graphene and carbon nanotubules which helped to clarify material from lectures last week. He did get more into equations than the other professors had, but I feel I was able to follow most of it. After the second week of lectures, I feel I am understanding the material better, although I am still being introduced to many completely new concepts in each lecture. I do not think much of this will apply specifically to my project because I will be working with metals and not semiconductors, but I am finding it very interesting to learn about.
Preparation for Research Lab - Article Review

J. Ando, K. Fujita, N.I. Smith, and S. Kawata. "Dynamic SERS Imaging of Cellular Transport Pathways with Endocytosed Gold Nanoparticles," Nano Lett., 2011, 11 (12), pp 5344–5348. DOI: 10.1021/nl202877r
The purpose of this paper was to examine a technique for molecular imaging within a cell by using an endocytosed gold nanoparticle as a metallic surface for Surface Enhanced Raman Spectroscopy (SERS) which has been shown in the past to offer greatly improved spatial resolution in the vicinity of a metallic nanostructure compared to normal Raman Spectroscopy. The method not only gave information about the biochemical makeup of the area directly around the particle, but because the laser-beam scanning Raman microscope was combined with a dark-field microscope to allow single particle tracking, the trajectory of the particle also gave information about biochemical processes over the course of a cells response to encountering a particle, endocytosis. Basically, Raman spectroscopy, enhanced with a gold nanoparticle, allows for molecules on the particle's surface to be identified based on their vibrational information as the particle undergoes endocytosis and moves through the cell. A Ti:Sapphire laser was used for Raman scattering, and dark-field images allowed tracking of the particle itself.

A type of macrophage cell, J774A.1 was used because such cells quickly endocytose nanoparticles. The spatial resolution of measurements was much shorter than the diffraction limit of light at ~65 nm which allows for observation of the particle being transported by molecular motor proteins kinesin and dynein. Based on the data obtained, the endocytosis of the particle and its movement by molecular motors along microtubules was tracked, and the particle likely ended up in a lysosome because of the high presence of phosphate detected after it began exhibit a random walk in a confined area. The analysis showed that at some points the particle motion were governed by cellular functions such as molecular motor transport while at others it was determined by fluid dynamics and thermal energy. Other typical particle paths were also shown and discussed.
Only a few types of molecules were detected which is likely because of the small detection range on the particles surface.  The researchers did not see Raman peaks which would correspond to phospholipids such as in a liposome, but this may be because only the particles directly on the surface were detected.
WEEK THREE: FINAL WEEK OF ORIENTATION
While foreigners in Japan are easily identifiable by race, we also stand out because of our volume. Japanese people tend to be considerate of strangers in public spaces and therefore quiet. A notable exception is in the evening after visits to izakaya and beer gardens (close at hand in the lobby of the Sanuki Club Hotel) when alcohol seems to offer an acceptable excuse for breaking from strict social norms. However, by and large Japanese people speak softly in public, and nowhere is this more apparent than on public transportation.

Riding trains as a large group these last three weeks has been the time when I have felt the most out of place in Japan. When traveling alone, it is not particularly difficult to observe the proper etiquette as it does not require memorizing volumes of rules, but rather simply asking "if everyone else did this, would it become bothersome." My feeling about train etiquette in Japan is that it is about consideration for both your fellow passengers and for the efficiency of a system vital to the nation's economy and infrastructure, essentially a form of the golden rule.

As a large group of Americans, we not only stand out on trains because we look different but also because we are noticeably and annoyingly loud. In the United States, there is an often explicated view that what one does in front of strangers is unimportant because "we'll never see these people again in our lives." While this is certainly logical, and based on its logic would apply even more in a foreign city of over 30 million people, obvious displays of inconsiderate behavior have come to bother me more and more as I spend time in Japan. It seems to me that from a bottom-up mind set, each person might naturally talk to their companions, talk on the phone, put their bags on a seat next to them, or do any number of individually beneficial things because there is no enforced prohibition and to not do these things might make them less happy or comfortable. A contrasting way of thinking is that trains should function to permit the highest number of people to ride comfortably and without intrusion as effective public transportation has myriad benefits to society. Japan seems to adopt the latter view, and it is one that I personally appreciate. While it might seem at first to require some sacrifice of individualism for everyone to board the train, ride, and disembark in the same manner, it allows for a better functioning system as a whole. In my personal experience, riding trains the proper way gives one a feeling of both fitting in and of anonymity which can be quite peaceful. In this way, one can find the same privacy and space for reflection that comes with driving a car in America while riding a public train, although admittedly this is more difficult during rush hour when the elbows of fellow passengers often invade that private space.

While this is a digression from the topic of trains, it brings to mind something that I often wonder about. Is there something to be said for being anonymous? This question has been on my mind since I briefly travelled alone in Japan last summer. I had yet to begin my language program, and I felt far removed from my family, friends and my life as an American college student. Our familial, social, and institutional attachments to a large extent define our self-identity, and this is perhaps more true in Japan, where introduction of one's institution proceeds one's own name during many introductions. Because these external ties also determine our activities, it is rare to find oneself in a situation in which one is removed from them. These ties are not only a source for identity, but also for purpose and the pressure that comes with it. Last summer, I felt I was able to spend time thinking about who I am when external ties are removed. This is certainly not to say that I would like to live my life anonymously or drifting, as in the long term I think finding a place to fit in is important for living a fulfilled life. However, temporary removal from these familiar environs can allow one to more firmly establish what these ties mean.

Back to trains, to get an idea of the types of rules passengers follow (or are supposed to follow) on trains, I like to look at old Tokyo subway manner posters which encourage positive behavior through simple artwork and phrases. http://gakuran.com/36-iconic-tokyo-metro-subway-manner-posters-2008-2010/ While conversation in sparse and quiet on trains, many passengers read or use their smart phones to message and surf the internet. Phones are always put in manner mode and talking on a cell phone is particularly taboo.

Many "traditional Japanese values" are apparent in these practices such as maintaining a harmonious environment and maintaining a barrier between ones inner-self and the other passengers on the train. While this is a vast oversimplification and I have no real background with Japan which would justify making a claim such as this, I always feel that various aspects of Japanese daily life exist as if it were decided by some higher power (not in the religious sense) that this is the best way to ride a train, and that is the best way to serve a customer at a department store, and then these ways of doing things were followed, by-and-large, by the population. This was referred to in our cultural pre-orientation as kata, or form in doing things, and I think the concept applies well generally and is not limited even to highly ritualistic events such as a tea ceremony. In contrast, America gives the feeling that every person finds their own preferred way of doing things, and that eventually this will converge to the best way of doing things.

Rebecca and I with Shimojo-sensei at the lunch with the Japanese teachers following our speeches.

Across the street from the imperial palace in the center of Tokyo, residents sit on the grass and relax in the warm weather

Rumored to be the busiest crossing in the world, Shibuya crossing outside the station is definitely worth a visit. Sitting in the Starbucks in Tsutaya gives the best view.

Intro. to NanoScience Lectures
Professor Bird was the main lecturer for the third week of classes. His first lecture covered the basics of band gap engineering, and I have to say it would have been immensely helpful to have heard this lecture previous to the lectures from the first two weeks. He started from the basics which might be covered in an introductory physics class and worked up to the beginning of the more difficult topics discussed in the last two weeks. In the second lecture he went more in depth into the properties of graphene that make it of interest as a potential replacement for silicon in electronic devices and also problems which make it difficult to use graphene in transistors. With the groundwork laid in the first lecture, the second lecture moved at a comfortable pace. Throughout this week, I appreciated that Professor Bird kept all of the material in perspective by talking about the history of computing and transistors and why determining new materials on the nanoscale is important for future progress. We also heard a lecture from Aoki-sensei of Chiba University. He introduced scanning probe microscopy and talked about several other microscopy techniques. This lecture was a little bit hard to follow.

As I arrive in Osaka, I have a good idea of what my project will encompass. The Kawata Lab has a Raman spectroscopy setup which allows for SERS using gold nanoparticles inserted into cells by electroporation, and I will be examining the effects of using differently shaped nanoparticles. I am not sure what parameters we will be looking for to determine which shape is "better" except for the strength of the Raman signal, and this is hopefully something I will learn pretty soon. It sounds like most lab members are very busy my first week, so I will just be reviewing cell culture and learning some dark field microscopy in preparation for experiments to start next week.
WEEK FOUR: FIRST WEEK AT YOUR RESEARCH LAB

Three weeks is just long enough for a place and schedule to acquire a sense of normalcy, and just as I was getting used to living at the Sanuki Club and our daily schedule of classes and activities, it was time for us to head to our respective host labs. My first day in lab was short as I had to return to my dorm early in the evening to have my utilities turned on. My mentor, Bandou-san, picked me up in the morning from the hotel where I stayed the first night and took me to check into my dorm and then to the lab. Monday mornings start out with a paper review seminar in which four students present, in English, about a paper relating to their interests. The lab is huge, somewhere around forty people I think, and I am still trying to get a handle on the various smaller research groups included in LaSIE which work together on various projects. I am usually stationed in the B4 (senior undergraduate) and masters students' room, but the lab occupies experiment rooms in two buildings so I move around a bit.

I am usually invited out to eat lunch in the cafeteria by the masters students, and some of them have been very friendly and have talked to me a lot in a mixture of Japanese and English. I have started going to the gym with some of the masters students as well. I think they were hoping to practice English with me a lot during this summer, but I am doing my best to work in Japanese practice as well. I met briefly with the three professors in the lab, Kawata-sensei, Fujita-sensei, and Taguchi-sensei the first day, and they partially outlined my project, although I am still not quite sure how much I am expected to accomplish. All of the professors seem very busy, and except for the meetings they have already scheduled, such as when Kono-sensei visits and at the end of the summer, I don't think I will have the opportunity to talk to the professors very much.

So far, I think that Bandou-san is very busy, and while he is willing to help me if I ask him a specific question, he doesn't always give explicit guidance in terms of what my goals should be day to day or throughout the program. While in the first few days, I made an effort to always speak Japanese, at some point I think this became tedious for Bandou-san because his English is so much better for explaining science terms. I still speak Japanese sometimes, and with the masters students, but most members of LaSIE speak English quite well. At this point, I have experienced a few miscommunications about various procedures or the goals of experiments, but I'm not sure if this is due to the language barrier or because the people I am working with are too busy to take a long time to explain things.

My housing at Toyonaka campus in the international dorm is a bit far from the lab, but there is a free shuttle which runs until 7 pm to Suita campus where the lab is located and the room I am staying in is very nice. I have a small, attached bathroom and small kitchen with a single burner stove and refrigerator, although I haven't done any cooking yet. Overall, I really like Osaka University, although I haven't seen much of it outside of my lab and dorm. One nice point is the dining hall, which serves pretty good food for a few dollars a meal.

The details of my research project are still not completely clear, but I think I have a good idea now after a conversation with Bandou-san to lay out a rough timeline. I am a little bit behind right now because my first attempt to electroporate cells did not work and I am waiting for some new cells I have borrowed to reach a high enough density to experiment on. I basically will need to figure out good parameters for electroporation before I can get into my project, and I'm hoping to have this done midway through the third week. I am starting to get a bit nervous, because considering the time we will spend in Okinawa, we only really have seven weeks altogether to work.

Orientation Program Overview
I really enjoyed the orientation program because it was a chance to get to know the other NanoJapan students and provided a number of valuable cultural experiences. I found the discussions with KIP students to be my favorite aspect as chances to talk to similarly aged people about social issues in a foreign country is a rare experience, and I also think the Intro to Nanoscience lectures were very interesting, although in the end they didn't really apply to my topic. While I really liked Shimojo-sensei's teaching style, I did not particularly like the textbook we used. While it did cover some technical Japanese, it seemed to focus in on first and second year level grammar points, which are commonly used and taught in Japanese classes. I think that more focus on vocabulary related directly to science research would have been more beneficial. The best parts of the class were the free conversations with Shimojo-sensei during the breaks. Otherwise, the orientation was fantastic. While three weeks now feels like it went by in an instant, I do think that an extra week in lab might be more beneficial than the final week of orientation. Most of the nanoscience lectures felt complicated to the point that the students who really understood them did so because they had already taken classes on the subjects, while for my part, I was lost often. That being said, I really enjoyed listening to the lectures and I definitely learned a lot in the end.

I had some Japanese exposure during elementary school, although this was limited to learning hiragana and how to introduce myself. I began Japanese classes at my middle and high school, and after taking a break my junior and senior years, I continued at the college level in the second year level course. I studied abroad last summer in Hakodate and completed a year's worth of intensive Japanese, then took one more semester before I ran out of time in my schedule. I therefore came into the NanoJapan program with equivalent to three and a half years by my college's standards. I don't really have specific language goals for this summer because I will spend most of the next year in Osaka through the Light Fellowship studying Japanese, but I would like to learn how to more fluidly transition between varying levels of formality when talking to groups of people in lab, as well as to acquire some sense of humor and informal speech which is not taught in classrooms.

The most important thing that I have learned was something mentioned by Packard-sensei, to always consider when you should apologize to others. This is not because being overly-apologetic is good, but rather because it shows that you care about your relationship with that person. I have noticed in lab that apologizing for taking up peoples' time seems to be appreciated. My main questions about Japan at the moment were largely sparked by the orientation program. How do Japanese college students and researchers feel about the rise in foreigners on college campuses, or in a wider sense, how do Japanese people feel about seeing foreigners who are integrated into Japanese society? How much do Japanese people worry and talk about social issues compared to the United States where every person feels entitled to an opinion? Do people see me as a novelty because I have limited ability in Japanese, or will it actually open up avenues for me to build lasting relationships?

I am very thankful to everyone who made the orientation portion of the program possible, especially Keiko Packard, who worked tirelessly to ensure that we felt at home from the moment we arrived in Japan. I am embarrassed to admit that I wondered before the orientation whether I would see anything new about Japan having studied abroad here in the past. Having had such an enriching experience in those three weeks, I can't believe that thought ever crossed my mind.

For consistently good quality sushi at a low to medium price, the chain Sushi Zan Mai can be found in most major Japanese cities, luckily including Osaka!

This giant sign is one of the most popular photo spots for visitors to Osaka! It is found in the lively Dotombori area.

Den-san, a masters student who has helped teach me dark-field microscopy, works on aligning a CCD camera for the dark-field microscope attached to the Raman microscope set up which I will use later in the summer.

Research Project Uppdate
As I understand it so far, my project will be to first examine the differences in Raman spectra between cells which have taken up nanoparticles through endocytosis, the current most common method for putting gold nanoparticles into cells for SERS, and cells that have been electroporated to allow rapid entry of particles. If time allows, I will then examined the differences in Raman spectra obtained by using different shapes of nanoparticles. Before I can do any of this, I need to figure out good parameters for electroporating the cells I will work with, and this is my first small project which is turning out to be more troublesome than I had initially hoped. My goal is to obtain SERS data and characterize differences from various methods of preparing samples which will hopefully help the Kawata lab with future SERS research.

My main methods will be cell culturing, electroporation, dark-field microscopy to visualize the uptake of particles, and surface enhanced Raman spectroscopy (SERS) to characterize intracellular molecules. So far, I have been introduced to the first three of these, and I have had cell culturing experience before coming to the NanoJapan program. I am still shaky with all of these techniques however, and I am hoping to receive further guidance as I progress with the project.

My main questions at this point have to do with the differences between the equipment used in the Kawata lab and in the papers I have been reading this week. For example, one paper I read about visualizing gold nanoparticles in HeLa cells with a dark-field microscope, exactly what I was doing yesterday, mentioned that the particle containing vesicles are easily distinguishable from empty vesicles by color. However, it seems that because the microscope in the Kawata lab uses a different light source, the particles and vesicles are not distinguishable using dark-field microscopy. The electroporation machine is also different than in papers I have been reading, which means that the parameters optimized for delivery of particles in one paper may not be completely applicable to my research. Finally, it seems to me that some of the tasks I have been assigned will take longer than the time I have. I am hoping that I and my mentor can think of faster ways to do things, and I have been reading papers to try to find methods used by other researchers.

In terms of a timeline, most things are not quite set. However, my goal for this week and the next is to electroporate more cells and to show that particles have entered them and then my goal for the remaining time before the conference in Okinawa is to take SERS data on cells which have been electroporated and on cells which have taken up particles through endocytosis.

Overall, I am excited and nervous for my project, but regardless of the outcome, I have already learned far more than I would have expected about my project and various lab techniques, and I am continually thankful for the opportunity to be a part of the program.
WEEK FIVE: CRITICAL INCIDENT ANALYSIS
While I certainly do not have a sufficient mastery of Japanese or knowledge of Japanese culture to avoid all minor miscommunication, I have spent enough time in Japan to know how to avoid most major issues based on differing cultural perspective. I have, however, experienced communication issues large enough to affect my activities in lab during the last two weeks, although I am unsure whether these problems are due to Japanese cultural differences or rather are issues generally accompanying language learning.

There have been points when talking to my mentor about my project that I am unable to fully understand what he is saying, either in English or Japanese, and vice versa, where I am unable to adequately explain something. This usually leads to an awkward silence, after which the listener will say they understand even if this is not fully the case. For example, after reading a paper on darkfield microscopy earlier this week, I asked my mentor if it would be possible to replace the halogen light source on the microscope with the mercury lamp currently attached to the bottom portion used for fluorescent imaging because this setup would be more similar to that used in the paper. I explained my idea in a mixture of Japanese and English, and afterward he thought for a time and then said something about using filters on the halogen lamp to distinguish the particles of interest in the images. After repeating the question about the mercury lamp, I decided that the conversation was stalled and gave up. Several days later, he showed me the same paper and asked if I had read it, and then said that we should try switching the lamps to improve our images.

I found this to be a little bit frustrating, and I think that he did not understand what I was trying to say in the initial conversation because of our combined limitations in Japanese and English, and then after reading the paper himself, he had the same thought as I had. Perhaps this has to do with the tendency of Japanese people to think over situations for a while before giving a direct answer, something mentioned during the pre-orientation program at Rice. It could also be that neither of us fully understood what the other was saying the first time around. Either way, I think we both go into conversations with good intentions about being understood, but to take too long to understand something at some point is perceived as inconveniencing the other person, so feigning understanding seems best.

In honor of Kono-sensei's visit, members of the Kawata-lab and Rebecca went bowling

The cell culture room where I have spent a lot of (mostly unsuccessful) time trying to get cells ready for experiments this week

Himeji castle – A UNESCO World Heritage Site and considered Japan's most impressive castle. It reopened earlier this year after a five year rennovation
Research Update
My research has been progressing very slowly because the HeLa cells I am culturing have taken over a week to reach confluency. I am not sure why they are growing so slowly, as they appear healthy, but in the meantime I have been unable to do experiments and have mostly been reading more papers and observing one of the masters students align the Raman microscope setup. The additional time to read has been valuable, however, because I have stumbled across a number of papers which seem to address the exact project I am working on. I have had some trouble in communicating with Bandou-san, my mentor, about the specific goals of my project. As he is working on an entirely different project, and seems very busy right now, I am not sure if he knows exactly what the professor who assigned the project had in mind in terms of goals. This has been frustrating, because I'm not sure what information my research can provide which is not already shown in papers published in the last few years. I am meeting with Fujita-sensei, the assistant professor involved in the project, tomorrow to talk in more detail about my goals. I think this meeting will clarify a lot of the issues I am wondering about, but I am a bit frustrated this is happening in the third week of the project. I am not sure whether this is because I have not been proactive enough in asking questions and it was therefore assumed I understood what I should be doing, or whether it is a result of everyone in the lab being busy.

As mentioned before, I am having some trouble with cell culture. Going forward, I plan to maintain several plates of cells at different confluencies so that I have cells ready for an experiment at all times. However, I need my current plate to grow more before I can safely split it. The frozen macrophage cells we started culturing are now beginning to stick to the plate and grow, but they are very sparse and will probably not be ready until after Okinawa.
WEEK SIX: PREPARATION FOR THE MID-PROGRAM MEETING
It's hard to believe that it's already time for the mid-program meeting. The time is really flying by, and I am increasingly glad that I will have the opportunity to return to Osaka later in August. At the same time, knowing that I will be back for a longer time, during which I will likely be less busy, has perhaps kept me from rushing to explore Osaka and the surrounding area. I have also come to realize this week that it is allowing me to justify postponing serious study of Japanese language during my first stint in Osaka, something which I hope to amend in the remaining four weeks. Whether it be personal goals of reading more, exercising, or studying  kanji, I find myself internally saying "you will have time when you come back," and I fear that my tendency to sometimes postpone productive work until the last moment has been at play these last few weeks in personal pursuits outside of lab.

Nevertheless, my greatest feelings of personal accomplishment thus far have come from increasing conversational ability with Japanese. While I find myself speaking English far more than I did last summer in Hakodate, I am now able to have full conversations about research in Japanese. I have essentially been working with a new mentor this week, a postdoc named Ando-san. Kawata-sensei jokingly refers to Bandou-san as "Ando-B" because they both work with SERS and I think  because Ando helped to teach Bandou. Ando-san has been extremely patient working with me, and I already feel like my project is starting to get back on track. He is very patient with my Japanese, and even though his English is clearly more expedient to explain the research, he allows me to work through sentences so that I can practice Japanese. He seems to have a clear idea of what types of experiments I need to do and when I need to do them to finish my project, and because Bandou-san is very busy at the moment preparing for his own research abroad in Scotland, I am very glad to have the extra help.

While it is undoubtedly cliché to name one's biggest accomplishment as one's biggest disappointment as well, thus far, shortcomings in my Japanese truly have been my greatest personal challenge. When I took the Oral Proficiency Interview at the pre-departure orientation in Houston, I was slightly disappointed by my score of intermediate-mid. I realize now, however, that this is exactly the right classification for my Japanese at this point. I can understand and respond in most conversations, and when there is something I need, I can ask and receive help. However, I rarely find myself with something to add in conversations unless first asked, and I find small talk difficult. I think that I have reached yet another brink in my language study where I have begun to speak Japanese without internal translation to and from English, but am still trapped with such a limited vocabulary in Japanese that my thinking itself is inhibited. If given a sentence in English to translate, I can usually say it in Japanese, but I have difficulty thinking of it naturally myself, especially in a fast-paced conversation. I often remember something I was told in the past about language study, although I cannot remember when or where. Skill in language is only as useful as the things you have to say. Even if one is academically fluent in a foreign language, a distinction I am still far from achieving, one still must find a personality in that language, a sense of humor, and an ability to think of ways to begin and add to conversations which do not require translation back to one's native tongue. In other words, I feel like I have the raw ability to say things, but the personality I find in my spoken English – quick to humor, especially sarcasm, inquisitive about others' views, and interested in finding debate – is simply missing in Japanese. I am curious to discover whether further language study will allow that familiar personality to emerge in a different language, or whether the person I am when I think in and speak Japanese will be fundamentally different, as I have heard can be the case with foreign languages.

All in all this past week, my research has moved slowly, but I have finally completed my first, albeit limited, SERS experiment with Ando-san which I will explain more in the next section. Thus far, I have been very limited by a lack of cells to work with, but we are now culturing five large plates which should be ready when I return from Okinawa, so I expect to be busy in my last four weeks. I think that Kono-sensei's visit really helped my project to get off the ground as he asked Kawata-sensei to give me more people to work with on the project, allowing me to begin working with Ando-san. I'm very excited to see everyone from the NanoJapan program this week in Okinawa! I am still in disbelief that the program provides so many chances to travel about Japan, especially to a place like Okinawa where most Japanese people have not had the chance to visit.

The set of the contemporary play "Gear" which my labmates took me to see in Kyoto. The entire show was nonverbal, but featured incredible dancing, magic, juggling, and miming performances, and was certainly one of the coolest shows I have ever been to.

This weekend, many members of the lab attended the Minoo Beer Festival, held by Minoo Beer which has been ranked among the best beers in the world.

My labmates and I during a visit to the Fushimi Inari shrine in Kyoto
Research Update
This week I experienced further, disappointing setbacks with cell culturing as the water in the bottom of the incubators, which maintain high humidity, ran out, and many cells, including mine, were damaged and rendered unusable. Apparently many of the older students who have replaced the water and monitored it in the past have recently stopped culturing cells, and many of the newer students, including myself, did not realize this was something that had to be replaced every month or so. As this was the second time I had received cells, I was disheartened that I would have to start over yet again, but a masters student, Sekiya-san, provided me with a plate of very healthy HeLa cells which we have now split into five plates, all of which should be ready when I return from Okinawa.

Ando-san and I also performed a SERS experiment this week. I now understand the timeline of my project much better after a meeting with Fujita-sensei, and the current plan is that I will learn to use the various SERS microscopes with easy to prepare samples of cells which have taken up particles through endocytosis while simultaneously testing various electroporation parameters to find good settings for the main experiments. If all goes well, I will have those parameters figured out in my first week back from Okinawa and will have three full weeks to experiment with SERS on those samples.

So far, the setbacks have been disappointing, as I originally planned to have established electroporation parameters by the third week. However, such setbacks at the same time illuminate the unexpected difficulties which can be faced in research and how best to deal with them. Ando-san seems confident that I can collect sufficient data to make some conclusions about electroporation as a method for SERS by the end of my time here, and I trust his judgment.

The experiment this week was not a normal SERS experiment as we were not interested in the Raman shift of molecules near the AuNPs, but rather with finding the NPs themselves in the cell. To that end, instead of using a laser with a wavelength of 676 nm, we used a 532 nm laser which causes strong photoluminescence with gold particles. While this overwhelmed the SERS information, it allowed us to visualize the particles in the cells, and even to distinguish lipid vesicles, something we had attempted with a darkfield microscope before. This was done by isolating the upper end of the SERS spectrum which contains CH3 bonds found in lipids, and using some software developed by a professor in LaSIE, as well as Image J, we were able to see the outline of the cell membrane and some vesicles clearly, as well as NP aggregates in one image. We were also surprised to find that even 20 nm particle aggregates were clearly visible with photoluminescence.
While the main point of the project is not to get clearer images of particle aggregate position during SERS, one thing I am now hoping is that we can use a 532 nm laser and a 676 nm laser in the same setup and visualize particle position more clearly than is possible with the original darkfield setup while also taking SERS data with the 676 nm laser. I am not sure yet how feasible this is, but Bandou-san seemed to think it might be possible if we altered the microscope. I also reread a paper detailing the SERS microscope setup we are using more closely, and I feel much more familiar with the optics at play than I did before, especially after Ando-san walked me through everything. All in all, I learned a lot this week, and am excited to hit the ground running after Okinawa with ample cell cultures.
WEEK SEVEN: REFLECTIONS ON LANGUAGE
In the last four weeks, I have definitely gotten back into the swing of Japanese. The most helpful thing for me in regards to language thus far was creating a vocab list containing all of the words I thought I would need to explain my project to a lay person, as well as some standard SI units and commonly measured parameters for research. Learning these words allowed me to engage in conversations about my research and prevent others in my lab from automatically reverting to English. Because I have written about Japanese study a lot in my previous reports, I would like to focus on my experience at the mid-program meeting.

I was surprised to find out how much I had missed the company of the other NanoJapan students in a short few weeks in lab. It is a very different feeling living alone and working in a lab compared to staying in a large group, and both situations have benefits. However, it is sad to think that we will all spend only a couple more weekends together before the end of the program. It was very interesting to hear about the other students' projects and their experiences in lab, most of which sounded very similar to mine, but some which differed greatly. The Okinawa Institute of Science and Technology (OIST), which hosted the MTSA conference this year, stood in stark contrast to Osaka University in terms of the newness of its facilities, its international focus, and the feel of being more isolated from Japan, albeit on a popular vacation spot. The concept behind the founding of the school – to break away from the institutionalized mistakes of research universities, especially in Japan and to promote both increased international and inter-disciplinary collaboration – resounded strongly with me. From the lab tours given by researchers at OIST, I felt that they truly loved the work they were doing and that the infamous drudgery of graduate student life was far reduced. The entire institution seems to answer the question, "if given a blank check, what kind of university would scientists create." Based on our tour of the campus and labs, a blank check might not be so much of a misnomer.

I am currently planning to pursue medical school, perhaps combining an M.D. and Ph.D., so if I maintain that course, OIST would not be an option for me to attend. However, if I were to divert to only pursing a Ph.D., which I am not closed to at this point, I think it would be one of the first places I would apply. I am certainly interested in applying to OIST for a research internship either this coming summer or the year after.

The MTSA conference itself, while unrelated to my research and mostly covering topics I had at best a cursory understanding of, was really interesting to see simply because I have never seen a scientific conference before. It was an interesting mix of presentations on research, exchanging of ideas, and socializing among researchers.       After hearing presentations by the other NanoJapan students, I am very impressed with the amount they have accomplished in so short a time and feel pushed to work harder myself now that I have an adequate number of cells to do experiments any time I want. This should prove to be a very busy four weeks, but hopefully I will emerge with results I can be proud of at our final presentation.

A beautiful courtyard forming the center of one of OIST's buildings.

Although I don't usually go for hamburgers, this one, at a restaurant Dylan took us to, was absolutely delicious. Rocco, at Dylan's urging, also ate the spiciest burger on the menu and ended up in tears to everyone's amusement.

A fantastic drum performance at the MTSA banquet.
Research Project Update
I was only in lab for two days this week before going to the conference, and all I was able to do was continue to culture cells. As I return, I now have enough cells that I can experiment whenever I would like, and in fact, it might become cumbersome to culture so many plates. This is a problem I am happy to have after my experiences before the mid-program meeting.

My plan for this coming week is to test out various electroporation parameters and to continue practicing on the SERS microscope. If all goes well, I will find good parameters this week, and have two weeks to take data, and then one week to analyze and compile my poster. I am not expecting this to actually be the case, as my first Monday back our experiment again killed most of the cells we electroporated, but I no longer worry that I will not have anything to present at the end of the summer.

I am a bit apprehensive about submitting an abstract so soon for my project. I know at this point what we expect to find – that the SERS information from electroporated particles in the cytoplasm is different than vesicles bound particles resulting from endocytosis - but the only papers published so far about this topic found similar SERS signals, so I am not really sure how the project will turn out. I am worried that we will still not know what our "conclusions" are before I have to submit the abstract.
WEEK EIGHT: RESEARCH IN JAPAN VS. IN THE U.S.
Based on what we were told during the pre-orientation and orientation, I thought that Japanese labs would be organized in a strict hierarchy, with researchers at each level discouraged from questioning the word of superiors. This hierarchy has thus far held in the Kawata lab in so far as bachelors students speak to masters students respectfully, who in turn speak to Ph.D. students respectively, and so on. The B4 and masters students seem to work mostly independently and are treated as such, and when they do receive help and guidance from older students and post-docs, there is no sense of hierarchy greater than in the US which I can perceive, except for the fact that the Japanese language necessitates different speaking styles towards superiors. While other NanoJapan students have said that their professors are harsh with students, including themselves at times, in my experience, the professors in the Kawata lab are sometimes critical but are very reasonable. At points, meetings take on the feeling of "gotcha questions" in that the students' English does not allow them to answer to things they are perfectly knowledgeable about. However, they never seem angry with students but rather clarify expectations and give advice. I myself am being treated like a guest and wonder whether my mentors and professors are really happy with my progress or just saying so because I am younger than their other students.

Before I comment on differences between Japanese and American labs, it has to be said that I have limited experience working in an American lab, and due to conflicts with classes, I was rarely able to attend group meetings or get to know researchers other than my mentor. In this sense, my experience in LaSIE has been different because I have been included in the weekly meetings of the Raman/bio-group and attend paper review seminars with other lab members. Much more time is spent in group meetings in this lab as compared to the lab where I worked during the last school year. While this is based on limited evidence, I get the feeling that Japanese labs, mirroring other facets of society, are more group based than their American counterparts in that all equipment is shared, cleaning duties are shared by lab members on a weekly, rotating basis, and frequent group meetings give a feeling that one's project is intertwined with others working on similar projects. In my previous lab, every researcher had an assigned work space and would each have their own stock of lab supplies. In some ways, this helps to prevent contamination and allows more control over ones working conditions. However, it also creates an almost competitive feeling which does not exist in the Kawata lab.

The greatest similarity between research in the US and Japan that I have noticed is the type of results professors hope to see from their students. They not only critique experimental results but also presentations themselves, and they always emphasize that research should tell a coherent story. There is a simultaneous emphasis on thoroughness, speed, and originality. To sum things up, research in the Japan feels more structured and group oriented, but the goals are the same.
Research Project Update
In the last week, Ando-san and I figured out a better way to image cells after electroporation by placing them between two glass slides separated by a very thin rubber ring. Using this method, we can image them within minutes after electroporation, meaning that endocytosis does not have time to confound results. In addition, I now have more cells to work with and have increased the cell density of each sample we use. This seems to be paying off, and we now have one set of parameters which is promising for SERS experiments and will test others during week 10. This coming week, we will emphasize collecting SERS data to get an idea of what results we can expect as I write my abstract and to test Mochizuki-san's new SERS setup. I am definitely becoming more comfortable working alone, and Ando-san has been offering me a lot of guidance about the project and helping me to plan experiments. We faced a minor setback when the cell culture room was closed for a day I had reserved the Raman microscope (a microscope in the adjoining room broke and was giving off a strange smell). However, I should have some SERS data at the end of this coming week. I am a bit worried that I will be writing the abstract before we have time to make any determinations about our results, but hopefully we will know enough by the time I submit it next week that I can give a good idea of what my poster will include. I have started staying in the lab until the last train most nights which has been tiring, but it is also allowing me to make up for lost time when I was having difficulty with cell culture before the Mid-Program meeting.
WEEK NINE: JAPANESE RESEARCHERS REPORT
This week, I interviewed Kawata-sensei about his career in research. I did not record the interview and was unable to write quickly enough to recreate anything like a transcript. I will summarize some of the main ideas in his answers to my questions.
Motivation for research: He said his motivation in choosing topics to research is different than most people as he chooses topics which are generally not popular because when it comes to "fashionable topics," the research will be done by another lab if he does not do it himself. For example, he sees the current hot topics in physics as semiconductors and computers. He therefore decided to focus on bioimaging, using relatively simple techniques and equipment in photonics rather than high voltage electron microscopes like other labs. Now that this is a growing area of research, he has turned over most of the topics to Fujita-sensei and is looking for something new. Other examples that he gave was choosing to experiment with small metal obstacles on probe tips for tip-enhanced Raman spectroscopy while most other researchers were focusing on narrowing the tips themselves and working on 3D nanofabrication when most labs worked with 2D nanofabrication. His criteria for a good topic is that it is necessary for future technologies and eventually will transition into being more mainstream in research.
Differences/similarities in American and Japanese research: He said he thinks research style and goals are the same regardless of the country. Rather, it is individual qualities such as creativity or hard work which make researchers effective. Interestingly, one of the main reasons he pursued a Ph.D. was for the chance to get an American visa as a post-doc. He told me that there were two ways to get an American visa in the past if you were Japanese: as a sushi chef or as a post-doc. This was because any other job could potentially be occupied by an American instead, whereas Americans only wanted sushi if it was made by a Japanese person. His desire to go to America stemmed from a summer he spent in California living with an American family. While he was in the US for several years as a post-doc, he returned to Osaka to take a professorship. He also spent time researching in the Philippines, which he said was a difficult experience because he could not communicate with many people he met and because the living conditions were not as comfortable as the US or Japan. This taught him to be self-sufficient and adventurous, and he now encourages many students in his lab to research in the Philippines or Morocco (Mochizuki-san, one of my mentors, is going to Morocco in September).
Responsibilities as a professor: He said that scientists can not always come up with something new or successful. He sees his role as a professor as a job in which he is paid to teach and run his lab. He separated being a researcher and being a professor in his answer, saying the first was akin to a hobby or an art, whereas the second was his job which provides stability. He compared researchers to artists, pointing out that artists can be professional, but then they are beholden to interests other than simply their art. There are some things he does because they are part of the job of him and others relate to his interests and trying to create or find something new in research.
Pursing a Ph.D. and research training: He said that the 3-5 year struggle students face to obtain a Ph.D. is worthwhile because they not only learn research skills but also learn more broadly how to create new ideas and pursue them. He said that these are the same ideas that make people successful in business, and he often encourages his students to start their own companies when they graduate. Being a student is beneficial because for that period of time one can try new things and still graduate even if they do not receive good results. This exploration without necessarily needing to succeed is important to teach creativity.
Research Project Update
This last week we took our first SERS data and carried out more experiments to test electroporation parameters. I really wish I had more time to do more tests on this front. While we have a set of parameters which work well enough for SERS measurements, thee are many things we have not tried yet, such as varying particles density or increasing the number of pulses. This would take a lot of time, however, so for the purpose of this project we are done with testing different parameters. It looks like we will have three or four more days to take SERS data. We are unsure as to whether we will be able to draw conclusions once we have the data as we aren't really looking for anything in particular, just something different. I think we have a solid game plan now, and it remains to be seen what results we will get.  
WEEK TEN: GENDER IN SCIENCE & ENGINEERING IN JAPAN & THE U.S.
A quick look around the lab meeting room and the lack of women pursuing science degrees in Japan becomes clear. Of the students I have seen at LaSIE, there are no women, B4 or masters student and two Ph.D./Post-docs. I have seen more women at larger group meetings, so it may just be a coincidence that the proportion of women is so low among the researchers who share my work space. That being said, I in no way see the professors treat female researchers differently than their male counterparts, although I only see a small minority of those interactions because I spend most of my time now in the experiment rooms. The issue of discrimination against women in Japanese labs and companies is so well documented that there is little doubt in my mind about the magnitude of the issue, despite my anecdotal evidence. Women researchers in the US in my past lab were as equally involved and vocal as men. I honestly have not had enough experiences seeing women in lab meetings to make any judgment about the environment in the Kawata lab.

From the point of view of my upbringing and education, denying women the ability to pursue careers and economic independence is both wrong on a moral level, as it devalues their efforts and aspirations, and harmful economically speaking, a fact that the current Japanese administration seems well aware of. That is not to say, in my opinion, that the people (men) in power in Japan who make the day-to day decisions about hiring and promoting, and who thus hold greatest proximity to fault, are bad people. It is easy as an American to judge Japan on its gender inequality (forgetting for a moment that America is only marginally better on some fronts). However, it is difficult in my mind to assign direct blame for such practices when they are integrated so deeply with history and culture. Rather, institutional changes over time, as well as a younger, more progressive, generation taking power will hopefully right Japan's gender inequality.

In the case of Haruko Obokata, who allegedly falsified data in claiming to have discovered a simple method for creating stem cells from normal cells, I think it is difficult to judge what really happened based on news reports and the investigation of the Riken committee. Certainly, her data was misrepresented, and it seems almost certain that some of that was intentional. However, to what extent she acted in good faith, or as to what extenuating factors might have been at play, it is impossible to know. Perhaps the Japanese media overreacted to the initial discovery of such a revolutionary phenomenon by a female researcher and/or the subsequent scandal. I think that Riken handled the case as well as they could have in giving her the chance to replicate the results and in not immediately forcing her resignation. Whether she acted willfully in falsifying data, simply made numerous mistakes with poor oversight, or some combination of the two, the events were certainly tragic considering the suicide of her mentor and blow to the image of Japanese scientists, in particular women, that has pursued in the eyes of the media.
Research Project Update
This week, we have taken lots of SERS data with the 590 nm laser and will analyze it next week before I make my poster. We are not sure what we will conclude, but we should have enough data to at least get an idea of what specta for electroporation look like. I tested a few more parameters for electroporation, but the ones we tried previously were still better. Basically, we have just been making samples and testing them, so until the results are clearer, I don't have much to report this week.
WEEK ELEVEN: FINAL WEEK IN JAPAN
Over the course of this summer, I don't think my opinions of Japan have changed very much. Perhaps this is because I have spent time in Japan before, but also because my experience ended up being very focused on my research project and not so much on cultural excursions. I am happy about this, however, because I have will have ample time to explore more during my gap year in Osaka. Having spent a summer out of the US last year, I also don't feel differently about my perceptions towards my own country except to say that Americans sound especially loud coming back to Houston. So far, I miss the convenience of Japan. Whether it be conbinis, frequent vending machines, or trains to go anywhere, Japan's infrastructure is in many ways analogous to a well oiled clock. I will also miss my lab a lot, but if I have time during the year, and if they have space, perhaps I can return to do some research there in the next 10 months.

My last week was busy, but luckily I found some time to spend with labmates before I left. I went with 4 lab members for kaiten-sushi one evening, and to a drinking party with most of the lab another night. I am planning to see some of the people I have become closer to frequently while in Osaka this year, so as I joked when I left, it's more like a short vacation to America.

My research project closed very well. While I was worried in the first three weeks that I might not receive good results, our final analysis of the data showed differences between the endocytosis and electroporation data as we had hoped. I also spent a lot of time with Mochizuki-san and Ando-san, who have been my mentors this past month, and I feel I have become closer to them. Mochizuki-san stayed late on many nights helping me take data, and I certainly couldn't have completed the project without his and Ando-san's help.

My final weekend in Japan, I visited family and friends in Tokyo. While the trip to Fuji-san sounded amazing, I decided I wanted the time to rest, and some of my friends who I may not see for a couple of years were only in Tokyo the day the other NanoJapan students climbed the mountain. I had a fun, relaxing few days before returning to the US.
FINAL RESEARCH PROJECT OVERVIEW
Title: Electroporation-introduced Gold Nanoparticles for Surface Enhanced Raman Spectroscopy of Biomolecules in Cells

NanoJapan Research Lab: Prof. Satoshi Kawata, LaSIE, Osaka University
Introduction: The current method for introduction of metallic nanoparticles for SERS in cells, passive uptake through endocytosis, is slow and limits information as particles are confined to lipid endosomes and eventually lysosomes. A new method for particle delivery, the creation of transient membrane pores by electroporation, was introduced recently to allow rapid delivery directly to the cytoplasm.
Approach: We suspended HeLa cells, mixed them with 50 nm AuNPs, and then electroporated them in a cuvette with electrodes 2 mm apart. Cells were then immediately imaged using a slit-scanning Raman microscope. 532 nm wavelength laser was used to obtain strong photoluminescence signal from gold to locate particles in cell and provide proof that electroporation was successful. To obtain a SERS signal, cells were imaged with a 590 nm wavelength laser. SERS data was collected for cells with particles taken up through electroporation and endocytosis and the two methods were compared.
Results: A medium strength voltage of 525 V with two 7.5 ms pulses, followed by five 100 V transfer pulses was most effective for particle delivery. SERS data from many hotspots was successfully collected, and after averaging together SERS data to find common peaks, it appeared that several peaks were characteristic of either electroporation or endocytosis.
Discussion: Our tentative assignment of peaks based on wavenumber suggests that endocytosed particles are exposed to CH3 and CH2 bonds of lipids, consistent with vesicle environment, while electroporated particles are exposed to COO- bonds of proteins and A, C, and G bases of nucleic acids, consistent with encountering proteins and RNA in the cytoplasm. A point of interest is that in previous research in LaSIE, using a 676 nm wavelength laser, peaks corresponding to lipids were not seen for endocytosed particles even though particles appeared to be vesicle bound based on their movement through the cell. Perhaps a 590 nm wavelength laser is better for obtaining these peaks.
Future Research: Future topics of interest would be trying various particle shapes and sizes with electroporation and time-lapse imaging. This would give useful diffusion about particles in the intercellular environment and would also make it possible to distinguish different parts of the cells when collecting molecular information.
Conclusion: Overall, we were very happy with our results. For the most part it was what we had expected to find, and hopefully this method of particle delivery will be useful for the Kawata-lab going forward with SERS research.
WEEK TWELVE: FINAL REPORT
It's hard to believe that my experience with NanoJapan has already come to its end. The program has given me the opportunity to try out research in a format similar to what I might experience in graduate school and provided tools and knowledge that will be valuable in any academic and career path I take.

When speaking to a family member, I would say the most important thing I learned is what it is like to work long hours focusing on a specific project. My experience thus far in college has been one in which I might spend a day or two focused on a single class or activity, but I always have several other tasks looming over my head and thus find my energies split constantly. Working long and unpredictable hours in lab this summer showed me what it is like to really focus on just one thing – an experience that is applicable to any future endeavor. While this was difficult at times, I found I much prefer giving my undivided attention to a single project as opposed to being split among various classes. Furthermore, I now feel more confident that in the future I will be able to work the long hours that are required of many young people as they first enter the work force or attend graduate school.

When speaking to a professor, I would say the most important thing I have learned is how to tackle research as a long-term, collaborative effort. It takes a lot of time to learn about the background of a topic and it is important to seek guidance from more experienced researchers both for basic understanding and for actual experiments. While my two-month project was too short to experience this for myself, observing others in my lab who had spent years on their work taught me that research is rarely linear but rather requires the ability to constantly reevaluate and find new angles.

When speaking to an employer, I would say the most important skills I have learned involve taking ownership over a project. While I always had help from my mentors and would certainly have been lost without them, at the end of the day, it was my research project and my responsibility to make sure the results were something I could be proud of. I received help whenever I asked but was never forced to work. I feel much more confident now in my ability to handle projects, research or otherwise, on my own.

When speaking to a student, I would say the most important thing I learned was that classroom experience is not a substitute for hands on work. While I really enjoyed my time researching this summer, I think I have learned that I will probably not pursue a Ph.D. by itself. I am still considering applying to M.D./Ph.D. programs, but I think I would like an academic and career path that allows me to work outside of a lab and that is more general in scope. I have realized that research requires one to focus on a vary narrow slice of a topic. While I can see myself doing research in the future, I don't think that I would be fully satisfied always having such a narrow focus. I immensely respect researchers who are able to understand and explore the detailed areas of their fields, but I personally do not feel it is something I would enjoy in the long run.

As a result of participating in NanoJapan, I would like to have some type of professional collaboration in Japan in the future. I am not sure where my future will take me yet, so I am not sure what this might entail. However, I realize that I have invested significant time in studying Japanese language, and I believe that international collaboration opens up paths and ideas that are closed with a single viewpoint.

As I return to Japan for my year of language study, I feel a renewed sense of purpose in learning Japanese. Even if I don't end up researching in Japan in the future, my participation in NanoJapan has taught me that cultural understanding, of which language is an important part, opens up opportunities and experiences that are inaccessible to most people. Studying Japanese and living in Japan has made me a more open-minded and culturally conscientious person already, and while I am not sure what the future holds, I have a feeling that one day I will be glad for the language skills I am learning now.

I would like to express my deepest thanks to all of the people who make the NanoJapan program possible. In particular, I am grateful to Professor Jun Kono, Sarah Phillips, and Dr. Cheryl Matherly for their devotion to providing the best possible experience to students. I am also grateful to Rice University for hosting us during the pre- and post-trip meetings and of course to my hosts at LaSIE in Osaka University. It was an unforgettable experience, and I count myself very lucky to have been able to participate.
TIPS FOR FUTURE PARTICIPANTS

Pre Departure Tips: I think the NanoJapan guidebook provides a fairly complete resource in terms of suggestions for packing and general preparation. I would highly recommend the website japan_guide.com or picking up a guidebook on Japan such as LonelyPlanet to start thinking of places to visit. South of Sendai, Japan is very hot and humid during the summer, so bring cool, light clothes and very comfortable shoes because you will walk a lot during commutes.
Orientation Program Tips:  Spend your time in Tokyo getting to know the other NJ students and working on Japanese, but make sure you get a lot of sleep and adjust at a healthy pace to Japanese life. Afterall, the focus of the program is research, and if you reach lab tired and having not learned about your topic at all, it will make for a very difficult few weeks. There are things to do in Tokyo all of the time so be willing to miss out on some things.
Mid-Program Meeting Tips:  The mid-program meeting is a great way to see a new part of Japan (unless you are already at a lab there). It also seemed as though most peoples' projects really got off the ground as soon as they returned from the meeting, probably because their mentors realized they only had four weeks remaining. It is a great chance to take a step back and evaluate your progress, as well as to seek help from the NanoJapan staff and other students who are all present to give advice.  
Working With your Research Lab Tips: At the end of the day, your lab is hosting you as an undergraduate because they are interested in getting to know you. If you know how to act exactly like a Japanese person, this will actually make your labmates less inclined to be interested in you because they all know lots of Japanese people. Be polite as best you can and apologize readily for mistakes, but otherwise just be yourself and remember that Japanese people are sometimes less inclined to start conversations than Americans but will probably want to talk to you if you reach out first.
Living in your Research Host City: People in Osaka are friendly and the food is good so it makes for a really great summer. Learning a little Osaka-ben (Osaka dialect) can be useful because you will feel much more familiar to the people native to Osaka. Osaka castle is fun to visit, and Kyoto with its many temples is just a short local train ride away. Osaka University is somewhat removed from the rest of the city and this can be troublesome at times. If you have the time to cook (I did not) then it is definitely a good way to save money as Konbini food is not as cheap as you would think. The main issue I had in Osaka was the humidity. Don't be afraid to run your air conditioning to keep the air a bit dryer as otherwise you will be uncomfortable in your room. Try okonomiyaki, kushikatsu, takoyaki, and anything else recommended to you. Osaka food is not always the healthiest, but it is awesome.
Language Study Tips: I had studied Japanese before NanoJapan and I am continuing studying in Osaka for two semesters after the program. If you are new to the language, I would focus on the daily usage phrases that get you through life in Japan. If you have experience, independently study the vocabulary you think you will need for your project before you go to lab. The class with Shimojo-sensei is helpful, but the most important thing you will need in lab is the vocabulary related to your field specifically.  
© 2011 TeraNano. All rights reserved. Website designed by
www.wastedpaper.com
.