Steven Ceron - NanoJapan 2015
University of Florida
Major: Mechanical Engineering
Class Standing: Sophomore
Anticipated Graduation: May 2018
NanoJapan Research Lab: Prof. Maki Suemitsu, Solid State Electronics Group, Tohoku University
NanoJapan Research Project: 3D Simulations of Interacting Gliding Dislocation in 3C-SiC(001)


Why NanoJapan?
I chose to apply to NanoJapan because it offers me the opportunity to work in a lab in which all of the members of the research group will have cultural backgrounds that differ as much from my own background as is possible. I believe it will be an incredible experience to take part in Japanese language courses at the same time that I am experiencing the culture for an extended period of time, and I am very hopeful it will open up doors for me in the future; allowing me to fulfill my dream of having an international research career.  I also chose NanoJapan because it would give me the chance to take part in a field of nanotechnology research that is very different than the research experiences that I have participated in the past. This will allow me to expand my knowledge in a new direction, and as a result it could significantly impact what I decide to pursue during graduate school.
I believe this is the perfect kind of research experience for undergraduate STEM majors; the program has the potential to open up our minds to new possibilities, as well as strengthen an international bond in research, which as a result will make us more globally aware engineers. At the same time, the knowledge we learn during the program will have the potential to be applied to later projects, and as a result it could have a profound effect on the advancement of the nanotechnology field.
My goals for this summer are to:
Learn as much as I can about the project I am assigned so that I can make a worthwhile contribution and be able to publish a paper at the end of the summer
Become conversationally fluent in Japanese
Get lost as many times as possible so I can explore as much as possible
Make some lifelong friends along the way
Research Project Overview
My research experience in Japan has made me certain that I would like to go on to graduate school to obtain my Ph.D. in a field of nanotechnology. I am not sure if it will be in the same area, but I am still glad that I was able to explore my topic so that I can take it into account when deciding what to concentrate on in my graduate school research. I know that I would like to do research abroad again but I am not yet sure when my next international experience will be.
During my research experience I mainly interacted with the graduate students, and I actually became really great friends with them. They did not know about the subject that I was working on, so they could not help me on my research project, but I was still able to have a fun time with them inside and outside of the lab. I was also able to have lunch with my mentor and professor many times. This was also really enjoyable because Suemitsu-sensei would always try to find a new restaurant for me to try.
Daily Life in Japan
My daily life in Japan consisted of going to the lab, working on my project for a good amount of hours, and then riding my bike around the city. During this last part of my day I had the chance to meet many people in restaurants or cafes. Given the fact that it is immediately evident that you are a westerner, people are much more interested in striking up conversations with you. I really enjoyed this bit of attention because it gave me the chance to get to know the locals in Sendai and explore more of the culture and food specific to that area. During my time at the lab I would have lunch with the graduate students or with the professor and I would try to practice my Japanese with them.
My favorite experience in Japan was ... exploring Tokyo during the three week orientation period. There was nothing to stress about and everything was completely new to me.
Before I left for Japan I wish I had ... read up on more Japanese history, this will make your travels throughout much more enjoyable.
While I was in Japan I wish I had ... gone to Osaka. This is one of the most important cities in Japan, but due to the tight schedule I was not able to explore this city. Make sure that you have a clear plan for the cities that you want to visit so that you can actually explore them.
Excerpts from NanoJapan Weekly Reports
WEEK ONE: ARRIVAL IN JAPAN
The past few months have all led up to this week, and we are finally here! Tokyo has been incredible, although I was here 5 months ago, it was only for two days, and being here for just the past week has shown me a completely new and more extensive side of the culture. I have really enjoyed the Japanese classes. The material for the first week was pretty easy but I assume that it will get exponentially harder from now on. We already knew hiragana and katakana coming and that is one half of our homework, and the other half is just going over what we have done that day. Therefore, the amount of material that we have to actually study is very little. It has been incredible the amount of places I have been able to experience in only one week.

The evening we arrived in Tokyo we decided to go to Tokyo Tower, a 15 minute walk from the Sanuki Club hotel and a great way to force each other to stay awake until 10 p.m. in order to get rid of the jet lag. The next day a group of us ended up going to Shinjuku, SO MANY NEON LIGHTS! I am really hoping to spend a lot of the time in the Shinjuku and Shibuya areas, simply to enjoy the daylight feeling at night  that is given from the extensive amount of lighting.

Meeting the KIP students has also been an incredible part of the first week. Meeting them for the first time may have been a little awkward, as it always is when you're meeting new people, but I think the discussion on cyber bullying allowed everyone to start making connections. Although everyone was pretty much on the same side of the issue on how cyber bullying should be tackled, I think it was a very good icebreaker that ended up with the KIP and NanoJapan students all going to a restaurant afterwards that night.

It was really great to see the KIP students again when we went to Nagano. This trip gave us a peek to a completely new side of Japan. Tokyo has its incredible architecture, that I am personally in love with,  and it has the fashion in Harajuku, and the incredible neon lights in Shinjuku and Shibuya. Then in Nagano we were able to experience a more silent kind of the life. In some ways we were able to connect more with the people from Nagano, as we talked to some of the people from the Aoki village about possible methods in which they could increase their population size from the current mere 4000 members.

Although meeting adults of the Aoki vilage community was a very great part of the weekend trip to Nagano, I think the highlight of my weekend was when we learned taiko drumming from the little kids. Everyone was jealous of me of course, and with reason, I had the best sensei; there were only two boys in the whole group and I got the younger one, who was actually an incredibly talented eight-year-old who had already been playing the taiko drums for two years.

I also really enjoyed the Rice farming, and then the onsen of course has to be mentioned; it was not as awkward as I suspected it to be, just a bunch of men crowded in the little bath. Another great part of the weekend was going to the high school in Ueda. I am very happy that we were able to split into groups so we could once again get that one-on-one connection. My group took Katherine and I to the mall, and of course Katherine forced us to take the ridiculous purikuras,  but oh well, it was great hanging out with the students, and it allowed me to gain a little bit of insight into the Japanese education system, from what the students were telling me.

Now that we are back in Tokyo, I am very excited to continue my Japanese classes and explore the city even more.

With the KIP students in the Nagano trip.

My sensei at the Taiko drumming event.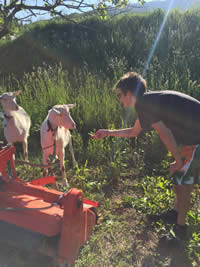 Feeding the goats at the Rice farm.

Initial Research Project Overview
For now I am not too familiar with my project, but I do know that I will be working on the simulation of graphene fault dislocations on a Silicon surface. I will most likely be studying the thermal, mechanical, electric properties through the simulations. I believe that these 3D simulations will assist in creating more stable and functional semi-conductors. From the few papers I have read concerning my project, as well as what Ramya posted last year on the NanoJapan site, I believe that my Material Science class will be the most useful class I have taken, for this project. The plane vectors were a very important part in the papers and therefore I was able to follow along a bit with what they were talking about.  I am also aware that the simulations will be run in C#; although I have no experience in that programming language, I have extensive experience in Java and a little bit in C++, I am also currently trying to learn a little bit of the basics of C# during these last two weeks of the orientation period. I hope this will be good enough to help get started when I first get to the lab.
WEEK TWO: TRIP TO NAGANO
I think all of the NanoJapan students can agree that the Nagano weekend trip has been the busiest set of days since we arrived to Japan, and at the same time it brought about some of the most enjoyable moments in our three week pre-orientation period. We started out with one of the students losing the Shinkansen ticket, but then Packard-sensei, as always like a boss, saved the day! With her help no one was left behind and everyone was able to fully enjoy the incredible weekend.

When we first got to Nagano, we met up with one of the government members and a couple of farmers from the Nagano region. One of these individuals was actually a Colombian by the name of Gio that had moved to Japan more than 10 years ago. He was probably the most excited to see us, and it was great to hear all about his life story, how he moved from Colombia to the U.S. and then came to Japan in a search for a new and more exciting chapter of his life. He was very excited to finally see westerners and be able to talk to some people in English and Spanish.

It was not just Gio that was so excited to see us, the people at the rice farm were all very welcoming and were very patient when teaching all of the inept hands how to properly set the rice plants in the mud. My favorite part of the rice farming activity was actually getting to feed the pony, sheep, and goats. It was actually pretty hilarious when we were leaving the rice farm; the owners of the rice farm actually stayed out in the road while we were leaving, just to wave to us, almost as if we were super stars.

The Ryoken was such an incredible part of the weekend trip. First of all the room had an amazing view of the mountains and then the room itself had several unique aspects about itself. The seats were made for people wanting to obtain better posture, and the floor mattresses were so soft! And the Onsen of course was an interesting experience, it helped to bring all of the guys 'closer' to each other.

Incredible view of the mountains in the Aoki village

That first night in Nagano, we went to the Taiko drumming event. It was such a great experience getting to meet all of these incredibly talented children, some of which were only eight years old and had already been playing the Taiko drums for two years, as was the case for my sensei. The whole order of the taiko drumming activity fit perfectly. First we had the chance to hear the youngsters play a routine, and then they taught us how to play, by pairing up one-on-one with the children. After we tried to play the song correctly, we saw another incredible performance given by the older students.
In the morning a couple of us decided to take part in the tour of the Insect museum, which actually ended up being a bit more pleasant than the name might suggest. (Mostly butterfly museum) The whole museum was actually really great, but one of the best parts was getting another iconic view of the Aoki village and the beautiful mountains.

Later in the day we went to Shinshu University and met up with the KIP students to participate in the discussion of whether smart phones should be banned from use in university classrooms. It was a great experience because we were able to interact with the KIP students (with whom we are actually starting to form close ties with) and learn more about the differences between the American and Japanese education systems. Although the NanoJapan students were able to relate to the stress of entering into a good university, we probably cannot relate to the feeling of having one exam that decides the trajectory of our whole academic and professional career. (The SATs try to do that but they do not seem to be at quite the same level.)

When we returned to the Ryoken that afternoon we had the chance to talk to some of the members of the Aoki village. This gave us the chance to talk to people that were completely different than the people we had met in Tokyo. These individuals were dealing with problems that were very unlike the problems that individuals living in a grand city like Tokyo would have to deal with. However, the specific problems that we concentrated on was actually a problem that Japan as a whole will have to deal with in the future, and I believe it was great for us to participate in a discussion of how that problem could be solved at a lower level. We discussed how population could be increased; currently there are approximately 4000 people in the village, and if there is any hope for the village to continue on, then there must be some kind of action to attract people to become part of the community.

After talking tothe members of the Aoki village, we headed out to the barbecue and enjoyed some great heat from the enormous campfire (which we were actually able to start only because Cole had coincidentally brought along his mixtape) and some incredible food with the people we had met that day.

Cole's mixtape in all its glory at the barbecue

The next day was another awesome experience, starting off with making Soba noodles, and then followed by the second best part of the weekend, when we went to meet with the students from Ueda high school. I am very glad that we were separated into smaller groups. This gave us the chance to interact on a one-on-one level. However, Katherine was also in our group and she decided it would be great if we went to the Purikura booth with the students; I hope those makeup pictures never leave the NanoJapan group.

 I believe that interacting with people from a different part of Japan helped me realize that each part of Japan has its own kind of subculture. Each part of Japan has its own kind of issues; this will hopefully prepare all of us for a new kind of mini-culture when we finally arrive at our labs next week.
Intro to Nanoscience Lectures
Throughout this week I have continued learning a little bit of C# on my own, so that I am able to start working on the project right when I get to Sendai next week. Other than that, I have reviewed some of the papers that were sent to me, but I think I understand them for the most part and I hope that I Nagasawa-sensei can answer the smaller questions I have once I arrive at the lab.

Throughout this week we have had the chance to hear Kono-sensei lecture on the solid state physics of graphene nanostructures. I have not taken a Modern Physics course, so there is a lot of vocabulary and subjects that I am not yet familiar with; however Kono-sensei was very easy to understand when he was explaining what band gap energies are. He was very thorough in his explanation of the transport regime  vs. optical regime, as well as the explanation of the different nanostructures that fit into the Dimension groups. I also learned a good amount about the nature of conductivity and the ambiguity it can have with respect to the high mobility vs. high density of electrons. I am very interested in continuing the nano-science lectures and learning more about the nature of the band gap energies. This topic has been very interesting so far but it feels as if there is much more to the subject that will help us do a better job in the lab. Tonouchi-sensei had some interesting results, and I actually really enjoyed learning about the Drude model, however, there were many parts of his slides that I did not understand simply because of the lack of explanation of many of the formulas included. Ishizaka-sensei had some interesting research results on optoelectronics, and it was also interesting to hear about some of her experimental methodologies, as well as her personal story of becoming the first female faculty member of the Department of Applied Physics at the University of Tokyo.

Preparation for Research Internships - Paper Review

Y. Suna, S. Izumia, S. Sakaia, K. Yagib and H. Nagasawa. "Core element effects on dislocation nucleation in 3C–SiC: Reaction pathway analysis," Computational Materials Science 79, 216–222 (2013). doi:10.1016/j.commatsci.2013.05.055

This paper was published in 2013 and it deals with the project that I will be working on with Nagasawa-sensei. The main purpose of the paper is to perform a quantitative analysis on why Si-core nucleation without the pairing of C-core trailing partial happens at low temperatures. Given that it is difficult to perform a fruitful analysis on a small spacial/time domain, simulations of the Si-core and C-core nucleation were performed to measure the stress-dependent activation energy and the athermal strain of dislocation nucleation. The Monte Carlo simulations will give a more complete picture of what is actually happening at the nano-level when dislocations occur.

In the simulation there was a system of 7.7x7.7x7.8
, and approximately 42,200 atoms, and the time step for integration was 1 fs. Throughout the simulation there was a strain applied along a specific direction so that 90° partial glide dislocation would form. The point of this is that the dislocation nucleation spots would form at specific spots and therefore there would be more control in the output of the results of the simulation.

To simulate the interaction of the atoms, a potential function was included that takes into account the charge transfer, steric repulsions, and Van-der-Waals interactions. In order to produce a more accurate representation of the interactions at the atomic level, the Nudged Elastic Band method was employed with this method, the new pathway of reaction is determined from the atomistic displacement field which originates from dislocation theory.
The results of the simulations show that it takes much less energy to create a Si-core dislocation nucleation than for a C-core nucleation dislocation. This also shows that there is much less strain at the Si-core dislocation sites. The results include a description of the Si-Si and C-C distances, and although the distance between the Si atoms is smaller, there is no clear explanation as to why these dislocations have a lower activation energy. The paper also states that the potential function should be improved so that there is deeper consideration of the bond energies as well as atomic structures of the Si and C atoms.

There is also a discussion about the possibility that Si dislocation nucleation is favored when analyzing the system by means of the activation energy and activation volume. C-core dislocation is favored when there is a higher temperature. The results of the simulations seem to agree with the experimental results.
There is also a discussion included at the end of the paper that gives more insight into the nature of the simulations. This includes a description of the rate of nucleation occurrence as well as a relatively in depth explanation of how stacking faults form.

I am very excited to see the next steps of the simulations; it will be very interesting to see how the potential function is improved and whether it will give a more clear answer as to why lower activation energies are required for the Si-core dislocation nucleation sites.
WEEK THREE: FINAL WEEK OF ORIENTATION
Given the fact that I grew up in small city in southwest Florida where the idea of public transportation is almost non-existent, the transportation system in Tokyo has shown itself to be another major experience in my trip to Japan. It is not a whole experience all by itself just because of the efficiency, or the VERY deep underground subways that run non-stop from 5am – midnight, but also because of the fact that it gives Japanese people just another chance to distinguish themselves in the "art of politeness."
Some of the politeness originates from the rules that are written on posters on the wall or said through the speakers while riding the subway. However, other rules are just common sense to Japanese people and I guess it is hoped that foreigners like me can kind of pick up on these rules of politeness. Some of the rules that are on the walls on the train include things such as, give the seats to the elderly, or to pregnant women, or to parents with small children. On the speakers there is the frequently said phrase that goes along the lines of "please refrain from talking on your phone." This rule does not just mean do not talk on your phone, but also "shut it off and please do not make any kind of sound that might disturb those around you."

There have definitely been a good number of times where the NanoJapan group has shown its true American colors, with our loud laughing (followed by serious glances from those around us) and our confusion of where to get off. However, I think it is important to stress the fact that little by little we are becoming the "nail that is gets hammered down." Of course we conform to the rules, but we are also slowly catching on to the subtle signs that mean we ought to be quieter. By subtle signs I mean the not-so-so-subtle signs given by a silent man reading a book, or the two women whispering to each other.

Occasionally there is the annoying young couple that cannot keep their hands off of each other, but for the most part it seems as if people are very keen not to show affection towards one another while on the train (or anywhere). The reason for there being no affection on the train might not come from politeness or embarrassment, but actually from the fact that there is really no point because at many points in time the subway is so packed that everyone onboard is forced to rub against each other, almost onsen-in-Nagano-style.

The only time of the day that I believe people do not really take into consideration all of the rules of politeness I have mentioned, is very late at night when the trains are making their last loop through the giant city. At this time of the night there are more couples holding each other, some people talking just a bit louder, and in some cases I have seen people actually daring to talk on their phone. However, the one rule that has not been mentioned and is not broken at any time of the day is the eating on the train. Not once did I see a person eating on the train, and on top of that it seems that there is also an understanding amongst the Japanese people that you should not eat on the street. I have seen the eating on the street but it has been very few times and about half of those times it was either myself or someone from the NanoJapan group.

Riding the subway system in Tokyo is a little different than riding the subway in New York, or Chicago, or Hong Kong, not because of the convenience but more because of the people in it. There is so much culture and etiquette that goes into riding the train, that it can actually become quite exhausting at times to try to follow all of the manners. However, I have to admit that the politeness makes it a unique and enjoyable experience.

The Imperial Palace

Always trying new types of ramen

Hachiko: Everybody's favorite dog
Intro to NanoScience Lectures
It was really great to have Professor Bird this week, I think we were all able to learn a great amount of helpful material with him. He talked about Moore's law which refers to the observation the number of transistors per square inch on a circuit board double every year. As the  transistors shrink so do the semiconductors in them, and as a result quantum mechanics becomes an issue in the design of the devices. After the device becomes smaller than 100nm, it may not function as intended because all of the electrons might not go in the path ways as intended. Graphene is also attracting many researchers to the field because of its many great qualities that could potentially change current day electronics. These qualities include its extraordinary electric conductance, which is due to the highly mobile free electrons left after the Carbons have bonded to three other carbon atoms. Another unique quality of graphene is the wave nature that electrons take when traveling through the material. This means that the negative "particles" are not particles anymore, and instead have zero mass, which allows for a much higher velocity, closer to the speed of light. The mobility of the electrons in the material is very great, which means that the charges can be accelerated very easily. The resistivity also has an extremely low value, lower than Silver. In the case of optics, regardless of the energy of the electromagnetic wave hitting the transparent sheet of graphene, the material will always absorb 2.3% of the light. The material could change the current state of semiconductors as wells as help in the advancement of microscopy and astronomy. At the moment, the zero band gap energy creates complications, because without an actual band gap, the transfer of electrons in the material cannot be turned off, which means it cannot be utilized in electronic devices. Several solutions could include the creation of quantum wells (or traps) in the material . Another part of Professor Bird's lectures was his explanation of the top-down and bottom-up approaches to nanostructures. An example of the top-down approach is the evolution of the transistors. In the beginning there was one very big transistor and over the years it has been made smaller and smaller. The problem with this is that now there is a large amount of confusion as to what should be done in order to deal with the quantum effects. In order to solve this problem,  the bottom-up approach has been employed in which nano-materials, such as Graphene, are being explored in order to solve the problem of the ever smaller transistors.

I have not received any more material from Suemitsu-sensei or my mentor, Nagasawa-sensei. However, I have kept busy by rereading one of the papers they sent me and I have written some questions down for when I finally start working on the project with Nagasawa-sensei. I have also been looking up a good amount of material on the C# programming language. I have stated in the past that the Monte Carlo simulations I will be running in Sendai  are written in the C# language. I have no prior experience programming in this language, however, my experience in other languages such as Java and Fortran have made my studying of the programming language much smoother. I really hope that my studying of the programming language will help me in having a much smoother start with the project.
WEEK FOUR: FIRST WEEK AT YOUR RESEARCH LAB

I think Cole, Asa-san, and I definitely started our Sendai experience on the right foot. After coming to the Urban Castle Dormitory with Otsuji-sensei and Saito-sensei, Saito-sensei took us to the big Buddha. Which I found out afterwards is the third largest statue in the world! That first day in Sendai we were also able to visit the Pagoda close to the Buddha statue, as well as catch a glimpse of the beautiful city from the mountain top.

The first day at the lab was also really great, everyone is so nice! I first met Suemitsu-sensei in his office and then he took me to the office, where everyone was currently working. Throughout the past week I have noticed most of the time everyone is not in the office at the same time because they are running their own experiments, so I think it was planned for everyone to be in the office during the time period that I was supposed to arrive. I have really enjoyed meeting everyone, and all of the graduate students have been very welcoming.

 I have especially enjoyed getting dinner with TASHIMA-san, who is currently doing his master's in Suemitsu-sensei's lab. TASHIMA-san is also a rocket enthusiast, so we have had several discussions about the rocket club at my home university as well as his experience in his rocket club while he was an undergrad. I have also enjoyed talking to Mika; she seems to be the most excited about the jelly beans I brought as an omiyagi for the whole lab. It has been very entertaining seeing her search for Caramel Corn flavor, her favorite flavor as well as the tutti-frutti flavor, which we have yet to find.

I actually did not meet my mentor on the first day, because on top of being a visiting professor at Tohoku University, he is also starting his own company. For this week he left me a pile of books where he bookmarked papers that I should read. I have just met him yesterday, and just like everyone else in the lab, he has been very welcoming. Nagasawa-sensei showed me around the clean rooms, gave me some SiC crystal growth lectures, took me to the Tohoku University museum (which actually has one of Albert Einstein's signatures from when he visited) and took me out to eat some great sushi. Although Nagasawa-sensei will only be able to come in to the lab two days a week, I am very excited to finally start working with him, and I expect it to be a great project with him as my mentor.

Everyone in the lab speaks very good English. However, it is obvious that some do not feel confident in the language, but I am always easily able to understand what everyone is saying. The group meeting was also on my first day in the lab and everyone started off with an introduction to their project in English, but then switched to Japanese when it came to the technical areas they had been working on in the past week. YOKOYAMA-san was actually really nice and quietly explained what each person was saying.
I have been trying  to speak a little bit of Japanese with the graduate students in the lab. And although I know I am butchering every single sentence I speak, they are very nice and are willing to teach me more ways of saying different things. Asa-san, Cole, and I were thinking of taking Japanese lessons, but we figured that it would end up being too expensive so we have decided to just continue what we have been doing throughout this past week, which is to study on our own at night. I am very happy that the three of us are able to enjoy each other's company in Sendai; it is very comforting to know that there are other people around you that are on the same level of Japanese, so we can always feel comfortable asking each other for the best way to say a particular phrase in Japanese.

Just from hanging out with the graduate students in my lab, I have seen how different conversational Japanese is from the formal Japanese we learned during our orientation period in Tokyo. As a result of these differences, I have a hard time picking up what people are saying, so I can only get one or two words out of a sentence. Therefore, in the past week, I have begun learning the –ru form of the verbs we learned in Tokyo, as well as many new verbs. I have been using the app, Tae Kim's guide to Japanese, and it has definitely proven a useful tool in following a specific lesson plan.

The orientation period in Tokyo was very helpful in teaching us the basics of Japanese language and making us more comfortable with Japanese culture. We have definitely missed the other 11 NanoJapan students, as well as the KIP students and of course, Packard-sensei. The whole set of different program activities we did in Tokyo really helped us to get a variety of perspectives on Japanese culture, and I think it has really helped me hit it off with the graduate students in my lab, who come from a variety of locations in Japan. Three questions I still have are, 'why do ramen restaurants waste so many ingredients if everyone either way leaves the last bit of the ramen soup because it gets either too salty or too greasy to drink?' (And it is not to soak the noodles, there is more than enough liquid in every bowl I have had) Another burning question is 'What are the secret to your sushi, what magic is there that makes it so much better than the sushi in the U.S.?' And my most burning question is 'why it that Japanese people do not LOVE McDonalds?!?' It is understandable to dislike the McDonalds in the U.S. , but Japanese people are not appreciating the shrimp "hamburgers" with the soft buns that make you see the beauty in life. I hope to find a wise old fellow in my travels through Japan that can answer these questions.

The Buddha statue in Sendai! (Daikanmitsuji)
Pokemon Center #2!
NanoJapan Research Project Update
Throughout this past week I have been reading the papers that Nagasawa-sensei has left me. I actually finished the papers pretty quickly so I decided to continue studying the C# language, which will be the language that the simulations are written in. I just met Nagasawa-sensei yesterday, and he finally gave me more specifics of what my project would be. The current simulations model 2-dimensional interaction of stacking faults, so my main project for the summer is to modify the program so that it models 3-dimensional interactions. I think this will be a great challenge for me, and given the fact that the simulations are not just computational, but also display a moving picture of how the stacking faults are traversing throughout the crystal, I will be able to learn many new programming techniques that I will hopefully be able to implement into other projects I may do in the future. Nagasawa-sensei also showed me two clean rooms and explained all of the different machines that he uses for his experiments. Although my project is just simulations and I will not be using any of this equipment, it was very interesting to see the equipment that actually analyzes some of the stacking fault phenomenon that I will be simulating. Nagasawa-sensei has expressed the fact that he does not like working in the office because it is difficult to think while sitting, so he has told me that I may join SASAKI-san in the clean room while he does his experiments whenever I get tired of working on the simulations. I very happy that I will be able to do this, because even though I greatly enjoy programming, it can get very tiring after a while, and just walking around can really help you get fresh ideas.

Nagasawa-sensei is actually very busy at the moment, given that he is currently starting his own company, so he will only be able to come to the lab two days a week, Wednesdays and Thursdays, at which point he will either be looking at my work on the simulations or giving me lectures on 3C-SiC stacking fault development. In addition to showing me around the clean rooms, he gave me a set of lectures on different aspects of SiC crystal growth. Given the fact that he had left me many papers to read this past week, I already knew much of the material he was talking about; however he added in several great points. Nagasawa-sensei also showed me the simulation platform for the development of Anti-Phase Boundaries as well as the simulation platform for the growth/annihilation of stacking faults. Now that I finally have the simulation code, I have begun studying the different methods, and so far I seem to understand what is happening, but I do have several questions for Nagasawa-sensei when he returns on Wednesday. So far I have just created a couple of Matlab programs that show the 3-dimensional mapping of the partial dislocations in different simulation programs. Because Nagasawa-sensei has not been here this week and I am just now learning more about what my specific project will be, I do not have a completely organized plan for what I will be doing each week of my research internship. However, I am sure that I will get a clearer plan once Nagasawa-sensei returns to the lab on Wednesday.
WEEK FIVE: CRITICAL INCIDENT ANALYSIS
I had been trying to rent a bike since I arrived in Sendai, so I went to the bike shop that Kumi, the secretary from lab had recommended, Eco Chari. When I arrived to the bike shop, I asked the man running the shop, the owner, if there was any bike that I could rent.  I was trying to say it in Japanese, but I must not have been doing a very good job because it did not seem he could understand me. It seemed to me that he was being a bit rude because I could was not able to express what I was trying to say. As the situation progressed, he was becoming more and more annoyed and a little bit ruder. He finally understood what I was saying, after trying to express the idea in English, and told me that there were currently no bikes available for rental. Given that he had been pretty rude and he could not help me anyways, I decided to just leave the store.
Throughout the next few days I tried another couple of bike shops but it was the same deal, they did not have any bikes available for renal. I finally decided that I would just buy a bike and then sell it at the end of the summer. The annoying part of this situation was that the Eco Chari store had the best prices for the bikes. Even though I will be selling the bicycle at the end of the summer, I did not want to spend too much money on it. I considered not going back to the Eco Chari and buying a bike that was a little bit more expensive just so I would not have to interact with the owner of the shop again. In the end I decided I should just suck it up and go to the Eco Chari shop.

I am very glad I went back. Maybe it is because I was not wasting his time and he was finally getting some business out of me, but the owner of the shop was actually very nice to me this time around. We actually ended up talking for a very long time, and he told me all about the different places in Japan that I should visit during the rest of my time here, including specific sites in Hokkaido, Kyoto, Osaka, and Hiroshima. I ended up telling him about the NanoJapan mid-program meeting in Okinawa and he was able to give me great advice on different activities that I should do during our stay, as well as give me some great websites where I could find more information about what he was talking about.

We also talked a great deal about different foods I should try while in Sendai. While Mos Burger is not a traditional or important restaurant specifically to Sendai area, the shop owner seemed pretty passionate about the food at the restaurant. It was actually pretty hilarious because he got pretty excited when we started talking about the restaurant and he ended up printing me out a picture of his favorite burger that I should order next time I go to the restaurant.

Throughout our long conversation we also got to talking about some of his adventures 35 years ago when he was about my age. Apparently he biked across the U.S. all the way from California to New York, and then did the same throughout Europe. This is actually something I would love to do at some point in the next few years so it was really great to hear about his experiences as a foreigner traveling with just a backpack and a bike across a different country with a completely different culture.

In addition to finally getting my bike, which I have been riding around the city every night, Asa-san, Cole and I have tried different restaurants in the area. Cole was missing Tokyo too much so I guess he just went to work on his mix tape a little bit more in the wild city that is Tokyo. Asa-san and I actually spend the weekend in Sendai and rode our bikes up to Sendai Castle, and WOW! The full city view from the top of the mountain is just incredible. However, I have to admit that the best part of our bike trip was going down the mountain, not pedaling at all, and just letting gravity do its work. The wind in my ears and the increasing speed of the bike gave me just the right amount of adrenaline rush to make up for the very hard pedaling we had to do up the mountain.

View of Sendai from the mountains

Close to the Sendai Castle site
WEEK SIX: RESEARCH IN JAPAN VS. IN THE US
I think my biggest accomplishment up to now is how much I have been able to explore Sendai without spending too much money. I have been riding my bike almost every evening and I have really gotten to see many different areas of Sendai, as well as start some conversations with some of the store owners I've met. I have definitely had the chance to fulfill one of my summer goals, which was to get lost as many times as possible. The thing with Sendai is that it is not too big so all I have to do when I get lost on my bike while exploring new areas is make a few random turns, pedal forward for a little bit, then make some more random turns and then I arrive at some place I know. I have particularly enjoyed the hills, because the only other place I have ever ridden a bike is in my hometown and it is completely flat, so going down the hills has been pretty entertaining. I am definitely planning on traveling more throughout Japan during July but up to now I have been saving up my funds so that I can really make the most of it when I use my JR pass for the 14 days.

My biggest challenge would have to be resisting the temptation to buy my favorite ice cream whenever I walk into a convenience store. When I am in my hometown I live 15 minutes away by car from the nearest store, so not eating sweets is not really a challenge, it is just one of the bigger misfortunes of my life. When I am at my home university I usually just get full on coffee or on the dining hall buffet food and so I do not need any ice cream to satisfy me. But this summer I have been getting dinner almost every night at the 7-11 or Lawson convenience stores and as I walk through the store to find my favorite bento box I notice the cheap ice cream staring me down. The bad thing is most of the time I just give in to the temptation and end up buying the ice cream. The internal argument that usually gets me is the fact that it is so delicious and I never see this specific kind of ice cream in the U.S. so I might as well take full advantage of my Japanese experience. Recently I have been trying to eat less of the ice cream because even though I should be staying pretty healthy with the Japanese diet, I have definitely gained weight over the summer. Oh well, I can just burn the extra calories off when I get back to the U.S. with a couple of burgers.

Up to this point, I have been making pretty good progress on my research project. The first two weeks I was very frustrated because I did not see how I was going to get anything done if my mentor was barely in the lab and then only answered my questions during a very brief period of time; however, I am very happy with the amount that I have been able to do. My mentor gave me a general timeline of some of the things I should be incorporating into the simulations throughout the summer and I am moving pretty quickly. I am very much ahead of schedule and given the fact that all of my work is on my computer, there is a very good chance that during this week I will be able to finish incorporating into the simulations pretty much all of the things that we had planned for the summer.  After I finish adding the last parts to the simulation, I will be able to add on additional features that could make the simulation more comprehensive and give more detailed explanations of what happens to the development of the gliding dislocations at different settings.

I would really like it if I could ask someone for help whenever I get stuck on something, whether it be programming-related or about the actual material, but no one in the lab  except my mentor and I know too  much about the subject or how to work with the simulation. It is definitely not the situation I would have preferred when I first applied to the NanoJapan program, but I think it is a great experience that has made me very independent and has forced me to learn as much as possible about the development of the stacking faults and gliding dislocations. I think it has given me a good view of what graduate school research would actually be like, (given the fact that I am practically working alone) and it has enforced my desire to get a PhD in the future.

One concern I do have is the fact that I really wanted to publish a paper with the work I did this summer, but even though I am pretty sure I will be able to produce results from the simulations, I think the fact that my mentor is so busy with his company and does not have too much time to check up on my work will not make that possible. There is nothing I can really do about this situation except see how things play out.

Visiting the Sendai Science museum
Research Project Update
Throughout this past week I have been able to incorporate a fair bit into the simulations. Last week added to the simulations a method by which it could recognize the forest dislocations but when I showed my Nagasawa-sensei the method that I had used, I found out that it was wrong. Although the algorithm was not correct, I was still able to use some of that code for what I have added this week. The first part that I have to do is incorporate the gliding of the dislocations, and that is what  I did in the past week, I am now starting to add the section that deals with the interactions between the dislocations and the stacking faults.

The first thing I did was transform the coordinate system of the simulations into a Cartesian coordinate system. I did not change what Ramya had done last year, since her project dealt with the growth of the stacking faults during epitaxial growth. Everything I am doing deals with the gliding of the dislocations after epitaxial growth. So after the epitaxial growth is done in the simulations I change the x, y, and z values so that I can treat those variables more easily when I incorporate the gliding of the dislocations along the burgers vector and the corresponding planes.

After changing the coordinate system I added a section that randomly chooses points in the system that correspond to the C-core stacking fault. I figure out on what plane it is and I do the corresponding projection of the 30° burgers vector on that plane, so that the C-core dislocation chosen will glide in the corresponding direction. When that dislocation begins to glide, a subsequent Si-core dislocation begins to glide in the direction determined by the projection of the 90° burgers vector on that same plane.
I loop through this process so that in each step of the loop a random point is chosen and a new dislocation begins to glide. This is a part that I will probably end up changing in the future just because over a longer period of time the delay between the beginning of the gliding of the dislocations will stop being negligible and it will not model a real system. However, for the moment I think the method I am using works well enough and I know exactly how I will change it in the future. In each step of the loop I also record the new position of the gliding dislocation as well as the vector along which it will glide.

After I finish incorporating the interactions between the gliding dislocations, which I have already finished thinking through the algorithm, I think I will start adding variables in the simulation that change the gliding speed of the Si-core and C-core dislocations.

For now I have just mapped out the gliding of the dislocations by loading the positions into Matlab. The image below shows the gliding Si-core dislocations in green and the gliding C-core dislocations in blue. For now I have just set the speed of the Si-core dislocations at 10 times the speed of the C-core dislocations, however the presence of the gliding Si-core dislocations could very well become negligible because the speed might become much faster in comparison to the C-core dislocations when a shear stress and temperature is applied to the system.

This 3D map just shows that they keep moving in a straight line but I will also soon incorporated a feature that allows the dislocation to be stopped or the direction to be slightly changed with the application of a shear stress.
WEEK SEVEN: REFLECTIONS ON THE MID-PROGRAM MEETING WEEK
It was an incredible experience to take part in the MTSA conference as well as learn about the different opportunities that OIST offers for researchers around the world. I really enjoyed hearing about the fully-funded PhD program that the university provides, as well as the various benefits they supply their students with, including the international conference financial coverage that can be used once a year. I also enjoyed learning about the different labs, especially the lab that Skylar took us to that is making flexible solar panels. My dad's enthusiasm for applying solar energy to home architecture has definitely rubbed off on me, therefore this lab visit really sparked my imagination for different projects I could do with my dad if we are able to use the simple but effective method of printing solar panels onto plastic.

Meeting up with the NanoJapan students was also another great part of the Okinawa experience. It was interesting to hear about the different problems or successes they have had in their respective labs, and although it is unfortunate that some have had some difficulties, it is nice to know that I am not the only one who is feeling a little insecure of whether or not meaningful results are possible by the end of the summer.

While talking to the other NanoJapan students, I was also able to see the progress that we've made after ending our language classes in Tokyo. All in all it seemed as if the Japanese beginners were at pretty much the same level, it seems as if we have all been studying a little bit on our own at night, but obviously the speed with which we are learning the language is much slower than when we were in Tokyo. I would definitely like to continue studying the Japanese language study when I return to the U.S.; however, given the fact that I have already finished my language course requirements, it will most likely have to be on my own. Although the most effective way to continue learning Japanese when I go back to Florida would be to have a Japanese girlfriend, I think the least distracting and longest lasting method would be to continue exploring the app store for small apps that take on different levels of Japanese language. I am sure this would be a great way to pass my imagined downtime when I get back to UF, and it would hopefully pay off if I decide to come back to Japan in the future.

Although OIST seems to have an incredible atmosphere for research, and I would definitely like to participate in the summer research program sometime in the future if I have the chance, the one thing that I did not like was the fact that Skylar said that he has not had to study anymore Japanese while interning at OIST . It seems that OIST is so international that it just pulls on the English language as the universal language for all of the researchers. Although I would have the chance to meet people from all over the world, it would be completely different than what I am experiencing right now because it would not be one common culture that I am trying to learn more about, but snippets of one culture mixing with another. One of the most enjoyable aspects of my research experience has been talking to the graduate students in the lab during our downtime, and being completely lost and having to ask questions about what different things mean. In respect to learning about the Japanese culture, this experience has completely surpassed my expectations and it has made me yearn for more of it. I am sure that if I were able to participate in the OIST summer research program, I would get a little bit of that  cultural experience but not at the same level that I have felt it this summer.

Our free day on Saturday proved to be one of the best of the week. I had gone snorkeling once before, but I had not gotten to see the amazing variety of fish that were present at Cape Maeda. I had also never swum inside a cave before, and although Blue Cave was packed onsen-in-Nagano style, it was an experience that led to the white light at the end of the tunnel. At the back of the cave there was a bright opening through which we painfully climbed out of (the rocks under our feet were too sharp) onto a small cliff off of which some of us (ahem, not Rocco and Anish) were brave enough to jump off of back into the water. I would have loved to continue jumping off the cliff many more times but the truth is there was just too much to see underwater.

How did she get that great last name??

Okinawan dance show!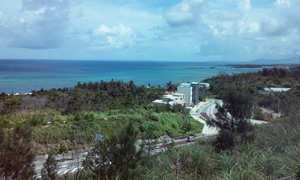 OIST Campus: Too beautiful to have a university here
Research Project Update
Although I was in Okinawa most of the week, I was able to work a bit on the simulations while on the plane rides. Since I have already achieved the gliding of the C-core dislocations, I am trying to incorporate into the program the interactions between the dislocations. The end goal is to make a 3D map of where the forest dislocations are located (where the counter stacking faults on the (-111) and (1-11) planes intersect with each other).  I am having a little bit of trouble with this part because I am not sure what is the most efficient way to recognize where the forest dislocations are located. In this case, efficiency seems to play a big role in how much time the simulation takes to complete. I had initially not realized just how computationally intensive this task was, so when I first wrote the program, it started to take more than 45 seconds, so I crunched the number of iterations it had to take and it surpassed a billion. I have decided to put this off for a while and just concentrate on adding different aspects of interaction between the gliding dislocations, as well as perfect the algorithm that determines the speed and direction with which the dislocations will glide. I am hoping that in working a little bit on this part, I will be able to find a smarter way to find the forest dislocations.

After I arrived from Okinawa, Suemitsu-sensei talked to me about what he could do to help me, since Nagasawa-sensei is not available most of the time to answer any questions I may have. There is a researcher from Russia, Sergey-sensei, who is working a little bit with Suemitsu-sensei, and although his simulations are not all too similar to what I am doing, he knows a little bit about 3C-SiC dislocations. He showed me where his office is and told me I could ask him questions if I get stuck on a problem.  I have already taken up his offer and have asked him several questions; Sergey-sensei is not too certain of the questions I have on the actual subject but I think he will be very helpful if I run into any problems programming-related in the Monte Carlo simulations.
WEEK EIGHT: REFLECTIONS ON JAPANESE LANGUAGE & ROLE OF TRADITIONAL CULTURE
Before coming to Japan I had the chance to experience several lab cultures in the U.S., and as a result I have been able to find several key differences between those labs and the one that I am in right now. Prior to starting the research period of the NanoJapan program, I knew that the lab would be very hierarchical; one professor, then an assistant professor, several post-docs, then the Ph.D. and masters student, the undergrads and then me. This has probably been the most striking feature of my lab, and it is most evident whilst the weekly group meetings are taking place.

During the group meetings all of the master and Ph.D. students present what they have done in the past week, any results or issues they might have, and what they plan to do in the following week. Throughout these meetings it is well established that Mika is the one that organizes the event. She is always the one that sets up the projector, announces who will be the next person to present and then thanks them for presenting when they are done. It is all very systematic, another key aspect of our pre-orientation in Houston and then concentrated a bit on while we were in Tokyo.

The aspect of the meetings that brings about the hierarchical structure of the lab group is the fact that Suemitsu-sensei and Fukidome-sensei are the only ones that make comments while someone is presenting. I actually do not like this because it seems to me that thorough critique from a good number of people in the lab is what have made some of the U.S. labs I have been a part of in the past, advance to new level s at a quicker pace. It is not that the students or post-docs are not allowed to comment on the students' work, it is just that they decide not to, and the professors do not really do anything to force them to ask questions. There was actually one time in the past when I was in a U.S. lab where the professor got a bit upset because he was the only one asking questions, because if someone asked a question then that meant that they were actually paying attention to the presenter. Both systems have obviously proven effective to the respective labs, and it might not be a result of the hierarchical nature of the lab but more due to the fact that Suemitsu-sensei and Fukidome-sensei are the most knowledgeable.

Given the fact that I am not with my mentor most of the time, I am not sure what the mentor/student relationship is in Japan. I get along with my mentor and we always share jokes over dinner or lunch but have not experienced a moment where we are both trying to solve a problem. In the past I have very much enjoyed the relationships that I have built up with my mentors; we would feel free to sarcastically critique each other's work and my mentor might have said at some point, "no Steven, that's a dumb idea, you can figure out a more efficient way…"However, from what Asa-san has told me about his mentor and the fact that sarcasm is probably not too common in Japan, the relationship with my mentor would probably have a bit more serious and less playful nature to it while trying to solve a problem together.

The pictures below are of the trip Asa-san, Anish, Rocco, Jacky, and I made to Hiroshima and Miya-jima. Hiroshima is definitely is definitely one of the most impacting sites I have visited and I am very happy I was finally able to go after many years of wanting to visit the city.

Miyajima!

Heiwakinen Park in Hiroshima, one of the most impacting sites I have had the opportunity to visit

Image of the extensive list of lab equipment I use, would be impossible to do anything without that coffee on the left.

Research Project Update
In the past week I was able to add perfect the gliding motion of the dislocations as well as track the forest dislocations created by the gliding motion. I was also able to add shear strain to the system. It seems that all the different parts of my project are coming together, and I will be able to present some results at the end of the summer. I am working on perfecting the method with which I add shear strain to the system, as well as figure out the density of forest dislocations as a function of shear strain. At the beginning I was under the impression that I would factor in temperature to the system and that I would monitor the production of forest dislocations as a function of temperature and shear strain, however, it seems that factoring in the temperature might be a bit difficult at the current moment. I would also like to incorporate the area of the stacking faults so that the mobility of the gliding dislocations can be determined as a function of changing area. This might be a bit in-depth but I am hoping that the meeting I have with Nagasawa-sensei will clear it up.
The advantages of using 3C-SiC (cubic crystal structure) over other materials or other polytypes of SiC, is that the it has a higher saturate electron drift velocity due to the low phonon scattering than the other common polytypes, 4H and 6H. The low density of states at the 3C-SiC/SiO2 interface is the key aspect of the material that has made it such a promising material for use as a semiconductor in MOSFETs in high power, high frequency devices. The problem with the material is the fact that during the epitaxial growth there are many structural defects, such as Anti-phase boundaries and stacking faults that lead to electric degradation of the material. Anti-phase boundaries are not too important in my project because Nagasawa-sensei actually patented a technique many years ago that solved this problem. By growing the 3C-SiC on an undulated surface, the anti-phase boundaries were drastically reduced as well as the stacking faults that formed when the 3C-SiC grew on the (111) plane. In past projects it has also been observed that as the thickness of the 3C-SiC material increases, the number of stacking faults decreases. The stacking faults act as traps and as a result the electron mobility is reduced and the semiconductor has a lower band gap energy.  My project deals with the forest dislocations, which are created by the gliding of partial dislocations and the eventual intersection of two stacking faults that lie on the (-111) and (1-11) planes.The gliding partial dislocations come from the edges of the stacking faults, and as a result of their gliding, the stacking faults expand and further create higher electrical degradation of the material. The simulations that I am working on could help to single out the settings in which the most or least forest dislocations are created, which would help researchers recreate those settings when fabricating the actual material.
WEEK NINE: CURRENT ISSUES IN RESEARCH
My mentor, Hiroyuki Nagasawa, completed all of his university education in Japan; however, he has had multiple international experiences that have helped him expand the lab groups he collaborates with in research to countries all around the world. Nagasawa-sensei first completed his undergraduate and graduate education in materials science at Tokai University. After completing his education, Nagasawa-sensei went to work at HOYA corporation and still collaborates from time to time with them with select projects.
In addition to collaborating with research across several universities and companies in Japan, Nagasawa-sensei has also lived and worked in many universities abroad. For a period of time he actually lived in Sweden while working on SiC defects at the Royal Institute of Technology (One of the students he collaborated with in Sweden actually wrote the Ph.D. thesis that helped me the most while learning the physical meaning of the simulations).

Nagasawa-sensei has also collaborated with a number of universities and companies in the U.S., including Case Western University, Purdue University, Ohio State University, and a number of others. The more he has travelled the more research partners and friends he has made, which in turn have made it easier for him to connect with even more institutions and expand his research.

Throughout his whole career, he has concentrated on the development of SiC as a semiconductor in high power devices. Some time ago he started working on computational research, simulations, on SiC crystal growth but now he dedicates most of his time to the consulting company that he has founded.

He is currently a visiting professor at Tohoku University and is simultaneously starting his own consulting company, CUSIC. Given the fact that he has worked multiple times with universities in the U.S., I was able to ask him what he thought of the Japanese university education in comparison to the U.S.  He spoke very positively of the U.S. university education, and although he has had the chance to travel all around the world, he can still admit that there are many opportunities that the U.S. universities offer that are not as widely available to Japanese students. I have had similar discussion with the graduate students in the lab and their answers have also made me realize that although I love Japan and the culture is simply amazing, I have to admit that doing graduate school in the U.S. would most likely be the best option available to me.

Although Nagasawa-sensei has remained in Japan as a researcher for the most part, I do not think he classifies into the typical Japanese researcher category. Many of the Japanese researchers I have met in the lab and the adjoining labs go to many international conferences; however they do not engage in as much international research collaboration as Nagasawa-sensei has done. I have very much enjoyed hearing about his experiences and I remember that when I was applying to the NanoJapan program I wrote that in the future I would like to travel to many places in the world and engage in as much international research collaboration as possible after obtaining my Ph.D.
Below are some images of our awesome three-day weekend trip to Kyoto.

Homemade family dinner at the apartment in Kyoto.

Fushimi Inari Taisha

Some more "simulation research" ;)
Research Project Update
Throughout this week I confirmed with Nagasawa-sensei some of the results that I have produced from the simulations. Nagasawa-sensei has told me that these are pretty much the basic results. I would like to incorporate temperature so I have asked him if he can get me some of the experimental data that was graphed in a past paper written in collaboration with an experimental group at UTokyo. He told me that might take some time, so I am worried I will not be able to include that into my results. Given the fact that he is so busy with his company right now, I do not think he will continue working on the simulations after I leave the lab. Therefore, I would like to include as much as possible because he said that what I have done could be published in a small paper. One of my worries is that he will not have time to write the paper when I am gone, and given the fact that I am the one with the most knowledge of how the simulation works right now (on the detection of the forest dislocation sites) I am thinking that it would be best for me to write the small paper this week and then show him and see what he thinks. I do not want to wait until I meet with him to make the decision because by then it might be too late to start writing. Suemitsu-sensei will probably just tell me that it is fine, given that this data is all obtained from the simulations, so I will ask him first.
WEEK TEN: JAPANESE RESEARCHERS REPORT
No Report Submitted
WEEK ELEVEN: FINAL WEEK IN JAPAN
No culture report submitted.
Final Research Project Update: 3D Simulations of Interacting Gliding Dislocation in 3C-SiC(001)
WEEK TWELVE: FINAL REPORT
Before taking part in the NanoJapan program, I had a kind of game plan for how I was going to finish my undergraduate career and I was considering the possibility of going on to graduate school to get my Ph.D. Now that I have finished the experience, there are many things that I have changed my mind about, many decisions that I am now uncertain about, and courses of action that I am completely certain I want to take in the near future. My perspective on the world has definitely changed. Before going to Japan I considered the U.S. as the only country that I would want to work or do research in; however, I have realized just how important international collaboration is for the advancement of society. I now realize that there are many opportunities worldwide to interconnect the world and make the world a better place, which at the end of the day is the primary reason that I would like to go into research in the future.
At the end of my NanoJapan experience I am very proud of how independent I have become. My time in Japan made me realize just how much I ask my parents for advice on how to go about doing things when I am in the U.S. Not that I am ashamed of asking for their advice, but now that I have planned my own trips throughout Japan and worked  through many difficulties without their help, I feel ready to take on new and more exciting challenges.
I have also become very independent when it comes to actual research. The research I have done at my home university has usually consisted of working closely with a graduate student mentor on particle simulations. This means that if I ever got stuck I could just go into the lab and ask my mentor or the PI for some advice on how to go about solving the problem. During the research period of the NanoJapan program, my mentor was busy most of the time, and as a result there was pretty much no one in the lab that could help me figure out a problem, or anyone that could check up on my simulations to double check that my logic was sound. During the first few weeks this bothered me a bit because the subject was completely new to me, and although I had worked on simulations before, these were completely different to anything I had done before. Early on I realized that if I really wanted to get a good amount of work done over the length of the summer, I would have to learn about the material at greater depth than I had done in my previous research experiences. During the first few weeks I read a great amount of papers; there were many instances where I would get stuck on one part of a paper and I would have to look up the information in another. When I actually got to working on the simulations I had to make sure that I always double and triple checked my logic, since no one would be able to check through it until the following week when my mentor was available again. At the end of the summer, I was actually able to complete the project and present a good amount of personal results to my lab and my mentor. I have to admit that this summer was not what I had expected when it comes to my working situation in the lab; however, the situation that I was placed in made me grow on so many levels, and I realized that this is probably a more accurate view of what doing a research project would be like in graduate school. Although I would be frustrated at times, I definitely enjoyed the process and it made me certain that I do want to get my Ph.D. in the future.
During my NanoJapan experience I reflected on the fact that many of my peers in the program have participated in such a large amount of amazing activities. It was very humbling to be surrounded by so many talented people, and at the same time I felt inspired to continue doing great work in the next couple of years of my undergrad. The level at which my NanoJapan peers are at is the level at which many of the people I will be competing against for graduate school placement as well as job placement will be at. During the next year and a half I would really like to step up my game so that I am able to demonstrate my full potential and be able to enter into a selective graduate program.
At the moment I am not sure if I will participate in another study abroad experience during my undergraduate career. I have now had two study abroad experiences, my NanoJapan experience and my engineering exchange in Hong Kong. Nothing would make me happier than to take part in yet another experience where I am able to do research alongside a group of people from a culture completely different than my own. However, I am not yet sure if my graduate school applications would benefit more from doing another summer research project abroad or from doing a summer research project at one of my top-choice graduate school institutions in the U.S.
Being in Japan for the summer has definitely opened my eyes to new possibilities, and I have realized that although I want to get my Ph.D. in the future, I do not have to do it right after finishing my undergraduate career. During the summer I realized just how much I enjoy getting lost in foreign cities and exploring new cultures and talking to people who are not necessarily fluent in my native language. I know that the next few years are the best chance I have to crossing off so many of the cultures that I would like to explore, as a result I have considered the possibility of taking a gap year after finishing my undergrad and taking that year to do research abroad. After finishing up my research from my gap year I could apply to a set of Ph.D. programs. At the moment I see this line of action as something that could only help my graduate school applications; however I know that there are many things to consider so I will make the decision when I am completely clear on my game plan. The professor with whom I do research at my home university has always mentored me through these kinds of decisions and I am sure that I will end up discussing all of these possibilities with him in the next few months.
Now that I have returned to my home university and have once again started my load of classes and extracurricular activities I see how hard it is to continue learning the Japanese language. I know that I would like to go back to Japan for an even more extended period of time in the near future; therefore, I will make it a personal responsibility to continue learning and reviewing Japanese terms. One way of continuing my Japanese language learning, that I have noticed does not feel like hard work is by using a variety of Japanese language apps. I am able to look through these apps on my down time, for example when I am on the bus or walking to class or when I am going to sleep. It is not too much time that I can do this every day but so far it has amounted to about 15-20 minutes a day. I am hoping that in the long run this will pay off and I will be able to make use of the vocabulary I have learned.
I really want to thank the NSF and everyone from the NanoJapan program for this amazing experience. There was so much personal and professional growth for this summer; I am very excited for future research experiences I might have, but I am sure that the amazing memories from this summer will stick with me for the rest of my life.
Tips for Future NanoJapan Participants
Pre Departure Tips: You should definitely consider reading up on Japanese history. I had a great time visiting all of the sites throughout Japan; however, I would have definitely enjoyed them much more if I knew more about their history. Also, try to pack as little as possible when going to Japan so that when you are coming back you can bring all of the souvenirs and do not have to pay for extra luggage or for additional weight.
Orientation Program Tips:  The orientation program in Tokyo will be one of the most enjoyable parts of your summer. This is the time when you have no research project to stress about and you are just learning Japanese, listening to some Nano-science lectures, and meeting some incredible Japanese students from the KIP program. Take advantage of the three weeks to hang out with the KIP students and learn as much as possible from them.
Mid-Program Meeting Tips:  Make sure to practice your presentation for the mid-program meeting. Think up some relevant questions; you will most likely be asked simple questions about your research project but it is still a good idea to be confident in the material you are presenting.
Working With your Research Lab Tips: Have fun with the graduate students in the lab. You will be spending a very large part of the summer with them, so you should definitely try to talk to them when you get to the lab. They may be shy at first but in my case they proved to be some of the most amazing people that I will definitely keep in touch in years to come. With respect to the research, you should definitely accept the fact that it will be pretty slow in the first few weeks; however, if you really try to learn the material then you will end up having a great research experience.
Living in your Research Host City: Explore Sendai as much as possible. During my second week, I bought a bike that used to go from the dormitory to the lab. After finishing up my work in the lab I would ride the bike around the city and get lost a bit. I really recommend going to Sendai castle and the 100-meter tall Buddha. Try to go to the Buddha when the Sun is highest in the sky; there are bears along that trail so it is not a good idea to ride your bike through that area at night time. No matter the time of day you go, I have heard you should sing a song very loudly so that the bears do not come near you. You could always also just a taxi up to the Buddha.
Language Study Tips: I really recommend students to actually learn the Hiragana and Katakana before starting the three-week orientation period in Tokyo. It will make your experience so much better both inside and outside of the classes. During classes you will have a much better time participating and actually learning the language, and outside it is always fun being able to read many of the signs even if at first you do not know what it actually means. After finishing up the language classes you can download several Japanese language apps. These are always fun and low stress when it comes to reviewing material and learning new vocabulary.
Other Tips: I definitely recommend making the trip to Hiroshima. This was one of the most memorable trips I made while I was in Japan. The Peace Museum in Hiroshima is the most impacting museum I have visited, as well as the Atomic Bomb Memorial Dome. The city is also famous for its okonomiyaki, so be sure to order that when you visit.

If you get to go to Okinawa, definitely try to go snorkeling as well as try to go to the Aquarium. Although I was not able to go I have heard it is one of the best aquariums in the world.
© 2011 TeraNano. All rights reserved. Website designed by
www.wastedpaper.com
.