Preeya Kuray - NanoJapan 2012
Rutgers University
Major/s: Materials Science Engineering
Anticipated Graduation: May 2014
NJ Research Lab: Prof. Satoshi Kawata, Osaka University
NJ Research Project: 3-D Micro/Nano-Sculptures Made Out of a Single Wall Carbon Nanotube Polymer Matrix from Two Photon Polymerization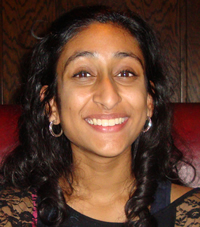 Meaning of NanoJapan?
I applied to NanoJapan because I wanted to expand my horizons as much as possible within my undergraduate years. Studying and conducting research at another university was one of the most rewarding and fruitful experiences I have ever had. By the end of the summer, I developed a better grasp of nanotechnology and the chance to collaborate with scientists across borders on a research project. Aside from the incredible research experience, conducting research in Osaka proved to be culturally enriching as well. By collaborating and interacting with scientists from Japan, Taiwan, Morocco and China, I have broadened my vistas and realized that as engineers, it is our duty to not only design for a better tomorrow but do so in a way that benefits the entire world. During my 3 month stay, I also acquired rudimentary Japanese speaking skills, traveled to different parts of the country, and participated in traditional experiences such as Osaka's Tenjin Matsuri with my labmates.
In totality, NJ was one of the best experiences I have had yet. I learned more than I ever have in one summer regarding research, experienced the best of Japanese culture for 3 months, and made life-long friends around the world. NanoJapan has also reinforced by ambition to pursue graduate and post graduate studies in nanomaterials. I sincerely hope to return to Japan one day for either working or academic purposes.
My goals for the summer were to:
While in Japan, I hope to immerse myself in the culture as much as I can! I look forward to traveling to different parts of the country, participating in cultural festivals, improving my Japanese speaking skills, hiking Mount Fuji, and visiting my homestay family from my high-school trip to Japan.
Research Project Overview: 3-D Micro/Nano-Sculptures Made Out of a Single Wall Carbon Nanotube Polymer Matrix from Two Photon Polymerization

After completing my research internship in Osaka University at LaSIE Labs, I have developed a more holistic grasp of nanotechnology and its applications. The internship was extremely fruitful – I learned how to fabricate micro/nano structures and the principles behind non-linear optical processes. I also developed a sense of writing technical reports, and presenting a research poster (which was done at the Rice Quantum Institute Summer Research Colloquium).
The laboratory I worked at (LaSIE) harbored an amicable ambiance. My labmates were all very accommodating and always willing to help me when I ran across difficulties. My mentors were especially helpful, and had it not been for their constant guidance and pushing me to reach my maximum potential, I would not have accomplished all I did this summer.
I hope to garner everything I have learned from NanoJapan to better my understanding of nanostructures and apply it to graduate studies. I would also like to utilize the methods I have learned at my Japanese research lab (giving presentations, organizing and collecting data) to help make strides in my own research at Rutgers University.
Daily Life in Japan

By the end of NanoJapan I had a working understanding of rudimentary Japanese. The most rewarding occurrence came the second week in Osaka. I went to the town's aquarium by myself which entailed taking a train, subway, and transferring buses twice. I did not get lost in transit once! I found the aquarium by asking locals for directions and actually comprehending what they were telling me after only 5 weeks of being in the country.
My favorite experience in Japan was ...
playing with the elementary school children of Minami-Sanriku.

Before I left for Japan I wish I had ...
Made a list of all of the things I wanted to accomplish while I was in Japan.
While I was in Japan I wish I had ...
Gotten to know my labmates better.
Pre-Departure Tips
Don't pack too many professional clothes! I thought my internship would enable to wear only business casual clothes, but the atmosphere was relaxed and going to work in jeans and a nice shirt was the standard. Pack only 1-2 professional outfits, and 7-9 total outfits.
Orienation Program Tips
Make the most out of your time in Tokyo!! Even if you are tired and want to sleep, if the others are going out on an excursion, go with them! Every time I decided to socialize with the group instead of sleep I was very happy I did. Also, use japan-guide.com. This site is so valuable for planning evening excursions in Tokyo!!
Mid-Program Meeting Tips
Ginkakuji (Silver Pavillion), Kinkakuji (Golden Pavillion), 1000 Tori Gates, Kiyomizodera, and the Gion District are MUST see sights! Also, the ryokan we stayed at was at a PERFECT location! It was right next to Sanjo-Ohashi (Sanjo Bridge) and at night, the NJers and I enjoyed each other's company along the banks of the river along with hundreds of other international students.
Tips on Working with Your Research Lab
I wish I knew how many people were in my lab before I went. Definitely take a party-sized pack of mini candy bars, so you have something small to give to everybody in your lab (and that could be up to 30 people) Also, try to get to know the people in your lab! Chances are, they'll be your greatest friends during your internship.
Living in Osaka
The MOST VALUABLE material regarding Osaka was an English map of the monorail (short distance within the city), Hankyu (train – long distance), and subway (long distance within the city). I urge the next people conducting research at Osaka University to go to the International Student building and get a copy of these maps in English. They will be your best friend for traveling around and out of Osaka on the weekends!
Japanese Language Tips
Make sure you know hiragana and especially katakana before you come to Japan! It will be helpful when you go to the store and are buying food (and reading the flavor of what you're buying). Also, see if your host university offers a class on Japanese for foreigners before the internship starts. My mentor and I also had a game where every day I'd teach him an English slang word in exchange for a Japanese slang word. That way you can impress/amuse random people you befriend in Japan!
Other Tips
While you are in Japan, make maximum use of your time there by buying a JR pass and traveling on the weekends! Traveling with people you meet/other NanoJapaners is incredibly rewarding, and many of the highlights of my NJ experience happened while I was traveling.
Some things that I recommend doing are:
Also, make sure you journal/blog about your experience!! I did, and am so so happy I kept up with it. After 5, 10, or 20 years it'll be very satisfying to have a written account of your experiences and reactions to those experiences in Japan.
Photos and Excerpts from Weekly Reports
Week One - Arrival in Japan: I'm very surprised at the courtesy of the people of Tokyo. I noticed that when you make an active effort to speak Japanese, people's level of amicability increases and they try to help you as much as they can. On the contrary, in the U.S. if you tried to speak broken English in a convenience store as a foreigner, I doubt the store clerk would be as accommodating. (Although, I have never been in this position, so I cannot say for sure.) Tokyo is like New York City but much, much bigger and cleaner. I like how the Japanese make an active effort to keep streets, windows, and the overall city clean. Another thing I noticed that is different in US is how particular the Japanese are to packaging and product quality. Everything from the cups in McDonald's to the packaging of candy seems to be engineered perfectly. Quality control seems to be a very important factor in merchandise, something I expected and appreciate immensely. My experience with learning Japanese is very different than learning Marathi, my mother tongue. I learned Marathi through total immersion when I was young, as that is all my mother and father would talk to me in. I know conversational Marathi, but lack the skills for technical and grammatical accuracy. On the contrary, for me learning Japanese is very structured and organized. I feel by the end of the lessons I will be able to talk grammatically correct, but not necessarily have the ease of day to day conversation. I've learned what I used when buying merchandise in the store. Yesterday was so exciting, because I was able to use what I learned to make conversation with a woman on the train! Through my broken Japanese, her broken English, and a lot of hand geistures, I found out where she was going, what her name was, and a recent festival that was happening in town. It was very gratifying. I also did not believe alumni when they told me Japanese konbini's where much better stocked than American ones until I saw it for myself. The boxed lunches are delicious, and make for a great lunch when you are on the go.
Week Two - Riding the Subway: The Japanese tend to err on the side of politeness and extreme consideration for other people's well being and comfort. For this reason, it is considered very rude to talk on the subway. From the passenger's point of view, it would give them discomfort and induce annoyance if they had to put up with loud noises after a very long day of work. So far, NanoJapan 2012 is going extremely well. I'm enjoying myself quite immensely, but I'm pretty sure that's because I'm constantly with the NanoJapaners and we all get along so well and are always busy. Thinking about going to Osaka and working in a lab by myself makes me a little bit sad… I suppose that's the part that's going to turn sour, as Professor Bird put it. But I'm going to keep an open mind and make the most of the time I have in Japan. After all….this is a once in a lifetime opportunity. And I am going to make the most of my research, my time, and my goals.
Week 3 - Trip to Minami-Sanriku: Based on what I have seen and learned while in Japan, I was most astounded at the impact of the 3/11 tsunami on Japan and its people. I feel the earthquake was analogous to America's 9/11 incident -- devastating, unexpected, and an absolute catastrophe. And although I read about it in America, nothing could prepare me for what I saw with my own eyes. On the ride to Minami-Sanriku, I remember my jaw hurting from gaping so much. Houses were completely demolished. Trees were uprooted. Train tracks were totally derailed. As we drove by, on either side of the road we saw open fields – remnants of civilization. The only things left were mountainous piles of debris and a lingering sense of bitter nostalgia. I knew that the impact of the tsunami was large – but I didn't realize how dire the consequences were until I came to Minami-Sanriku. I thought about how it would feel to lose my home – my house, my school – all of my sanctuaries. It made me realize how lucky I am to have all of these things. On top of being shocked at the damage caused by the tsunami, I am even more astonished at Japan's reaction. The Japanese people have shown immense resilience, indicative by a strong sense of community driven support. Everyone in Minami-Sanriku seemed to be working together to help the community flourish to restore its prior glory. The most moving experience came out of a lecture given to us on the first day of arrival at the shopping center. We heard a local's recollection of the tsunami, and how during her escape, she had to let go of a senior citizen's hand in order to save her own life from the tsunami. Hearing her tearfully recount of losing her 2 brothers and husband & living with the guilt that she didn't save someone else's life was awfully distressing. The entire experience of going to Minami-Sanriku exceeded my expectations. My eyes opened at the sight of demolished town and I realized how many lives were impacted by the tsunami. I learned how resilient the Japanese people are, in their restoration efforts. New roads were being built. Houses were being constructed again. Lawson's had emerged (a sure sign of recovery). Like a fire that razed down forest, new life is emerging from the wake of destruction. Playing with the children of the elementary school makes me hopeful for the future of Minami-Sanriku. I didn't know what to expect when we first arrived, but all of my inhibitions melted away when we came to the elementary school and saw their smiley faces. The kids were so loving and amicable. And they were....kids. Even though their houses are gone, some relatives are lost, and their town is in a state of financial despair, they still smile. And play. And laugh. (And ride unicycles.) And do everything else that children do. Despite the communication barrier, I had an absolute blast running around with them, inventing games and singing songs. Interacting with the elementary school was the highlight of my trip, possibly even one of the highlights of my life, and gives me hope that Minami-Sanriku will flourish again. I think that the US and Americans in general can help Japan and the Tohoku region recover from the earthquake and Tsunami by raising awareness. After communicating with a local, we were told that there are still supplies that are in heavy demand. I believe if more Americans came to visit Minami-Sanriku to help boost the economy that would help immensely as well.
Week 4 - First Week in Research Lab: I had a pretty good first day! Upon arriving in Osaka, I had dinner with Mika, Shota-san (my grad student) and Yuki-san (Mika's grad student). The next day, Shota-san and I walked to the lab from my dormitory (which is luckily a ten minute walk). Every Monday, my lab has a paper review. Upon arriving to the paper review, I was asked to give a brief introduction (in Japanese). It was a bit daunting, as there were 50+ people there (including Kawata-sensei), but I was told that I sounded professional. (But perhaps that is just Japanese politeness) I was pleased to hear that the topics discussed were related to biological applications to nanomaterials, something I plan to specialize in at Rutgers! The review was in English (lucky for me), but so was the Q&A session afterwards (not so lucky for the presenters, who's mothertongue is Japanese). Speaking technical English is one thing, but speaking conversational English is another (something my dad told me he struggled with when he first came to America as a graduate student). In my lab, everyone speaks excellent English….I am very lucky. My labmates talk to me in Japanese, and I talk to them in English. Next week, I'm going to talk to them in Japanese, and they'll talk to me in English. I feel by being around them at lunch, I'm able to pick up the gist of the conversation, which is quite exciting. After the paper review, my labmates and I had lunch. The food in Osaka is delicious! It is also very well priced. Even conveni food at Osaka University seems better than Tokyo conveni food. The next day, after a group tea party (where we got the chance to mingle with other group members and Professor Kawata's company sponsors) I met with Shoji-sensei, who told me the logistics of my project. I am to measure the alignment of carbon-nanotubes using polarity and optical devices and correlate their alignment to their mechanical strength. As far as housing goes, I am lucky enough to stay in an International Student House that's only 10 minutes away from my lab. It's very well-kept and clean (like living in a hotel). Overall, my lab seems friendly and pleasant. They were kind enough to throw me a welcoming party, where we cooked octopus balls, gyozas, and Morroccan food in the student room! I had a blast, and I know I will enjoy working here for the summer.
Week 5 - Critical Incident Analysis: Within these past two weeks at Osaka, I have had the fortune of coming across many miscommunications that were lost in translation or misconstrued far past their original meaning. About 94% of the time, these incidences have been funny. And the other 6% of the time….well, they will be funny within a year or so. The most interesting anecdote I have to share happened last Friday, when I explained to Shota-san (my grad student) what sarcasm was. My labmates and I were on a train going to Umeda (a part of downtown Osaka) for dinner, and we passed by a large body of water. I wondered what it was, because it was so vast it had to have been something somewhat important. Me: "Shota-san, what is that?" Shota: "It's a lake." I was expecting a somewhat more elaborate response, so after a few moments of him not saying anything else I sarcastically retorted "Oh, reaaaally?" To which, he responded "…..ya." and gave me a puzzled glance. And then I remembered Kono-sensei mentioning there is no history of sarcasm in traditional Japan, so I had an interesting time explaining the concept to my labmates. I learned there was a Japanese equivalent called hiniku….although, this is more closely correlated to irony. Besides that, there have been many funny incidences where new friends or labmates would say something and I would mishear what they really said and respond inappropriately. For example, one of my labmates, Taguchi-san, and I were talking about coming to Japan from America and the adjustment process. Then, out of the blue he asked me, "So how was the fried chicken?" To which I blinked a few times and told him I was a vegetarian. He responded with a quizzical look followed by several hand gestures, which I could only imagine were chickens taking flight from the ground. It took me about 30 seconds to realize he asked me how the flight check-in was…. Finally, last weekend I went to Nara with my labmates, Kofi, and Mika. When we were coming back to Osaka, Shota-san asked Kofi and I if we did our laundry. To which we both responded with affirmative head nods and smiling faces. He seemed impressed, and asked us to elaborate on what we knew. We then talked about using coin laundry machines in Tokyo vs Kyoto and Osaka to which he looked at us strangely and cocked his head. It turns out, he had really asked us if we were good at kanji…..
Week 6 - Research in Japan vs. the U.S.: In Japan, there is a blatant hierarchy system in laboratory dynamics. The professor is at the top of the pyramid, followed by 2 or 3 associate professors, followed by post-doc students, then master's students, then 4th year undergraduate students......then me! Everyone above me I refer to with the -san honorific and the professors I refer to with the -sensei honorific. In Japan, I feel that hard work, long hours, and a collaboration with other lab-mates are given primary importance. In Japan, as long as you are making an active effort, giving 100% every time you try, and doing the best of your abilities, you are considered a good researcher. However, in America although trying your best is important, I feel that the ends are more valued than the means. Professors want to see results, and so do employers in industry. But at the same time, I often feel that in America if you try your hardest you DO get results in one way or another so it is never really a problem. (Unless you are a laggard.) My work experiences in the US and in Japan vary greatly. In America, my labwork is isolated. There is not really any team involvement unless it is to ask the grad students or older undergraduate labmates a question. Because of this, I find working at a lab in America (although I love my research and advisor to no end) a bit lonely. I like my lab in Osaka because everything is a team effort. From eating lunch to solving a problem, everyone here always has a smiling face and a helpful hand. I have even gone to Nara and shopping in Umeda with my labmates! I am happy here, and I look sadly at the day I have to leave the LaSIE labs. It is difficult to think of a specific anecdote from my lab, but I think the best quality of my lab is everyone's willingness to help one another. Once, I was working with the lasers and after ten minutes of frustration and trying to start it my efforts did not avail. One of the undergraduates from the lab whom I did not know the name of, figured out what the problem was in a few minutes. The next day I was able to pay him back because he had an English paper review and his paper needed editing.
Week 7 - Preparing for the Mid-Program Meeting: I am so happy to report that I have had more than one major accomplish which I equally rank in importance, all in different ways :) First and foremost, I have successfully embarked on an adventure by myself. Last Saturday, my labmates/fellow NanoJapaners/other friends were all busy, so decided to independently venture off to find the Osaka Aquarium. This entailed navigating through the Osaka monorail, finding the subway station, taking the subway, then transferring to a bus to get to the Tempozan area using nothing but my razor sharp instincts (and a map and written directions…hehehe....). I am thrilled to report that on this crazy hour long escapade, I did not get lost once! I befriended an elderly Japanese man on the bus to ask for directions, and then engaged in conversation with him in half Japanese, half hand gestures. I learned he was going to a carp betting race....I didn't ask too many questions after that. I realized from this experience that I am better at navigation than I thought and can independently get from one place to another if the need arises (even if America). My second major NanoJapan accomplish actually happened in Tokyo during the evening discussion with Japanese students. The topic was healthcare in America vs Japan. I was worried, because for the past few months I have sheepishly been slacking in terms of news upkeep. Furthermore, because I do not enjoy arguing I thought that I would not particularly enjoy debates/discussions. But, this time although there was some confusion regarding the logistics of the topic, I found myself engaging in the discussion immensely. Together with my group, we were able to formulate a strong argument, make references to historical events, and draw intelligent conclusions in only 30 minutes. I realized from this that I in fact do enjoy debates and am much better at articulating thoughts and opinions than I previously thought. Finally, my last accomplish was the most personal. When I was very young, I was put into music classes from elementary school to high school for vocals. Although I (kind of) liked it, I always felt that excessive pressure was put on me to keep improving. It took all the fun out of singing for me so I quit. But I had so much fun singing karaoke with NanoJapaners in Tokyo and Nikko....it made me remember how enjoyable singing can be, and maybe possibly I'll start again....at least for fun (at this point. :)
Week 8 - Reflections on Japanese Language & Culture: The most rewarding linguistic experience came to me last Sunday when I was taking the train from Kyoto to Osaka. A group of senior citizens came onto the train, and like a lot of people gave me curious glances. I smiled at one of them, and a few minutes later he asked me if I was from Japan. All of a sudden, I started talking to them all, telling them who I was where I came from, how my parents were from India but came to America, why I was in Japan -- a very condensed life story.....in Japanese! I was so shocked that I was able to converse with them, and more so than that, understand their questions and give half-responses. It definitely boosted my confidence in Japanese, and I'm so happy at how much I learned in the orientation classes.
Week 9 - Critical Incident Analysis in the Lab: Yesterday, I came across a slight dilemma. I was using a piece of equipment, and in my lab we need to put our name on 2 clipboards before using it for reservation. I absentmindedly only put my name on one of the clipboards last week and went on with my experiment. About one hour into the experiment, one of my labmates opened the fabrication door and was surprised to find me there. He told me that he put his name on the clipboard for reservation for this time slot, and I told him I did the same. It was a little bit frustrating at first because we were both convinced that we had put our names for yesterday's morning time slot. As it turns out, both of us put our names on the clipboards....but just once, and on opposite clipboards. It was such a random coincidence that we ended up laughing it off, and I agreed to use the laser for half the day today and half the day tomorrow. I thought it was interesting because when I told him I put my name down, he said he did the same thing, and we were both convinced that the other person might have made a mistake. I think the situation resolved itself well, in a very civilized Japanese manner. There was no irritation or frustration that came out of it, just compromise.
Week 10 - Career Interview: For this week's report, I decided to interview Shoji-sensei, my Japanese advisor about his research, his life, and why he decided to go into the science field. I gained much valuable insight from our discussion, and learned a lot from our talk. I hope that you enjoy reading our interview!
Preeya: Good morning! So, to start off, what are your degrees in and where are they from?
Shoji Sensei: I obtained my undergrad, master's, and post-doc all from Osaka University in Applied Physics supervised by Kawata sensei. I obtained my post doc about 5 years ago.
Preeya:Why did you decide to study these fields?
Shoji-Sensei: When I was a high school student I had to take an entrance exam and I wanted to do engineering but I didn't have a particular idea what kind of engineering. Applied Physics sounded like it could be applied anywhere so I thought, after the entrance exam to the university I will find some direction.
Preeya: You weren't interested in any particular branch of engineering?
Shoji-sensei: No, not really. I didn't like heavy machinery, electronic circuits, or working at a plant in an industry. Optics and photonics were what I was interested in. But, I was even more interested in mathematics.
Preeya: Why didn't you decide to pursue mathematics?
Shoji-Sensei: The real mathematics is very mathematical and not so related to practical applications. I wanted to create something new but mathematics is too theoretical and already I had an idea that mathematics is sort of tool to help you do something, but not the main destination.
Preeya: So have you always wanted to become a professor?
Shoji-sensei: Yes.....because I can always do useless things that are interesting! (laughs) If you look at the short term current period…maybe there isn't much current use to your research. But after several tens of years, you may find a very practical use. But to me, useless things are more fun. (laughs)
Preeya: (laughs) Yes....I agree. Whats a typical day like for you?
Shoji-Sensei: I usually come in at 9 or 10, do something, have lunch, and leave lab quite early at 7 or before 8. Before I was leaving after 9 or 10....because actually, recently so many papers related to our research are online…if you google Raman Scattering Carbon Nanotubes, I have to overlook them all. This is important, if you want to look at the trend of your research field. Looking through recent papers is important....I have to look through gold nanoparticles, laser trapping, because those are the topics of my student's research.
Preeya: So, your main purpose now is overlooking your student's research?
Shoji-Sensei: Yes. Overlooking everyones project is my goal. At this point my research projects are too broad. They are laser fabrication, composite materials, plasmonics, and mixture of this. So its difficult to say my the research field in one word. My main purpose is to overlook my student's projects. And that is fun.
Preeya: How is the teaching aspect?
Shoji-Sensei; Actually, I had a class last year. It was the first time for me to teach Analytical Physics I for undergraduates. Teaching a class is difficult because one third of the student are listening to me and one third are sleeping and one third are watching other things. There were many students, 40 or 50 students. That was too many for me. And actually, analytical physics is boring, so I didn't use powerpoint.
Preeya: Was it hard to manage teaching and doing research?
Shoji-sensei: I only had one class, so I spend time for research.
Preeya: What is your international experience?
Shoji-sensei: Kawata sensei gave me the chance to visit Australia many years ago when I was a student, a pHD student. This was a collaboration between Kawata sensei and a professor at Australia University. The topic was my research. I brought an experimental result and the result was mathematics analysis. I learned a little bit about making programs in C. And then I did simulation of reaction of polymerization. This was kind of non-linear optics. But the professor was a Russian in the University of Australia. And all lab members were Russian, so when I was with them they started to speak in English....so I had an interesting experience. I heard Russian in Australia. (laughs)
Preeya: It was a positive experience?
Shoji Sensei: It was positive experience. I was there for 3 months in total. At that moment my English wasn't that great so for simple questions he asked me many times and I didn't know how to explain to him. So I learned how to speak English better.
Preeya: How important is it for researchers to have international experience?
Shoji Sensei: Very important. Because when you get research results, you have to show your results at an international conference. If you present it only in Japan, who cares?
Preeya: What about for American students?
Shoji-sensei: Also interesting. But I am always surprised that, including you, you are too young to do real research. Not only about international things but to do research, you need to be experienced. Did you have trouble with that?
Preeya: Not with experiments, but with theory and understanding the concepts and why and how things worked.
Shoji-Sensei: If you have the chance to visit other labs after your undergraduate years, you may get the idea of how to do real research. Because when I went to Australia I was already a PhD student. Actually, I had an idea of fundamental physics and then I went to Australia. I could concentrate on the research but now you are studying science and doing experiments....so it is a good chance to have such an experience, but maybe a little bit too young. Or two months is too short.
Preeya: I agree. I wish I were here for longer. How has the internationalization of research impacted your work?
Shoji-sensei: It is very important but I don't know how. Its a good question, but its not so simple.There are many aspects, that display the importance. But as you saw, in our laboratory, all of the students have to present paper review, give progress report in English in front of professors and others. So all the students already have such experience. So, when they go to conference to present their result for the first time, they can present their result in front of an audience, but that's just an issue of language. The importance is not only that language issue. That's small....it is difficult to explain. English is very simple for me, but the logic and structure is quite simple so to explain and talk in English in scientific terms, I think that English is better than Japanese. It is related to the culture, so the difference of language is indicative of the difference of culture.
Preeya: What do you mean?
Shoji-sensei: I don't know if this is correct or not but in your country you usually say what you think directly but in Japan you don't push yourself on the other person so you don't directly say what you mean. So that is a cultural difference. If you showed an experimental result and the professor asked what it means, and in your country you say your idea that is okay. But in Japan, especially for students maybe people hesitate to speak their own idea in front of people.
Preeya: I have seen this many times. I whole heartedly agree.
Shoji-sensei:This way isn't good because to discuss science you have to show your idea and they have to show their idea and everybody has to share their own ideas at the same place. You should not hesitate to show your idea in that sense so maybe the English way is better. Using English makes us more positive to tell our own idea without hesitation. In Japanese, we may hesitate to speak because it is the culture. So to do science, we need English. And the interesting thing is if you read a Japanese textbook it is difficult to understand science, but once we understand how to read English textbook, its much easier to understand. Because in Japanese, we have many kinds of sentences to express one thing the direct way.
Preeya: What advice do you have for someone preparing for a career in research or planning on getting their doctorate?
Shoji-sensei: I don't know. Because I also want some advice from someone! (laughts) But at least you have to have fun when doing your research because doing research is hard; you have to explain, do reports, do presentations.....so at least for myself, I had a very tough time learning how to do and how to write papers and how to present and explain results to people and do analysis. And then sometimes I lost the feeling of interest. Because in the experiment, almost all experimental results are not good. Only 1% of data is successful data, and to get successful data you need to do a lot of experiments. Happy time is very short. (laughs) Because suddenly after that feeling of success, you fall into a pit and have little time to get one result. Even with the bad result, you have to have the feeling that you enjoyed the experiment you can continue research. But if you don't like that pastime then maybe its better not to do research. At conferences, you always see successful research so you always feel so interested, but when you actually do that research then just one data out of hundreds shows great! So you need to learn how to keep your head up in research.
Preeya: What is the best part about your job?
Shoji-sensei: The best part of course is seeing new phenomena or new results for the first time in the world. You can see your new results at the conference, but before that in your lab you can see the results for the first time before the presentation if the research itself is really new.
Preeya: What is the worst part about your job?
Shoji-sensei: The worst part of my job....I don't know. Maybe this is just only in my case but I wasting a lot of time with doing nothing. I mean, just thinking saying thats interesting. That sounds like I'm doing something, but it's really doing nothing…just thinking. If you do the same thing in a company, you may lose your job just sitting there and thinking. Writing things....often, just wasting time. I don't know if its really wasting time or not, but thats a bad thing.
Preeya: How is the traveling aspect?
Shoji sensei: Hmmm....traveling, going to conferences. Hmm…it is also fun but now traveling itself is not so important for me but of course, attending the conference, and to be at the occasion is very important. Sometimes its very tiring. Sightseeing, recently no. Because actually, the schedule of my conference gives me a tight schedule from 8:30 to 6 or 7 and afterwards poster session. Presentation starts at 8 in the morning and the last presentation finishes at 7 and after that poster session starts from 7 to 11 at night and its huge! More than 100 posters are posted there and many people come to see them. To look through all the posters take maybe 2 or 3 hours. So, I don't have much time to do sight seeing these days.
Preeya: Is it difficult? Is it worth it? Doing research, being a professor.
Shoji-sensei: Very difficult, thats why recently I go home earlier. But it is worth it. Because this is what I wanted to do.
Going Away Party at My Lab and Sunrise on Mt. Fuji

Week 11 - Final Week in Japan: My final week in the lab was painful. On Wednesday, Mika and I wore a yukata and went to the Tenjin Maturi with my labmates to see the fireworks of Osaka. On Thursday, I had my going away party in the lab and mostly everybody showed up! I was so happy to see everyone again. Friday was the final presentation I gave at the lab, and I incorporated cultural views on top of research so I had fun presenting my work. I was happy when a lot of my friends/labmates showed up even though it wasn't a required group meeting. After I gave my speech, my lab surprised me with a giant card that everybody signed with messages, as well as a shirt from Osaka University! It was very touching. The evening concluded with going to a restaurant with my lab mates for the final good-bye. I spent the last few days hiking Mount Fuji with the group. After we came back from Mount Fuji, I went to Ice-cream City with Grace and Alec! There, I tried oonagi ice-cream, squid ink ice-cream, curry ice-cream, garlic & mint, caramel almond, and blueberry cheesecake/tiramusu ice-cream!
© 2011 TeraNano. All rights reserved. Website designed by
www.wastedpaper.com
.